Friends: 27 Times Jennifer Aniston, Courteney Cox, And Others Got Together For A Reunion Sending The Internet Into A Tizzy
Since the popular 90's sitcom Friends came to an end in 2004, here are the 27 times, Jennifer Aniston, Courteney Cox, Matthew Perry, Lisa Kudrow, Matt LeBlanc and David Schwimmer got together for a reunion on several occasions sending the internet into a tizzy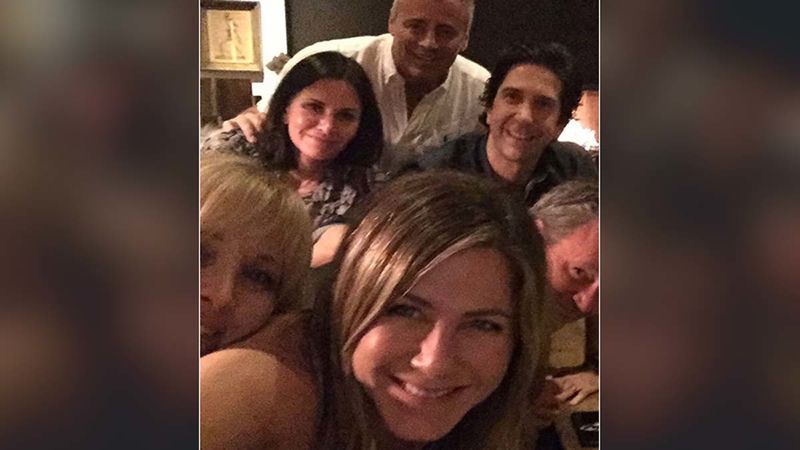 The popular and most-watched sitcom Friends is loved by many worldwide and fans are crazy about it. Thanks to the huge fan-following that the sitcom got for the stars, the cast of the talented six including Rachel
Jennifer Aniston
, Monica Courteney Cox, Chandler Matthew Perry, Phoebe Lisa Kudrow, Joey Matt LeBlanc and Ross David Schwimmer have risen to fame with their entertaining show. The sitcom Friends has been popular since the '90s and from then until now, thanks to the streaming platforms, fans watch the show on repeat mode.
After all these years, the Friends cast does not miss any chance to prove to fans how much they love each other. From Jennifer Aniston to all the other members of the cast, time and again they have set the internet on fire with their reunion pictures. As the show ended fourteen years ago, here are the 27 times when the fabulous cast of Friends got together for a reunion on several occasions sending the internet into a tizzy. Also Read:
Jennifer Aniston, Courteney Cox, Rita Wilson Go 'CHEESE' As They Welcome Christmas Holidays With A Bang
November 8, 2019-
Courtney Cox
aka Monica took to her Instagram to share a picture with her #realfriend Matthew Perry aka Chandler as they had lunch together.
October 6, 2019- Jennifer Aniston, Courteney Cox, and Matt LeBlanc meet for a rare night. Courtney took to her Instagram to share a picture from the rare night as she loved spending time with her friends.

September 23, 2019- Courteney Cox tried to play it cool at the reunion with her friends Lisa Kudrow. On the occasion of Friends completing 25 years, the friends enjoyed the meet session. Singer Charlie Puth was also present at the Reunion party.
July 5, 2019 – Jennifer Aniston and Courtney Cox definitely are #friendship goals. Jennifer can't seem to get out of Courtney's pictures. Once again the Friends girls were seen hanging out together with a bunch of other friends and family.
June 24, 2019- Courtney Cox, Lisa Kudrow, and Jennifer Aniston literally look like they had the best girls night and sleepover. Courteney shared the picture on Instagram captioning it, "Trying to figure out what to say on Instagram....#gotnothing #friends #girlsnight." While Jennifer is great at making funny faces, Lisa and Courteney smile for the selfie.
June 16, 2019- Lisa Kudrow, Jennifer Aniston, and Courtney Cox reunited to celebrate Cox's birthday. Courteney took to her Instagram to share a picture with her girl-Friends as they celebrated her birthday with a bash.
January 29, 2019- Lisa Kudrow and Courteney Cox make a candid appearance together at the Ellen DeGeneres show. Ellen DeGeneres organized this reunion for all Friends fans and we just couldn't help but blush about it.
December 6, 2019 and June 7, 2018 - Courteney Cox lands up to Jennifer Aniston's film Dumplin's premiere in LA to support her bestie. Later on June 7, 2018, Courteney and Jennifer attended to the crowd during the 46th American Film Institute Life Achievement Award Gala honoring George Clooney.
March 22, 2017- Lisa Kudrow and Courteney Cox meet up at a Gala in Beverly Hills, California
April 30, 2016- Matt LeBlanc and Matthew Perry reunite and meet each other at Matthew's playwriting debut at the Playhouse Theatre in London.
February 13, 2016- Matt LeBlanc and Courteney Cox were present together on the stage of Writers Guild Awards in LA
January 24, 2016- The 5 Friends David Schwimmer, Jennifer Aniston, Lisa Kudrow, Matt LeBlanc and Courteney Cox except Matthew Perry meet up to celebrate Friends director James Burrows birthday. Matthew Perry was busy caught up in London, hence he could not meet up for the reunion.
August 10, 2015 - Matthew Perry and Matt Le Blanc reunite at a party in West Hollywood.
April 20, 2015 - Jennifer Aniston and Courteney Cox meet at the screening of the film Just Before I Go directed by Courteney Cox.
June 15, 2015 - Matthew Perry and Lisa Kudrow reunite with each other at a charity gala in Beverly Hills.
August 22, 2014 - Lisa Kudrow, Jennifer Aniston, and Courteney Cox reunite together at the popular Jimmy Kimmel show. The three Friends cast get together for a one-off fan-fiction skit for Jimmy Kimmel Live.
November 5, 2014 - Lisa Kudrow and Courteney Cox at the after party of Lisa's show The Comeback. Lisa Kudrow was also the executive producer and also starred in the TV show.
April 29, 2013 - Matthew Perry and Lisa Kudrow appear in TV show Hollywood Game Night.
April 25, 2013 - Lisa Kudrow and Courteney Cox meet at a gallery opening night in Santa Monica, California
February 18, 2013 - Courteney Cox guest stars on Matthew Perry's Tv series Go On.
June 19, 2012 - Lisa Kudrow extends her support towards Matt Le Blanc at the second season of his award-winning show 'Episodes in West Hollywood.'
June 1, 2010 - Courteney Cox and Jennifer Aniston meet up at an awards ceremony in California.
November 11, 2009 - Lisa Kudrow makes a guest appearance as a dermatologist in the first season of Courteney Cox's show 'Cougar Town.'
April 11, 2007 - Jennifer Aniston and Courteney Cox enjoy their cuddle time at the premiere of the film Tripper.
December 9, 2006 - Jennifer Aniston once again meets up with Courteney Cox at the premiere of her TV show 'Dirt'
June 1, 2005 - Matt Le Blanc and Lisa Kudrow reunite at the premiere of 'The Comeback' just after the completion of their sitcom Friends.
The cast of Friends has clearly reunited many times after the show ended in 2004. The sitcom Friends aired from September 1994, to May 6, 2004. In all, the sitcom had ten seasons and has proved to be one of the most popular shows ever.
Image source: Instagram/ Jennifer Aniston