FRIENDS: Lisa Kudrow Can't Believe 'Her Eyes' As Matthew Perry Joins IG; Jennifer Aniston's Excited; Could This Be Any Better?
After Jennifer Aniston made her big Instagram debut that fans were waiting for the longest time, now another Friends star has entered the Instagram world and its none other than the king of sarcasm Matthew Perry. Lisa Kudrow can't believe her eyes while Jen's response to this is epic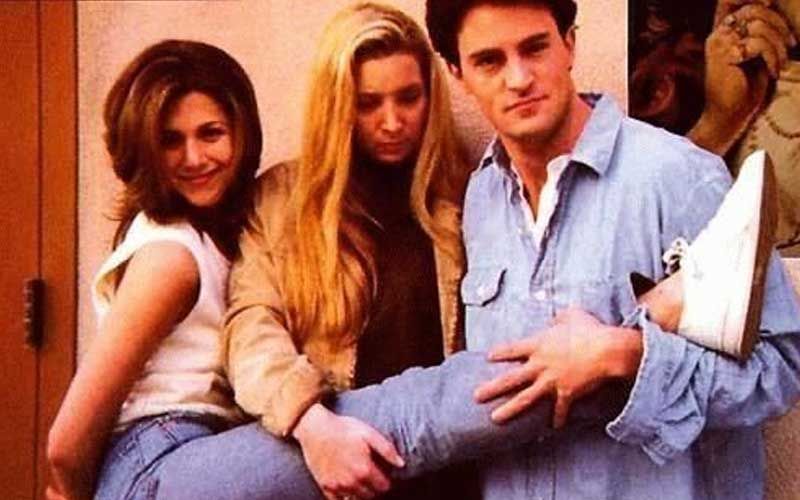 When Jennifer Aniston made her big Instagram debut that fans were waiting for the longest time, it literally broke the internet because the first post she made was a selfie of her five friends starring David Schwimmer, Courtney Cox, Lisa Kudrow, Matthew Perry, and Matt Le Blanc. The internet went into a meltdown after seeing the selfie which brought so many memories for Friends fans (including us) However, the latest Friends member to join the Instagram world is none other than Matthew Perry. That's right! The actor is on Instagram, could this BE any better? We don't think so.
Though Matt hasn't posted anything on his photo-sharing app and it's just been a few hours, the actor has already ringed in 1.6 million followers, guess, now you can understand the fan following of Perry. Amid all this, it Phoebe Lisa Kudrow and Rachel Jennifer Aniston's comments on the same were the limelight stealer. Lisa shared a throwback picture of themselves which seemed to be from a party during their Friends era. She welcomes her onscreen arm-candy and co-star Mathew and she can't believe 'her eyes' as she screams on her caption, saying, "Finally!!! Yay!! Can't believe my eyes MY EYES. Welcome to Instagram @mattyperry4 #friendsforlife." Didn't you read the caption in Phoebe's tone?
Jennifer too couldn't stop herself from saying Chandler's catchphrase where she commented, "Yay Matty! Could you TAKE any longer?" Even Mathew's onscreen wife Monica Courtney who is simply excited to see him on Instagram as she commented, "Yes Matty!!!" Aren't they the best!?
Image source: pinterest