Friends Star Courteney Cox, Kylie Jenner, Khloe Kardashian, Angelina Jolie- Hollywood Celebs Who Had Plastic Surgeries
As there's a long list of Hollywood celebrities who went under the knife and had plastic surgeries over the years, here a list of celebs including actress Courteney Cox, Kylie Jenner and others. Check it out!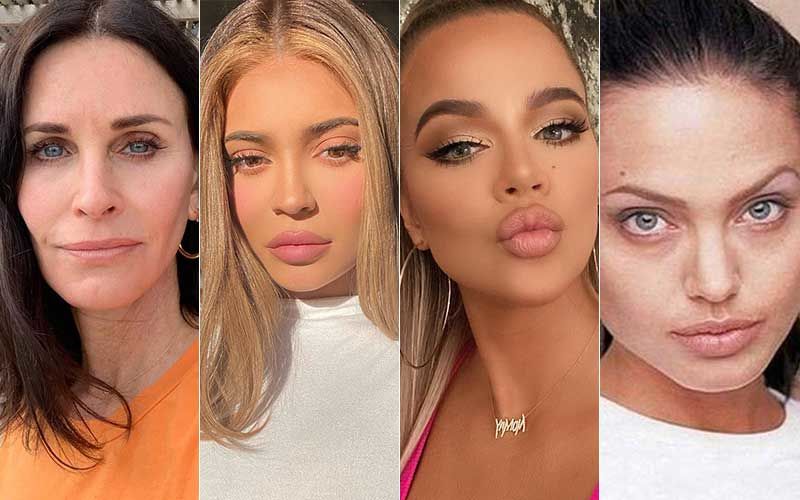 Although there's nothing like a perfect person in the world; the idea of perfection, having perfect bodies and facial features like every celebrity around the world has always haunted many. Every person in the world wants to be beautiful, wonderful and it's not bad wanting it, but many take drastic measures for it. With everything advanced these days, it's no new thing these days for celebrities to just go under the knife and get some minute things done here and there. With a long list of celebrities undergone plastic surgeries, read on.
As there's a long list of Hollywood celebrities who have undergone plastic surgeries over the years, here a list of celebs including actress Courteney Cox, Kylie Jenner, Khloe Kardashian and others who went under the knife. Check it out!
Courteney Cox- The Friends actress is known for the role she played in the popular 90s sitcom. Known for her character of Monica Geller, in June 2017, actress Courteney Cox revealed to New Beauty that she had all her fillers dissolved. She said, "I've had all my fillers dissolved. I'm as natural as I can be. I feel better because I look like myself." Cox mentioned that she thinks that she looks more like the person she was and she hoped for the same. Talking about why she went under the knife, Courteney shared that she was trying to not make her skin drop, but learned to embrace her true self as the procedure looked fake.
Kylie Jenner
- The founder of Kylie Cosmetics, Kylie Jenner's change has been very evident over the years. In 2016, Kylie shared on her app that she has had lip fillers. Talking about her experience, Kylie wrote, "I threw up and I was SO nauseous the next day. But as of now, I only have lip fillers...But I'm also someone who says 'never say never.' If down the line, I get to a point where I'm really uncomfortable with something on my body, I'm not against changing it." Also Read:
Kourtney Kardashian's Booty-Popping Picture Is Heating Things Up On A Blazing Summer Afternoon
Khloe Kardashian- Koko aka Khloe is one among the Kar-Jenner clan who is known for her plastic surgeries. Talking about the time she went under the knife, on her talk show Kocktails With Khloe, the reality TV star accepted that she had facial fillers dissolved. Sharing about the procedure, Khloe said, "My face was so fucked I had to go and get this whole thing dissolved," and went on to share that as it was a bummer, she is now afraid to do it again.
Angelina Jolie- With the Eternals known for her beauty over the years and her flawless jawline, did you know she went under the knife? In an opinion-based piece of the New York Times, Angelina Jolie revealed details on her decision to undergo a preventative double mastectomy and reconstructive surgery. She shared that her final surgery was completed where she got a reconstruction of the breasts with an implant. The actress also wrote about the results of the procedure.
Kris Jenner- As almost the entire Kar-Jenner clan have gone under the knife once in their lifetime, momager Kris Jenner did not spare herself either. The matriarch of the Kardashian-Jenner clan, Kris Jenner got a facelift procedure before daughter and beauty mogul Kim Kardashian's second wedding. In 2011, Kris Jenner filmed the facelift on the reality show Keeping up with the Kardashians.
Chrissy Teigen- John Legend's wife is a sensation and has a huge fan base, but like many Hollywood celebrities, Chrissy Teigen has also gone under the knife. In May 2017, talking to Refinery29, Teigen said, "I had an armpit sucked out, which was one of the best things." Sharing about it, she continued, "It's a big secret, but I don't care. It was nine years ago or so. And I had two inches to my armpit. Now it's back though, so now I've gotta pay for [liposuction] again." Speaking of the procedure, Chrissy said it was easy and felt more confident.
Kourtney Kardashian- The last of all, Kourtney Kardashian and the eldest of the Kar-Jenner sister clan, who knew she had plastic surgery. But, she did! In May 2010, Kardashian revealed that she had breast implants. She said, "I have had breast implants, but it's so funny 'cause it's not a secret, I could care less."
Meanwhile, as the list of the most popular celebrities who have gone under the knife is here, apart from the seven above, actress Nicole Kidman, Cher, Lisa Kudrow and others have also had plastic surgeries.
Image source: Instagram