George Floyd Death: FRIENDS Star Ross Geller Aka David Schwimmer Takes To The Streets To Protest With His Ex-Wife Zoe Buckman- WATCH
After the brutal death of an African-American man George Floyd, Friends star Ross Geller aka David Schwimmer stepped out in the streets to take part in the protest 'Black Lives Matter' along with his ex-wife Zoe Buckman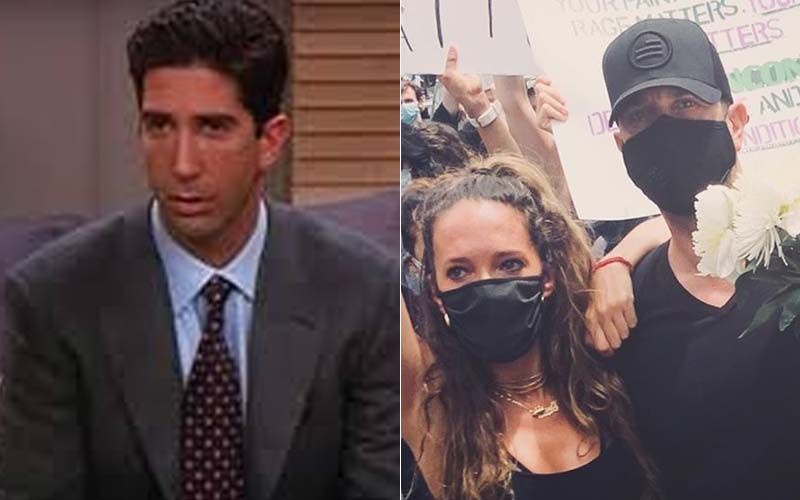 Ever since a police officer from Minneapolis became the reason for murdering an African-American George Floyd, the incident took everyone by storm, not just in America but across the globe too. People in thousands flocked the White House and were fighting for justice by taking part in the protest called Black Lives Matter all over America. This movement came after the racial discrimination that the world saw with George Floyd's brutal death. Today, taking part in the movement, we saw Friends star Ross Geller aka David Schwimmer who has stepped out on the streets to take part in the protest 'Black Lives Matter' along with his ex-wife Zoe Buckman.
He took to his Instagram account and shared a picture of himself with Zoe, standing in solidarity for George Floyd death. The two are seen in their face mask in the middle of other protestors and along with the picture, he also shared a very deep and intense note attached to it. The note read, "Yesterday at the Protest & Vigil, downtown NY. We're no longer a couple, but @zoebuckman and I are parents of a nine-year-old, and fellow advocates for social justice and reform. We marched in honor of the countless black lives lost to racial violence; to oppose the institutional racism and systemic bias against marginilized communities; to show our love for, and solidarity with, our family members, colleagues and friends of colour; because we are angry and appalled by the shocking indifference of our President; and to demand a better future for our children. ALL of our children."
David then concluded by saying "It is not enough to be opposed to racism. We must be actively opposed to it." Check out the picture.
When Black Lives Matter first started campaigning, it was met with lots of anger and confusion.
Tooting Broadway station today 250-300 people taking a knee for racial justice.
I pray this is a genuine civil rights moment and not a passing phase.#GeorgeFloyd #BlackLivesMatter pic.twitter.com/tOvguHSe4L

— I can't breathe - Maurice Mcleod (@mowords) June 3, 2020
Image source: Instagram/ _schwim_/ Facebook/ Ross Geller Fans