George Floyd Death: Shawn Mendes-Camila Cabello, Ariana Grande, Paris Jackson, Emily Ratajkowski Join Protests-WATCHtre
After many expressing their rage on the death of George Floyd, now, celebrities Shawn Mendes, Camila Cabello, Ariana Grande and others join the protests across the country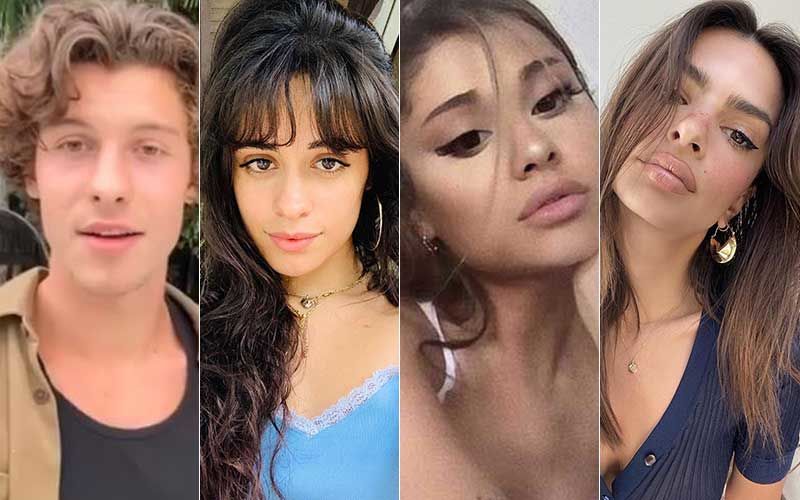 An African American man named George Floyd passed away recently in an encounter with a white police officer where he was pinned down and pressed on his knee until irresponsive. As soon as the video of George Floyd pleading for life and help went viral on the internet, his death has sparked protests all over in the USA. After many celebrities and citizens expressing their rage, now, celebrities Shawn Mendes, Camila Cabello and others join the protests across the country and in Miami.
In a video shared by a fan page on Twitter, Shawn Mendes and Camila Cabello who have been in quarantine with Cabello's parents were spotted joining the protests held in Miami. The video shared by the fan page features Camila and Shawn walking holding hand in the protests and holding signboards along with them. The couple were both seen holding homemade cardboard signs, they braved the crowds taking full protection during the times of the pandemic by wearing black protective face masks.
Other than Camila and Shawn, Stuck With U singer Ariana Grande was also seen protesting. In a picture shared by a fan page on Twitter, Ariana is spotted dressed in her casual attire holding a cardboard sign that read, "Black Lives Matter." The picture of Grande seems to have been clicked while she was protesting Los Angeles. The singer who recently released her single Rain Over Me with Lady Gaga also shared videos on her Instagram from the protests.
@ArianaGrande currently has a no.1 song but instead of using her platform to shade it, shes using her platform for the right reasons. Shes not only spreading awareness & petitions, shes out there taking part in the protest. This is how you use your influence.#BLACK_LIVES_MATTER pic.twitter.com/M8aS0Ornzw

— Josh⁸ is 홍중 Jewerly 🦋📌 (@HongTlny) May 31, 2020
Meanwhile, celebrities Emily Ratajkowski, Madison Beer, Paris Jackson and many other stars also took to the streets and joined the protests seeking justice after the tragic death of George Floyd. Check out their pictures and videos protesting below:
LEAVE SANTA MONICA NOW IF YOU CAN I WAS JUST TEAR GASSED THEY ARE ARRESTING EVERYONE AND TEAR GASSING ALL CROWDS

— madison beer (@madisonbeer) May 31, 2020
Image source: Instagram