Hillary Clinton Talks About The Monica Lewinsky Scandal On Ellen DeGeneres' Chat Show, 'Revisiting It Was Difficult'
Speaking to Ellen DeGeneres on her chat show, Hillary Clinton talked about Bill Clinton and Monica Lewinsky scandal, and said that revisiting the topic, and talking about it was difficult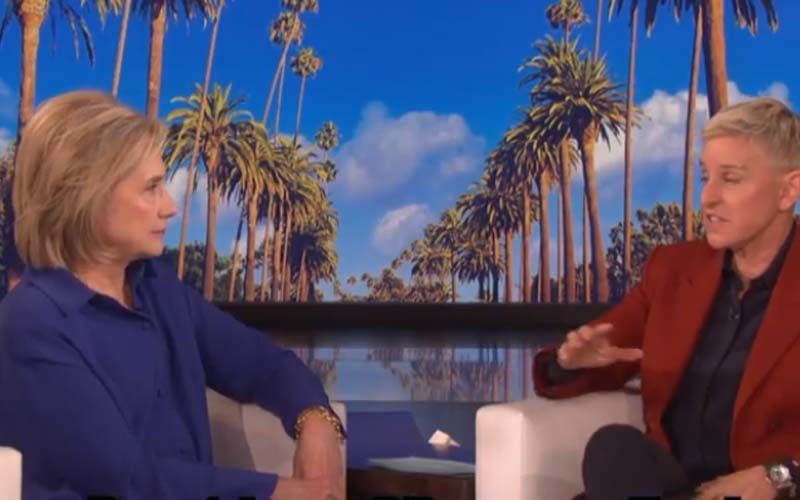 The Ellen DeGeneres' Show, one of the most popular American shat shows hosted by comedian Ellen DeGeneres, features celebrities from several fields. This time around, we will get to see a special guest- former First Lady of the United States, and American politician Hillary Clinton. While the episode featuring Hillary is yet to air, a new promo of the episode has been shared by Ellen on her page. In the promo, we can see Hillary Clinton talking about Bill Clinton and Monica Lewinsky scandal, and said that revisiting the topic, and talking about it was difficult.
While speaking about her upcoming documentary called, 'Hillary', she said that she was asked the Monica Lewinsky scandal. In the promo, Ellen asks Hillary, "There was nothing off-topic that you- you went there with Monica Lewinsky. President Clinton talked about Monica Lewinsky. Because you said you can ask anything, was that really difficult for you? I mean, it must have been really tough to relive that." Hillary Clinton replied, "Yeah it was. Once I agreed to cooperate, the director said, well, we're gonna talk about everything. And I said, ok. And yet when it actually came time- yeah, it's hard. You know as I said when I was talking about the book Chelsea and I wrote, The Book of gutsy women, staying in my marriage was the gutsiest personal decision I ever made. So for me, revisiting that, talking about it. For my husband also, to agree to be in the film, and then also to be asked, you know, made it a bit difficult. There's no doubt about it."
Daily Mail further quoted Hillary saying in the episode of Ellen's chat show, "'It was a really emotionally draining experience to go through it again but I have to say: once I saw the whole four-hours of the documentary, I hope that our talking about this, my willingness to address all of this, really does help other people." The episode is yet to air, but it looks like people are very excited to watch the episode.
Image Source: Instagram/theellenshow