Jennifer Aniston Joins Instagram With A Friends Reunion Selfie; Fans Advice Her To Upgrade Her Phone
About yesterday, Jennifer Aniston marked her social media debut by officially starting her photo-sharing app account, Instagram. While the actress shared a picture of her FRIENDS cast as her first post, Jen received a backlash from the Twitterati advising her on a phone upgrade as the picture quality was low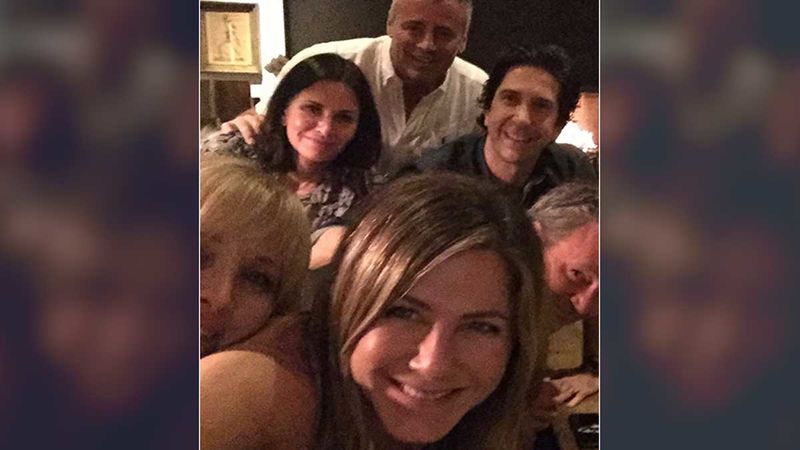 Jennifer Aniston
left her fans worldwide in a shock with her social media debut yesterday. The actress took to her Instagram account to share a selfie of the FRIENDS cast and wrote, "And now we're Instagram FRIENDS too. HI INSTAGRAM." The actress received a lot of love from her Friends in Hollywood as well as her fans worldwide. While Jennifer's post was well-appreciated by her Friends, the Twitterati had a piece of advice for the actress. As Jen posted a poor quality picture of her with her FRIENDS cast, the actress receives a backlash from the Twitterati advising her on a phone upgrade.
Aniston's Instagram debut left everyone go crazy over it, and in no time, the actress has a good 7.6 Million followers on her photo-sharing app. While a first post is something that matters the most while marking your IG debut, Jennifer Aniston went the smart way posting a picture of the
FRIENDS
cast with a quirky caption. As the picture is shot in a low lighting environment and is a poor-quality image and pixelated, the Twitterati advice Jennifer on buying a new phone or getting an upgrade. The picture Aniston shared saw a grainy selfie of the entire FRIENDS cast including Jennifer Aniston, Courteney Cox, Lisa Kudrow, Matt LeBlanc, Matthew Perry and David Schwimmer. (Also Read:
Jennifer Aniston Instagram Debut: Ex-Husband Justin Theroux Extends Warm Welcome; Rachel Green Says I LOVE YOU To Her FRIENDS Gang
)
While the Twitterati lashed out at the actress, some said, "In keeping up with the Friends time-line theme, Jennifer Aniston posts a picture to Instagram that looks like was taken by a digital camera from 1999," whereas another wrote, "I think Jennifer Aniston could do with a phone upgrade. The camera that selfie was taken on is shite."
Meanwhile, as a lot is going on about the Murder Mystery actress' picture choice, a friend suggested Aniston
post a nude picture of herself
as her first Instagram picture. Jennifer Aniston received a great response on her Instagram debut from her friends, while ex-husband Justin Theroux also took to the comments section of the post to welcome the actress.
Image source: Insatgram/ Jennifer Aniston