Justin Bieber And Hailey Bieber Exchange A Steamy Kiss On The Rocks After Snorkelling; Singer Poses Shirtless With His Bikini Clad Hot Wife
Justin Bieber and Hailey Bieber flew down to Hawaii on a short trip with friends recently. The couple shared pictures on their respective Instagram handles as they enjoyed snorkelling. Check it out!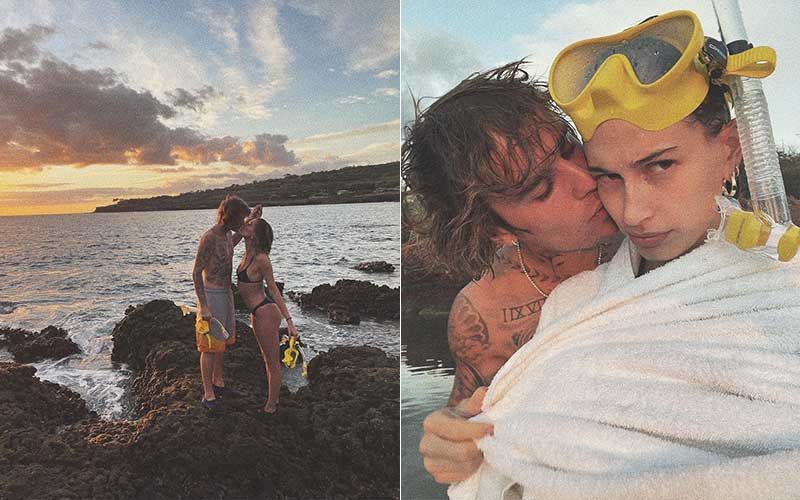 Justin Bieber is crazy about his wife Hailey Bieber. And, the singer never fails to express his feelings for his ladylove. The Canadian singer constantly shared amazing pictures of his wife and showers lots of love on her. It was recently that Justin and Hailey took their first trip of the New Year. They flew down to Honolulu, Hawaii on a short trip and enjoyed their time with friends. Justin shared a selfie, clicked by his wife as they headed on an amazing beach vacay.
The couple shared several other pictures on their respective Instagram handles as they enjoyed some water activities too. The Stuck With U singer shared adorable picture cuddling Hailey. He is seen giving her a peck on her cheeks as she makes a frown face. Hailey is wrapped up in a towel, wearing her snorkelling gear. Justin also posted a shirtless picture of him, sitting on a motorbike. He looks cool. The singer also shared a sexy picture that is worthy of setting screens on fire. In it, Hailey is spotted lying down, wearing a skimpy black bikini, while Justin sits in shorts and an unbuttoned tee.
Take a look at the posts below:
Meanwhile, recently Justin Bieber opened up about wanting kids with Hailey and starting a family. During an appearance on The Ellen DeGeneres show, Justin said, "I'm going to have as many as Hailey is wishing to push out. I'd love to have myself a little tribe. But, yeah, it's her body and whatever she wants to do." As per reports in MailOnline, Bieber and his wife flew down to the island to meet the singer's best friend Joe Termini and his wife Kelia Moniz and their newborn son.
Image source: Instagram/Hailey Bieber