Justin Bieber's Wifey Hailey Baldwin Bieber's Latest Bikini Pictures Will Give You All The Friday Feels; Fans Go 'Damn That Skin, Body, Glow'
Hailey Baldwin Bieber is craving for some sun and her latest pictures in a hot bikini will make you crave a beach vacation which you can't take right now!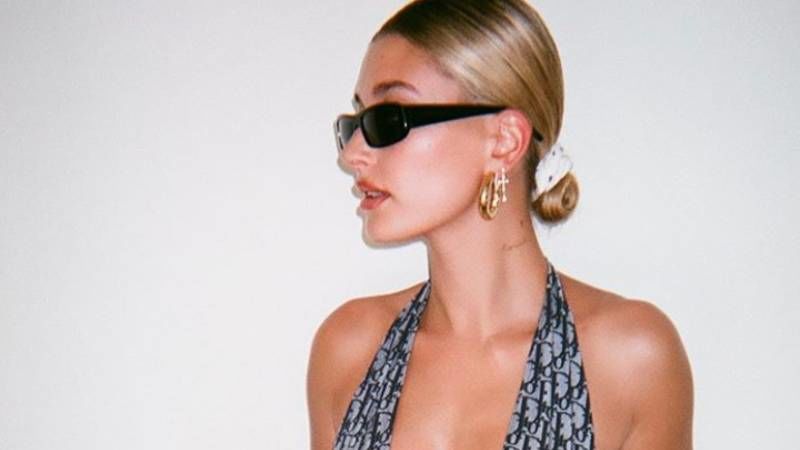 It's Friday but sadly we can't say Thank God It's Friday. Thanks to quarantine due to the outbreak of Coronavirus, we all are stuck at home and can make no plans for the weekend. But hey, we can at least dream about some exotic holiday at the beach, soaking up the sun in hot bikinis. C'mon, it's just a dream, you can be in a bikini. And if you need some inspiration, here's an insanely hot picture of Justin Bieber's wifey Hailey Baldwin Bieber in a bikini, flashing her hot bod.
Just like you and me, Hailey and Justin too are observing self-isolation in the home in Canada. While under house arrest, Hailey is craving some sun and that she has expressed by sharing her sexy pictures in a bikini on Instagram. She shared the pictures with the caption, "craving some and thinking about 🇯🇲." We see Hailey flaunting her amazingly hot body wearing a blue bikini set, jet black shades, and hair tied in a bun. In the next picture, which is a close-up of her fingers, she seems to be showing off the huge rock on her ring finger that Justin gave her. And needless to say why Hailey's fans are obsessing over these pictures of her. That body, that glow on her face is indeed infectious.
We must say, Hailey has the strongest Instagram ever! She never fails to impress us with her classy pictures and this just adds to the lot. But hey, we are not craving for an exotic holiday and want to hit the beach ASAP.
Image Source: Instagram/haileybieber