Justin Bieber SLAMS A Fan Urging Supporters Of Ex-GF Selena Gomez To 'Bully' His Wife Hailey Bieber; Calls It 'Sad Excuse Of A Human'
Justin Bieber and Hailey Baldwin are disgusted with a fan asking all the Selena Gomez supporters to 'bully' Hailey and ask Justin to leave her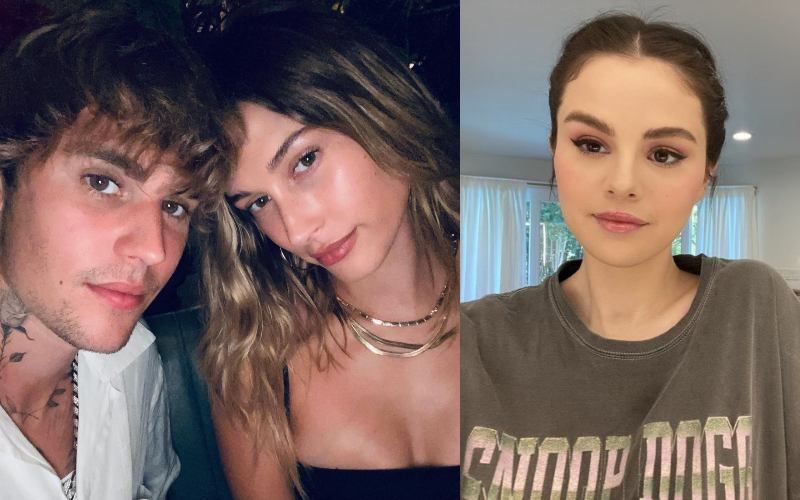 Justin Bieber and Selena Gomez's love life ended years ago. The duo, in fact, has moved on in their respective lives with Justin marrying Hailey Baldwin, while Selena enjoying her singlehood. The ex-couple's shippers, however, are finding it difficult to accept the same. As a consequence, Justin's wife Hailey often comes under the receiving end of trolls and negativity. The model keeps mum on this matter, however, now, it looks like Justin has reached to his saturation point. It so happened that the Baby singer came across a video of his fan asking all the Selena supporters to bully Hailey and ask her to exit Justin's life, paving way for Selena.
The girl in the video could be heard saying, "This is the time where they will not be turning off comments. So we need to f—king bombard that s—t with Jelena and how Selena is better. Go after her, please, let's all go after her."
In his long note on Instagram, Justin Bieber slammed that fan by calling it 'sad excuse of a human'. He also shared how both him and Hailey face such unwanted negativity every day and that it should stop now. "This sad excuse of a human just encouraged people on video to literally go after my wife telling people to say that my previous relationship was better so on and so fourth [sic]. I just wanted to share this so people get an idea of what we face on a day to day," wrote Justin.
He added, "It is extremely hard to choose the high road when I see people like this try and rally to gather people to bully the person I love most in the world. It is not right. As many people as there are that want to spend their time publicly degrading shaming and trying to humiliate us we would like to ask those who have it in them to lift us up in prayer. We need prayer and support as we continue to put ourselves out there!"
Take a look: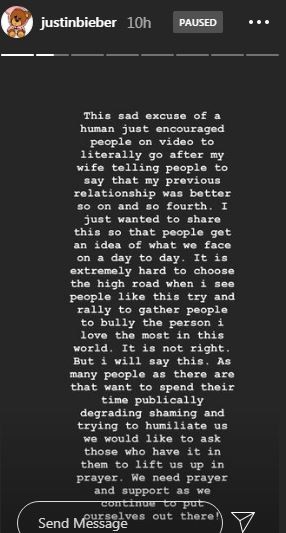 Hailey, on the other hand, reacted to the same by writing, "I usually stay quiet and don't acknowledge these things because I need to protect myself and my mental. But it has truly gotten to a level of anger and hate that is shockingly unhealthy and sad. I would never in a million years wish for someone to be treated this way and I will never condone this kind of hateful behavior."
image source: instagram/justinbieber, selenagomez