Kanye West seems to hope that he could reconcile with his estranged wife Kim Kardashian.
The Grammy winner shared a throwback picture of himself kissing his ex, Kim Kardashian on his Instagram stories on Friday Morning. The monochrome picture is just one of the several public attempts West has made this week to seemingly win Kardashian's attention. This all comes, despite her filing for divorce and moving on with comedian Pete Davidson.
The image was originally posted to her Stories in September 2019, when their family was vacationing in the Bahamas. She deleted it quickly for unknown reasons.
The TMZ story he shared over the photo was titled, "Kanye West Says God Will Bring Kim and Him Back Together, Inspire Millions." He also tagged both Kim and the website, on his IG story.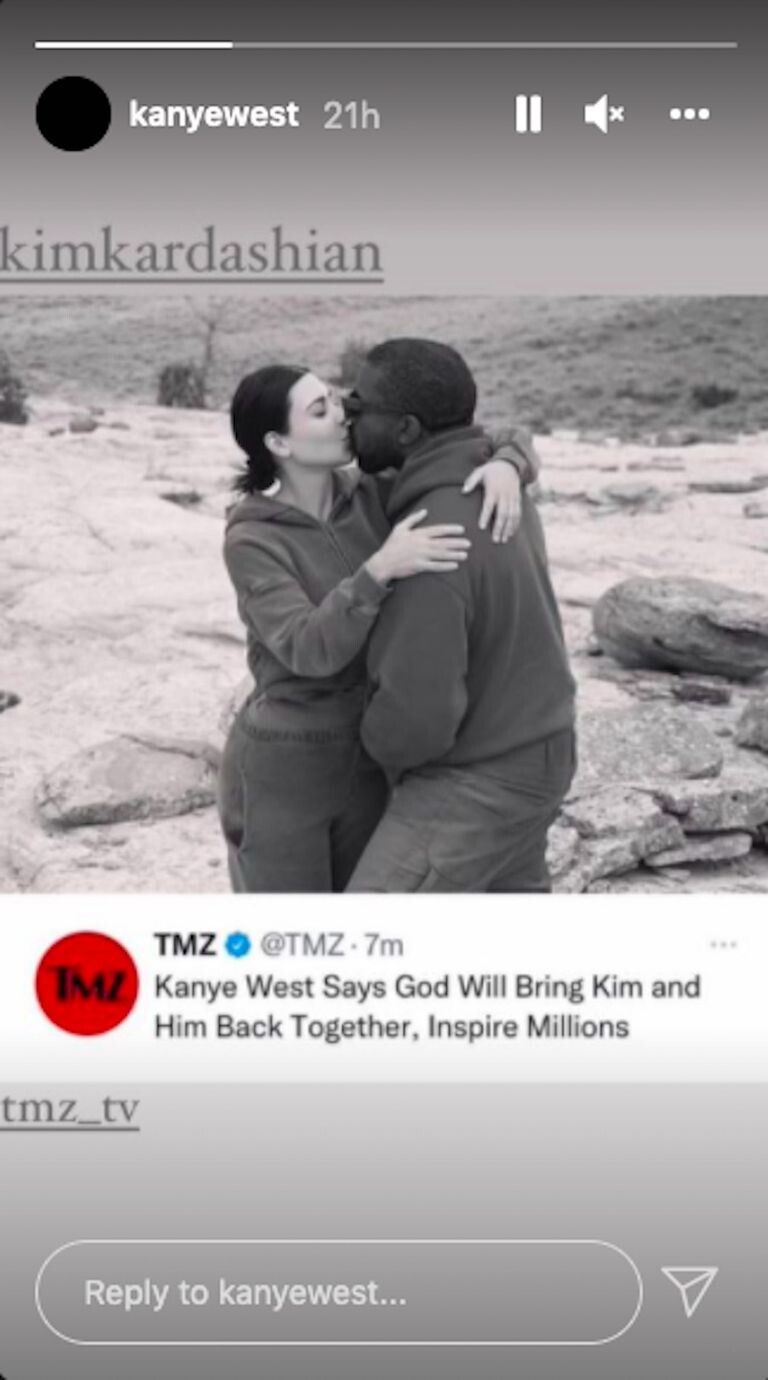 On Thursday, West posted what he called his Thanksgiving Prayer, a five-minute monologue soundtracked by his Sunday Service Choir.
In the post, West admits to alcohol abuse, being inconsistent with his medication, and having issues with his temper. He also referenced his alliance with Donald Trump and his attempt to run for president and the embarrassment that caused Kardashian.
Meanwhile, as per Hollywood Life, Kanye West in his latest speech about his personal life said, "The narrative God wants is to see that we can be redeemed in all these relationships. We've made mistakes. I've made mistakes. I've publicly done things that were not acceptable as a husband, but right now today, for whatever reason — I didn't know I was going to be in front of this mic — but I'm here to change the narrative."
Kanye West added, "I have to be next to my children as much as possible. So, when I'm out the house, I've got a house right next to the house. I'm doing everything to be right next to the situation," he also said. "I'm not letting E! write the narrative of my family. I'm not letting Hulu write the narrative of my family … I am the priest of my home."
During that show, Kanye also addressed his relationship with his kids saying, "I have to be next to my children as much as possible. So, when I'm out the house, I've got a house right next to the house. I'm doing everything to be right next to the situation."
He ended his speech by saying, "I'm trying to express this in the sanest way, the calmest way possible, but I need to be back home."
Image Source: Instagram/KimKardashian