Khloe Kardashian's Selfie With 'Soulmates' Kylie Jenner And Rob Kardashian Is All Heart; Kylie Calls The Trio 'Triplet Souls'
Khloe Kardashian took to her social media to share a picture of her with her 'soulmates' from her Birthday celebrations. The picture shows Kylie Jenner and Rob Kardashian posing for a picture with Koko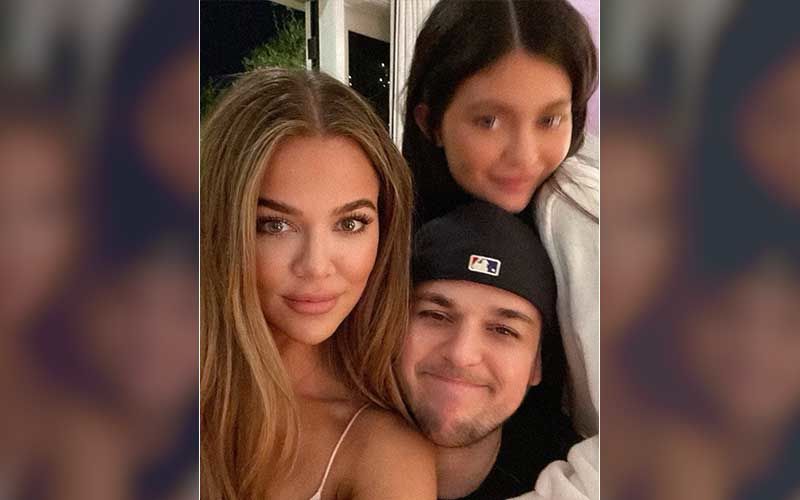 'Keeping Up With The Kardashians' star Khloe Kardashian ringed her 37th Birthday on Sunday. She received a lot of Birthday wishes from family and friends. Her fans too made sure Koko felt special. Khloe was showered with love from Kourtney Kardashian, Kim Kardashian, Kendall Jenner and Kylie Jenner. As the Kardashians celebrate their birthday's in the best way possible, it looks like Khloe had a blast with her family and close ones. She took to her social media to share a picture of her with her 'soulmates' from her Birthday celebrations.
Khloe posted a picture with Kylie Jenner and Rob Kardashian. The picture shows Kylie Jenner and Rob Kardashian posing for a selfie with Koko. Khloe seems to click the selfie, Rob makes a cute face and Kylie has almost got blurred out. However, sharing the picture, Koko wrote, "Soulmates." She called Kylie and Rob her soulmates. The Kar-Jenner fam did not miss the chance to comment on the adorable photo. Kourtney Kardashian asked Khloe, "Did you crop me out?" Kylie Jenner called Khloe and Rob "triplet souls," while Kim Kardashian said they're "Cuties!!!!!"
Take a look at the post below:
Meanwhile, on Khloe's Birthday, Kylie Jenner had made a heartfelt post for her beloved sibling. Kylie posted a picture of Khloe and her from her childhood. Sharing the throwback picture, she wrote, "my sister, my soulmate, my best friend! i will find you in every lifetime! to know you is to love you. happy birthday to the most special soul!! i'm so blessed to have you by my side. words can't describe how much you mean to me. you deserve the world and more." Khloe also reacted to the post and called Kylie her 'angel girl. Also Read:
Khloe Kardashian's Birthday: Mirror Selfies Of The KUWTK Star That Will Leave You Spellbound
Taking to Twitter, Khloe thanked fans for the 'tsunami of love'. Kardashian thanked everyone for loving her the way they do. She revealed she celebrated her Birthday, swimming with daughter True all morning.

Image source: Instagram/ Khloe Kardashian