Kim Kardashian Misses Her Sisters While In Self-Quarantine: 'We Are All Staying Away From Each Other'
Kim Kardashian shared a throwback picture with sister Khloe and mentioned how she misses her sisters in this time of self-quarantine as they are all staying away from each other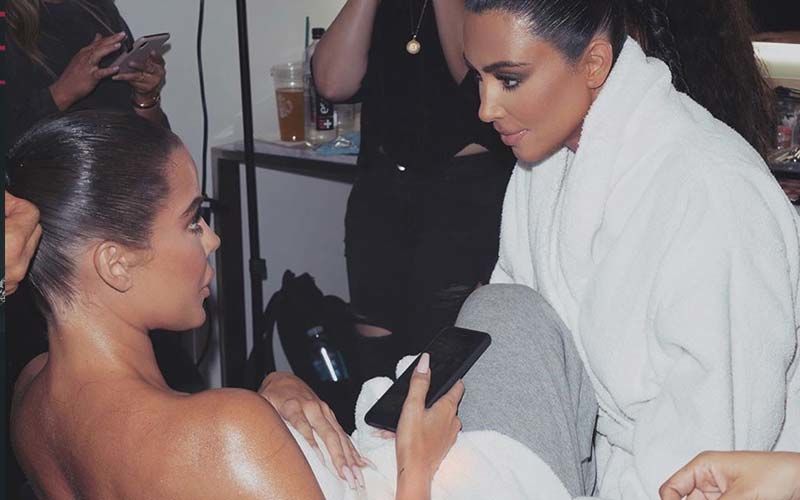 Kim Kardashian's Instagram feed is all about aesthetics and flaunting her hourglass figure most of the times. The Keeping Up With The Kardashians star frequently gives her fans a glimpse into her everyday life, sharing everything right from what she wore, to what she did on her Instagram stories. However, taking a break from her glamorous pictures, in light of the current situation with the coronavirus pandemic spreading globally, she took to her social media platforms, raising awareness about the same.
Kim Kardashian took to her Instagram and shared a throwback picture with her sister Khloe Kardashian. The two can be seen in towels and robes, while they get their hair and makeup done. Explaining the throwback picture, Kim wrote in her caption, "I was organizing my photos in my phone and found this and miss my sisters but we are all social distancing and staying away from each other all separately self quarantined. It's hard but we have to do this for our safety and for everyone else's. PLEASE do not ignore the severity of the warnings to stay inside to stop the spread of this virus. We will all get through this! #TogetherApart."
That's not all, Kim also took to her Twitter and she has been sharing several tweets emphasizing the importance of staying at home at such times.
Unless you are leaving your home to go to work, restock on necessary food and essentials, to see your doctor or to help someone in need such an an elderly neighbor, please do not ignore the severity of the warnings to stay inside to stop the spread of this virus.

— Kim Kardashian West (@KimKardashian) March 17, 2020
Kim Kardashian had tweeted, "Unless you are leaving your home to go to work, restock on necessary food and essentials, to see your doctor or to help someone in need such an an elderly neighbor, please do not ignore the severity of the warnings to stay inside to stop the spread of this virus."
Image Source: Instagram/kimkardashian