Kylie Jenner's Daughter Stormi Cutely 'Takes Control' Of Dad Travis Scott's Fortnite Game Concert – VIDEO
Just some time back, Travis Scott took to his Instagram story and shared an adorable video of his daughter Stormi Webster who has taken over the controls of her dad's Playstation 4. Looks like even her father couldn't beat her. Scroll down to watch the video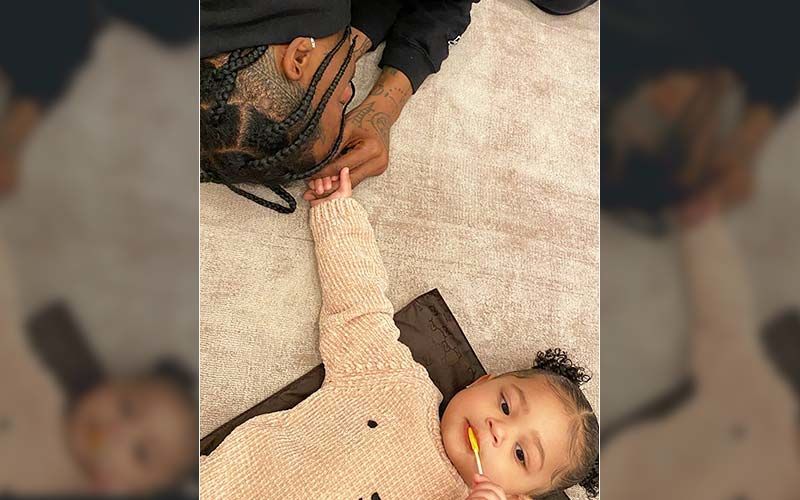 Stormi Webster is having the BEST time during quarantine! Don't believe us? Well, it is Travis Scott and Kylie Jenner's Insta stories that make us believe that she is indeed having the best time of her lives. More so because her father Travis is also under self-isolation with Kylie Jenner and when mommy and papa are together, it obviously becomes the best and memorable day for anyone. Amidst the lockdown, Stormi got the chance to spend some quality time with them, hence, Stormi is simply over the moon and we can see how his and Kylie Jenner's daughter is full of life on their Insta stories.
Just a couple of weeks ago, Travis shared a few videos where she was seen full of beans as she got the chance to go on a pool playdate with dada Travis and oh boy, she was all bright-eyed and bushy-tailed. In the video, we saw her jumping around in happiness. Well, this time, Stormi decided to 'take over' dada's Fortnite game concert and how! Scott shared a video where he is seen getting interrupted with the little munchkin who takes over the controls of her dad's Playstation 4.
While sharing the video, he wrote, "Stormi took over" on the sweet video of his daughter. In the video, we can see her play the game like a pro while wearing a pair of noise-cancelling headphones. "Be back one sec," Scott's caption continued.
Image source: Instagram/travisscott