Lady Gaga And Oprah Winfrey Hug It Out And Cry; Know Why- Video Inside
Lady Gaga who happened to be the first guest on Oprah Winfrey's WW 2020 Vision Tour, just left the famous interviewer teary-eyed, when they met backstage. The singer made some shocking revelations about her past without being unfazed of the society, thus winning Oprah's heart within no time. Check out the video inside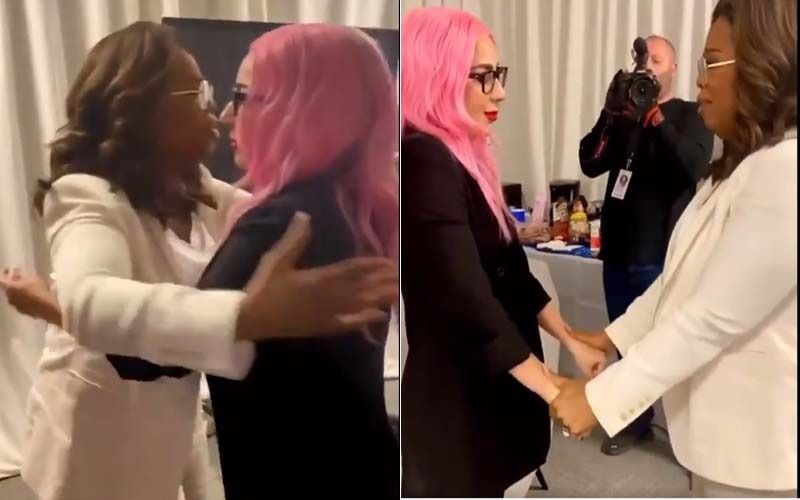 Oprah Winfrey's WW 2020 Vision Tour literally started on a high note and credit goes to her first guest, the singing sensation Lady Gaga. Opening up on several tabooed topics pertaining to her life, career, mental health and a lot of traumatizing events, she just won the heart of the show's host and the audience present at the tour. Winning Oprah's heart was the singer's revelation about being sexually assaulted in her teens and suffering from Fibromyalgia during her tour. Fibromyalgia is a rare disorder that is pertinent to widespread musculoskeletal pain which also results in fatigue, sleep, memory and mood issues.
Now, this revelation and hard-hitting truth of her life compelled Oprah to meet her personally and praise her for boldly speaking about the trauma and being real and true to the core. A video of Oprah walking backstage and meeting Lady Gaga has gone viral, where we could see the famous interviewer breaking into tears and gushing over the singer for her courage and strength. While in the video we can see Oprah unstoppably praising the diva, she too was overwhelmed; the two are also seen hugging at the end getting all emotional. ALSO READ:
Lady Gaga Indulges In A Minute Long Smooch With A Mystery Man At A New Year's Eve Party - WATCH VIDEO
In the video, we can hear Oprah saying, "Can I tell you you were so amazing. You were so good! You were so vulnerable, you were so truthful, you were so real. I couldn't even believe you were doing that! Oh my god, you were so real, so good, so strong, so you! It was so good. Thank you for doing that for me."

Image Source: Twitter/enews