Oscars 2023: Lady Gaga Appears With No Make-Up Look While Rihanna Enthralls The Audience With Her Live Singing; Here's All You Need To Know!
Lady Gaga caught everyone off guard as she appeared on stage during Oscars 2023 while Rihanna left everyone emotional with her soulful performance to 'Lift Me Up'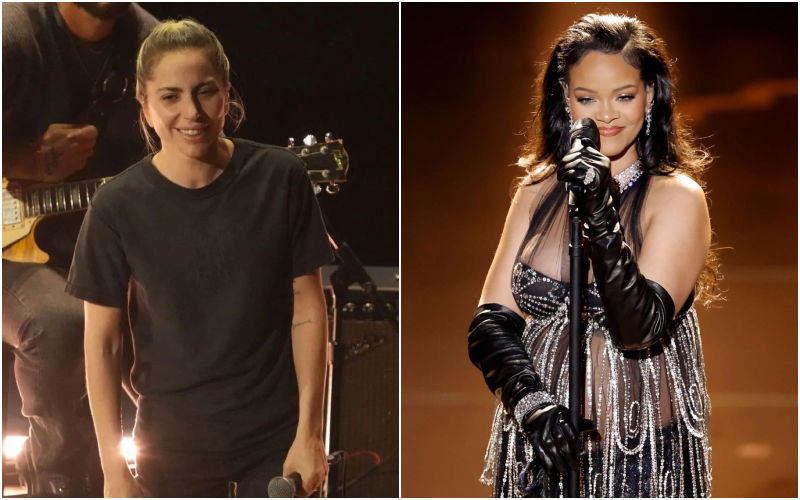 Rihanna and Lady Gaga never fail to impress the internet and their fans. The leading ladies in the music industry have always been ahead of their game and can effortlessly grab eyeballs with their stunning appearances. Their appearance at the 95th Acadamy Awards was no different.

This year, Lady Gaga caught everyone off guard as she appeared on stage during Oscars 2023, and the singer showed up without any makeup and wore ripped jeans and a black t-shirt for a more laid-back appearance. She sang 'Hold My Hand', one of her songs from the Top Gun: Maverick-themed blockbuster movie starring Tom Cruise.
The latest appearance comes due to the pressures of filming 'Joker: Folie a Deux'. While Gaga was likely to skip the awards presentation, her latest laid-back appearance seems to be a last-minute decision. Previously, Oscars executive producer and showrunner Glenn Weiss had stated that Gaga would be performing during a creative team press conference on March 8.
Meanwhile, Rihanna on the other hand performed the Oscar-nominated song 'Lift Me Up' from 'Black Panther: Wakanda Forever'. The audience at the Dolby Theatre were moved by the strength and emotiveness of her live singing, despite the fact that she had to lip sync during her most recent Super Bowl Halftime performance.
Lift Me Up' is Rihanna's first single after a long drought of new material being released, and it earned the singer her first Oscar nod. The music was created by Rihanna Tems, 'Black Panther 2' director Ryan Coogler and composer Ludwig Goransson, with Tems and Coogler penning the lyrics.
Rihanna also made waves for revealing her second pregnancy while on stage at last month's Super Bowl Halftime show.
This was her first live performance since the 2018 Grammys, Rihanna sang some of her biggest hits, including 'Where Have You Been', 'Only Girl (in the World)', 'Work' and 'We Found Love'. 'Lift Me Up' was not on the setlist.
Image Source: Instagram