People's Sexiest Man Alive 2019: John Legend Dethrones Idris Alba, But Twitterati Believes Jason Momoa, Keanu Reeves Deserved It
John Legend was recently declared People's Sexiest Man Alive 2019, but the Twitterati have Jason Mamoa and Keanu Reeves as their option. Meanwhile, Legend's wife cannot get over it and has shared her reaction on social media too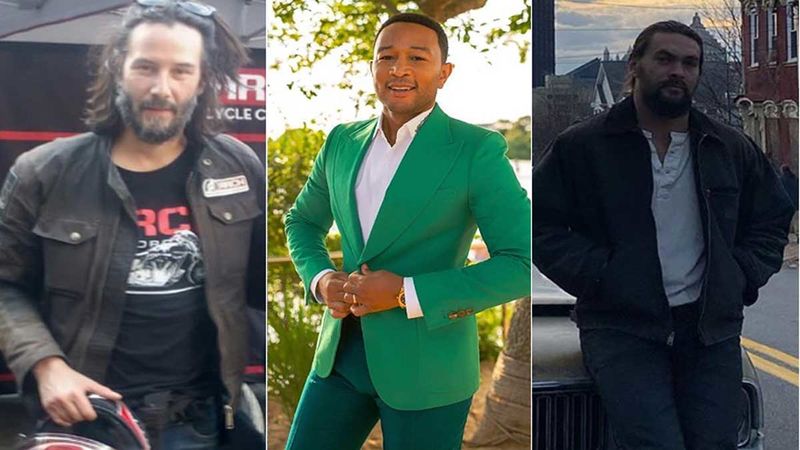 John Legend
has been winning many hearts with his soulful voice. The African-American singer recently proved he has it all by being the youngest EGOT (Emmy, Grammy, Oscar, Tony) Awards winner in history. With his big win, Legend is also the first African-American singer to win all four titles. As the singer is basking in his success, People's Magazine recently declared John Legend with the title of People's Sexiest Man Alive 2019. As the magazine shared the news with Legend's picture on the cover photo of the November issue, the Twitterati have other options who they think might fit the title well.
While many cannot believe John Legend being declared as the Sexiest Man Alive 2019 title, the Twitterati are in shock and have shared their opinions on the suitable person to be the titleholder. While the Twitterati are in shock, the top names suggested to be the title holders were GOT actor Jason Mamoa and
Keanu Reeves
. A Twitterati wrote, "#KeanuReeves should have been People Magazine's #SexiestManAlive," while another said, "No offense to #JohnLegend, but have the editors at @people not seen #JasonMomoa? #sexiestmanalive is right here Get some glasses People Magazine Editors." Also Read:
Keanu Reeves Makes It Official With Girlfriend Alexandra Grant; Two Arrive Hand-In-Hand At The Red Carpet
As the Twitterati blame the People's magazine editors for their choices, John Legend couldn't believe being the sexiest man alive either. The singer took to his Twitter and wrote, "1995 John would be very perplexed to be following 2018 @IdrisElba as #SexiestManAlive. Hell, 2019 John is about as equally perplexed but thank you @People for finding me sexy. I'll take it." While the singer is in shock about being the sexiest man alive, he thanked the magazine for finding him sexy.
Replying to Legend, Idris Elba congratulated him for winning the title this year and took a fun jibe at Dwayne Johnson saying, "My G Congratulations brother !!! You deserve it. DO NOT TELL @TheRock He still thinks he's got the title, I didn't have the heart to tell him when I took it."
Between the fun camaraderie between the stars, John Legend's wife Chrissy Teigen also had an epic reaction to her husband being the sexiest man alive. Teigen took to her Twitter and updated her status, and wrote, "currently sleeping with the sexiest man alive," while she also shared that the sexiest man alive made her a ham sandwich.
the sexiest man alive just made me a ham sandwich

— christine teigen (@chrissyteigen) November 13, 2019
Meanwhile, with all the fun going around with John Legend being declared as People's Sexiest Man Alive 2019, the singer has voiced many iconic songs until now which have been a treat to the ear.
With songs, All of Me, Tonight, Love Me Now, Preach, Ordinary People, Beauty and the Beast, You & I, Save Room and many others, John Legend's iconic music contribution is mind-blowing.
Image source: Instagram/ John Legend, Jason Mamoa, @keanureeves.fanpage