SHOCKING- Jennifer Aniston And Brad Pitt Got MARRIED At Her Christmas Party? Deets Inside
Reports state that ex-spouses Jennifer Aniston and Brad Pitt recently tied the knot once again at the Christmas 2019 party the Friends star hosted. Debunking the ludicrous story, Gossipcop.com proves it's all untrue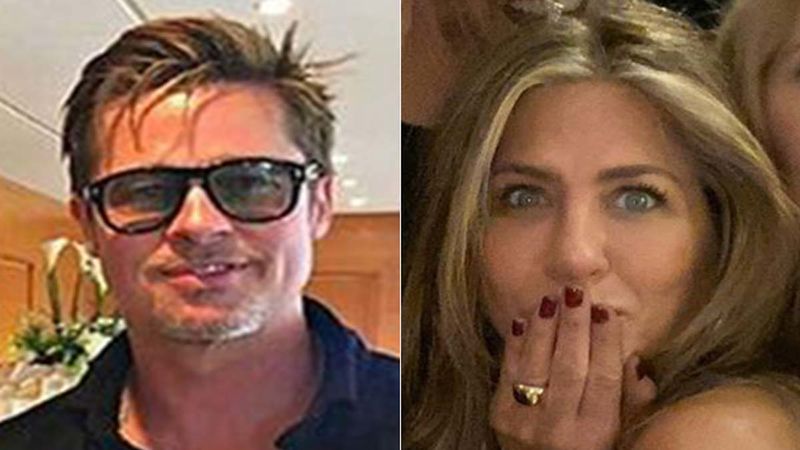 Jennifer Aniston
and
Brad Pitt
were married to each other for five long years from 2000 to 2005 and the couple was goals. After being divorced from both Jennifer Aniston and Angelina Jolie, Brad Pitt has currently sparked many dating rumors with several women and was also reportedly hanging out with ex-wife Jennifer. Now, reports state that Jennifer Aniston and Brad Pitt recently tied the knot once again at the Christmas 2019 party the Friends star hosted. Debunking the ludicrous story, Gossipcop.com proves it's all untrue.
Reports state that as Brad Pitt was a part of Jennifer Aniston's A-listed Christmas Party, both the Hollywood stars once again married each other in the presence of friends gathered. Finally, Gossipcop.com brings out the truth to Jennifer Aniston and Brad Pitt's Christmas wedding and proved the story is false. As per Gossipcop.com, Brad Pitt was present at Jennifer Aniston's Christmas bash and attended it, but there was no wedding that happened. Debunking the truth, Gossipcop.com assures that Brad and Jennifer did not tie the knot. The spokespersons to the stars also confirmed that the ex-spouses have not rekindled a romance and are not getting back together and called out the said source to be false. Also Read:
Angelina Jolie And Jennifer Aniston To Have A Face Off Over Brad Pitt At An Award Function? Here's The Truth
According to New Idea speculations, a source revealed to the Christmas party hosted by the Friends star also witnessed a secret wedding. The theory came out to be as Jennifer Aniston and ex-husband Justin Theroux tied the knot secretly at his Birthday party. As Brad Pitt attended Jen's party, as per the report, history could be repeating itself with the Ad Astra star marrying ex-wife at her party. With friends gathered, according to the said source, as Jen wants to be Mrs. Pitt again, the couple sealing the deal once again would be perfect.
Meanwhile, as Gossipcop.com proves the story false, the website also debunked a story earlier claiming that Jennifer Aniston and Brad Pitt married during her 50th Birthday party. Gossipcop.com has also proved a story false that claimed that Jennifer Aniston was losing it and was having a breakdown for looking old.
Image source: Instagram/ @bradpittofficial, Jennifer Aniston