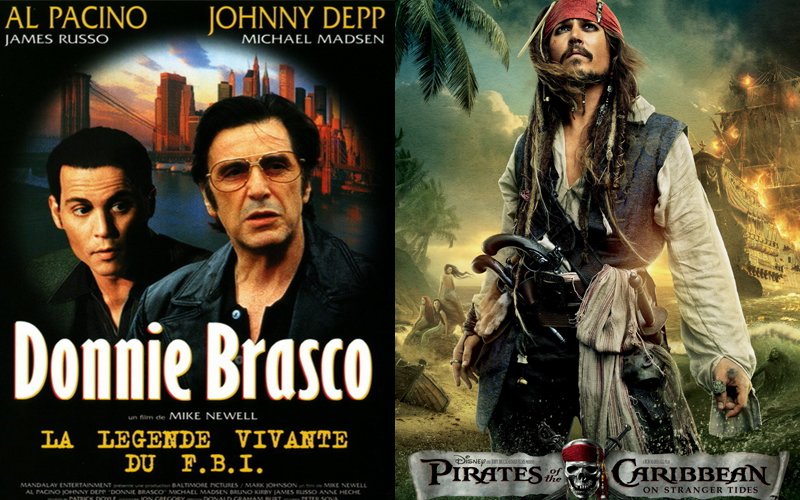 Your browser does not support the video tag.
Johnny Depp, born John Christopher Depp II on June 9, 1963 has brought to life several quirky, wild and memorable characters to life on-screen.

Johnny had bit roles in films like A Nightmare on Elm Street (1984) and Platoon and found commercial and critical success with Edward Scissorhands.

The three time Academy Award nominee was last seen in Disney's Alice Through the Looking Glass.

We list his iconic performances that wowed audiences as well as critics.

1. Pirates of the Caribbean franchise (2003 – current)


Image Source: filmfreek

It's very difficult to be the central character of a franchise that's nearing fifteen years now but Johnny succeeds in doing just that.

Johnny Depp as Captain Jack Sparrow has thrilled audiences for more than a decade.

Johnny is the complete package as Jack the Pirate with a conscience that's just about there.

2. Ed Wood (1994)


Image Source: pineasy

One of Johnny Depp's lesser known films that's a must see for everyone working in the film industry and likes a well told story.

Johnny plays the titular character based on the real life film maker Ed Wood who was famous in the small budget film circuit in the '50s.

A beautiful story about a man passionate about films needs an excellent actor who could bring all the emotions on screen. Johnny was the man.

3. Donnie Brasco (1997)


Image Source: tq

This was another titular character for Johnny and another awesome experience for his fans and film lovers.

Johnny played a jewel thief who gets in touch with an aging gangster and gets into his good books in this exquisitely scripted film.

Johnny was pitted against none other than Al Pacino and he put up a gritty performance that became an audience favourite.

4. Edward Scissorhands (1990)


Image Source: ravepad

This was the film that won Johnny Deep recognition. A quirky story that mixed romance with sc-fi and fantasy was just what the audience needed.

Edward was one of Johnny's first unforgettable characters that introduced the acting powerhouse to public.

5. Finding Neverland (2004)


Image Source: goldenglobes

Another real life inspired character bought to celluloid by Johnny Depp.

Depp played a character based on J.M Barrie, the author of Peter Pan: The Boy Who Never Grew Up.

The film was magical for the audience and Johnny wove his special brand of awesomeness in this Oscar nominated film.


Thumbnail Image Source: filmfreek & tq