The Outrageous Price Of Jennifer Lopez's Versace Dress That Inspired Emilia Clarke's Emmys Look Will Send You Reeling
Jennifer Lopez recently walked the ramp for Versace wearing the revamped version of her Grammys iconic outfit from 20 years ago and once again stunned us. So much so, that Game Of Thrones star Emilia Clarke too took inspiration for her Emmys look from JLo and thanked her. JLo's dress must have surely been outrageously expensive and the lofty price tag of her dress is sure to make your jaws drop!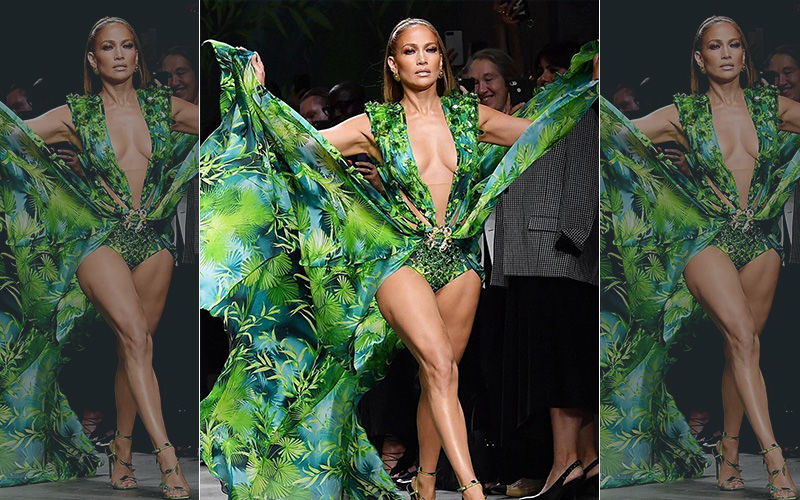 Hollywood star
Jennifer Lopez
took us 20 years back in the past
as she wore the revamped version of her Grammy's iconic bold outfit once again after so many years! The diva walked the ramp as the showstopper for Versace during Milan Fashion Week. The jungle themed leaf printed outfit with a plunging neckline had make quite a statement 20 years ago at the 42nd Grammys Awards and her recent look made fans go gaga over her as JLo looked hotter than ever now! Her recent appearance made a mark and also inspired Game Of Thrones star Emilia Clarke's look at the recently held Emmys Awards 2019.
When it comes to wearing outfits at prestigious events such as Grammy's, celebrities shell out a significant amount of money to ensure all eyes are on them. So it was very clear that Jennifer Lopez's outfit did not come cheap. According to Love to Know, the plunging neck green Versace dress was priced at a whopping 15,000 dollars! That is the price of the dress back in 2000. That amount roughly converts to 10.5 lakh rupees, almost 20 years ago. Can't even imagine what the price of the dress must be today!
Game Of Thrones star Emilia Clarke wore a similar ensemble at the Emmys and took inspiration from Jennifer Lopez's look. She also thanked JLo in an Instagram post on Sunday. She wrote, "@emmys2019 WE BE ROLLLLLIN!@jlo just as heads up you have inspired this years lewk. I am one lucky lady to have the best glam squad ever invented... @jennychohair @jilliandempsey @petraflannery @jennahipp YOU HAVE LIT THIS CHICK ON FYRE! thank you thank you thank you!"
Jennifer Lopez also shared a clip of Emilia Clarke from the Emmys where the latter mentions taking inspiration from JLo. Jennifer Lopez wrote on her Instagram caption, "When the Mother of Dragons meets #Ramona.#dead #HustlersMovie I love u @emilia_clarke #daenerys."
Image Source: Instagram/lovepromdress/emilia_clarke/jloverworld