When Kim Kardashian Turned Into A Diaper Changing Beast All For A Task Thrown At Her By Jimmy Kimmel - Video
We came across an old video of Jimmy Kimmel where he challenged Kim Kardashian for a diaper changing contest and well, Kim who already is a diaper-changing pro was crowned the ultimate winner. Looks like Jimmy Kimmel really can't 'Keep Up With The Kardashian'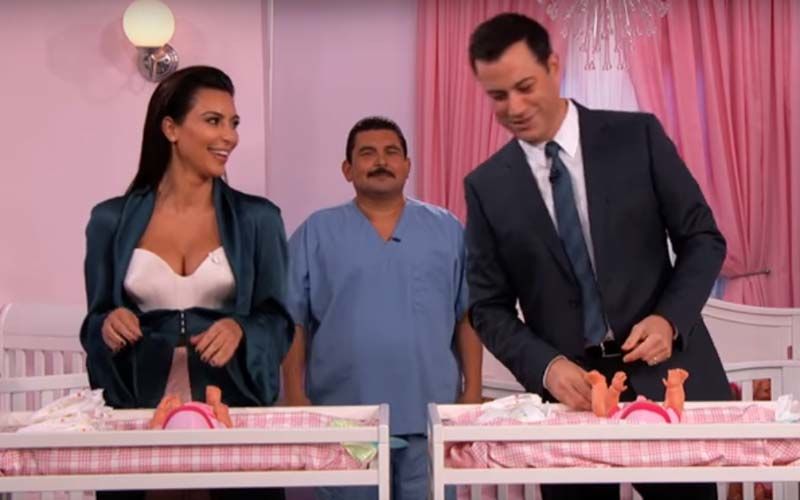 It seems a lot fascinating when we come across an old video or pictures and we are sure you might be agreeing to it. Similarly, we stumbled upon an old video of Jimmy Kimmel's talk show from 2014 where we see Jimmy with Kim Kardashian. The video is about Jimmy challenging Kim for a diaper changing contest and well, all we can say is that Jimmy really can't 'Keep Up With The Kardashian.' You know what we mean. After seeing the video it is proved that Kim Kardashian has proved herself to be a real hands-on mom when she took Kimmel on in a diaper-changing contest on Jimmy Kimmel Live.
Back then, Kim and Jimmy both have baby daughters so he challenged her to a diaper-changing contest. Kardashian, who has spoken about her love of diaper changing in the past, admitted to Kimmel that daughter North who was 13 months was a less willing participant. Speaking of which, the talk show host who has also welcomed a baby girl Jane back then, decided to throw a challenge to Kardashian who already was a diaper-changing pro.
In the video, Jimmy is first seen walking her through with the instructions on how to play the game. And after he explained the rules, the SKIM brand owner said that she removes her ring first before she changes the diapers, to which she said, "I usually take my ring off," removing her enormous engagement rock and placing it on changing table. "It's worth more than Versailles" quipped Kimmel. LOL.
Image source: YouTube/ Jimmy Kimmel Live