Will Smith-Chris Rock Slapgate Chaos Sparks Conspiracy Theories, Internet Claims Comedian Was Wearing FACE PAD During Oscars Slap
Will Smith's impromptu reaction spurred after Chris Rock joked about his wife Jada Pinkette-Smith's baldness and it has sparked multiple articles, opinions, and memes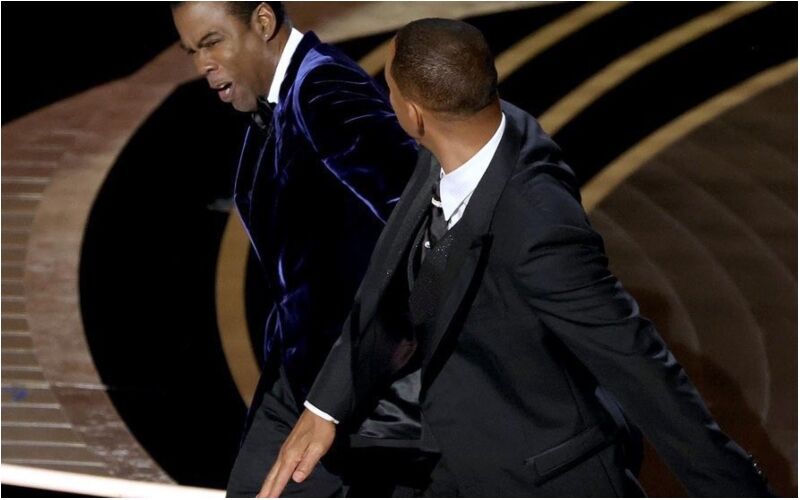 Will Smith and Chris Rock slapgate controversy at Oscars 2022, is one of the most exploding incidents on social media and it has divided the internet questioning the credibility of Will's fit of anger. The Bad Boys actor's impromptu reaction spurred after the comedian joked about his wife Jada Pinkette-Smith's baldness and it has ultimately sparked multiple articles, news stories, opinions, and memes.

Now, conspiracy theories have landed in the mix around the slap gate incident that happened on Sunday, March 27.
In 8k quality images you can see a pad on chris rocks cheek, yeah conspiracy theorists gonna go crazy with this one pic.twitter.com/oFyMXOPkNy

— posting clips that went viral (@viralclipsss) March 28, 2022
One of the conspiracy theories suggests that rock was wearing a face pad when he was slapped by Smith.
One of the tweets read, "In 8k quality images you can see a pad on Chris rocks cheek, yeah conspiracy theorists gonna go crazy with this one." One Facebook post says, "If you think the slap was real. Then why is Chris Rock wearing a prosthetic pad on his cheek? Plus his hands are behind his back and he leans forward. Fake fake fake. All for ratings."
However, in the official images from the 94th Academy Awards do not show any pad on Chris' face. Meanwhile, as per Gizmodo, there are two likely possibilities.
The first is that someone deliberately photoshopped the image to make it look like there's a prosthetic on Rock's face. The other, and perhaps more likely, the possibility is that someone used an 'artificial intelligence' app in an attempt to get a better image. Apps like Remini allow people to 'scale up' an image, but unaware users can easily misunderstand how they work.
Furthermore, another theory suggests that the fight was staged by Oscars sponsor Pfizer to boost interest in alopecia before it submitted its latest treatment for approval from the US Food and Drug Administration.
One user tweeted, "Pfizer sponsored the Oscars last night and they have an alopecia drug coming out. Do you see the game yet?" Another said, "Rumor is Pfizer, who sponsored the Oscars, needed a BIG moment around Alopecia because they have a drug coming to market. So the slap was staged. If I hadn't witnessed the absolute corruption of the pharma industry in the past 2 years I'd think this was ridiculous. But now."
The shocking slapgate incident saw Rock reportedly making a joke about Jada's bald head at the annual awards ceremony. The actress didn't look happy with the comment, and Smith walked onto the stage and slapped Rock for the quip about his wife, who suffers from alopecia. Later that night, he won his first Oscar for Best Actor for playing Richard Williams in 'King Richards'.
Image Source: Instagram