WWE Star Nikki Bella And Her Twin Make Kevin Hart Sit In A Cold Tub And It Is Cold As B**LS- VIDEO
The Bella Twins Nikki Bella and Brie Bella took a trip to the cold tubs with the Jumanji: The Next Level actor Kevin Hart and it is not cold AF but cold as b**ls. Scroll down to watch the video: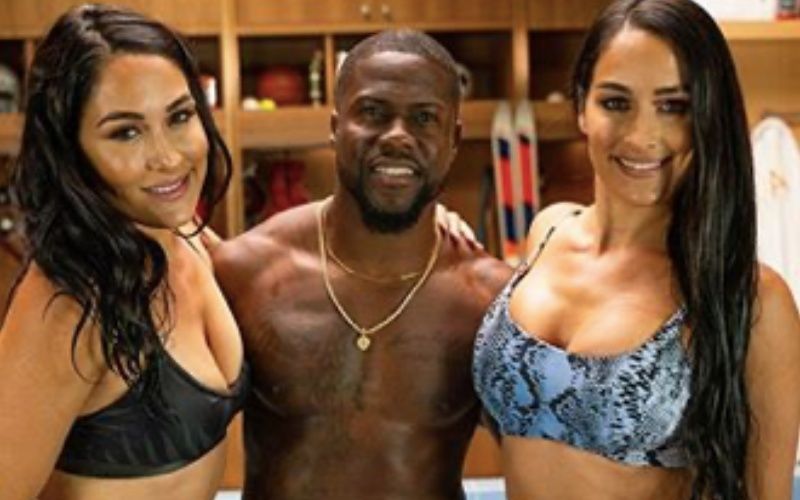 If you follow Kevin Hart's Instagram account, you will understand that his videos are simply hilarious and no matter what you do, you cannot ignore it. During Jumanji: The Next Level promotions, his banter with Dwayne Johnson grabbed headlines for their antics. Just a few days ago, Kevin Hart uploaded the latest episode of his Cold as Balls interview series where the Jumanji: The Next Level star interviewed former WWE Superstars Nikki and Brie Bella and it is not cold AF but cold as b***s.
In the video shared by the actor, the Superstar sisters take a dip in ice baths and discuss their careers, the Women's Evolution, headlining WWE Evolution against Ronda Rousey and more. While sharing the video on his handle, he captioned it as, "Hello, 911? I'd like to report a theft. My cold tub has been stolen by The Bella Twins. New episode out today with @thenikkibella and @thebriebella!! #CABSeason3 #LOLNetwork #PoweredByOldSpice #FullEpisodeinBio" Watch the video below:
Nikki shared a bunch of photos where we can see they all are carrying Kevin to put him into the cold tub, she captioned them as, "Make sure to watch our #ColdasBalls interview with @kevinhart4real Definitely hard to keep a straight face! Lol So much fun! Swipe up in my IG story to watch! #cabseason3 @lolnetwork @obb."
While Brie shared the same pictures and wrote a different caption, "Sooooo excited because tomorrow you get to see us with @kevinhart4real on his @youtube show Cold as Balls!! @LOLNetwork #ColdasBalls and #CABSeason3 @obb."
Image source: Instagram/ thenikkibella