3 Watchable Films You May Have Missed On Zee5
Here are 3 films streaming on digital platform Zee5 which you shouldn't miss watching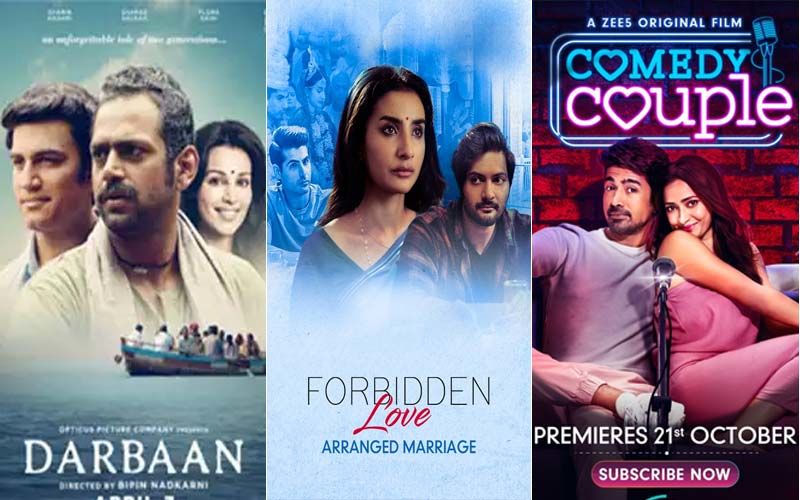 Darbaan: There is something about Rabindranath Tagore's stories that lends itself to great cinema. Darbaan is a very good piece of cinema.Artistically imagined and gently executed, it has the very accomplished Sharib Hashmi playing a simple caregiver in a feudal family( the story is translocated from the end of zamindari to the takeover of the coalmines in Dhanbad in the early 1970s) whose life is a litany of subservience.Hashmi immerses himself in the role with a furious passion that reminded me of Ashok Kumar in Hrishikesh Mukherjee's Aashirwaad. Sharib Hashmi is a great actor destined to secrete his greateness in small meaningful films while actors with not even a grain of his talent are strutting around as stars in Bollywood. Without moving away from the plot's main thrust, director Bipin Nadkarni draws a complex yet crystal-clear and artfully heartfelt picture of the complex relationship between an aristocratic family and its most favourite caregiver(also called 'servant', 'domestic help' and in this otherwise-sensitive film ghulam).It's an epic story compressed into 90 minutes of unadulterated emotions.Taking the original Tagore story(Khokababur Pratyabartan) out of its natural habitat could have proven disastrous .Not here. Not in this thoughtful remake. The adaptation is illuminated by flashes of brilliance, for example the original story involves the tragic death of the Zamindar's beloved son. Here it is the Zamindar's grandson.Sharib Hashmi projects the goodhearted Raicharan's grief and guilt with such fluid lucidity that I found myself completely invested in the character and in the film's dramatic emotions that are done up with finesse. Though at times the direction gets a little clunky and some of actors seem amateurish when pitched again the great central performance, the sheer emotional heft of the story takes the characters and the film across the turbulent river of life's bizarre vicissitudes .Besides Sharib Hashmi, the film has a very tender and endearing cameo performance by the unfailingly credible Rasika Duggal as his wife. But the film is owned by Hashmi who gives a performance comparable with , if not better than the great Uttam Kumar in the original 1060 Bengali film based on the same story.Sharad Kelkar has a brief role that echoes Vinod Mehra's character in Shakti Samanta's Amar Prem, my most favourite Hindi film of all times.This is the highest compliment I can think of for Darbaan. Don't miss it.And don't forget to keep your handkerchief closeby.
Arranged Marriage: Interesting premise of a gay couple's response to one of them getting into a conventional heterosexual marriage to keep up appearances,Arranged Marriage is far more honest in its intention than last year's Shubh Mangal Phir Savdhan which I had praised mainly because it at least dared to venture into taboo territory.But I was wrong. It's not enough to just go into homosexuality. A director needs to maintain a form hold on the theme, not dithering in the exposition and execution.In its 40-odd minutes of playing time, Arranged Marriage succeeds in bringing out the agony of two men trying to behave like "just friends" when they are lovers. Ali Fazal and Omkar Kapoor confer an admirable credibility to their parts. Fazal's Nilanjan is specially adept at conveying unspoken anguish each time he sees Dev, his Dev, showering attention on his new bride Keya.Patralekha as the bride crammed into the closet with her husband and his lover, reminded me of Sharmila Tagore in Apur Sansar. Director Pradeep Sarkar's Kolkata brims over with Bangla-isms…the constant obsession with food, for instance. For more than half the playing time the characters eat and talk loudly without hearing what the other person is saying.
Comedy Couple: Saqib Saleem and Shweta Basu Prasad t breathe life into their characters as stand-comedians who share a live-in relationship. Their on-stage jokes are so flat I wondered if the whole stand-up routine is an elaborate gag on self-destruction.In a recent webseries Four More Shots Please a real-life stand-up comedienne Manvi Gagroo played a stand-up. Her conflict with her partner looked credible. Saqib and Sweta, poor souls, wade through reams of unfunny stand-up material in search of a core of truth to their comic partnership.
The jokes from the stage on how much sex the couple has when they are in the mood, is extended to their real life. Joke No 1: Zoya(Basu Prasad) and Deep(Salim) pretend to be siblings to rent a flat. Joke No.2: Deep's parents show up at his door when he's jailed for insulting the Hindu religion during a stand-up act(standup comedian insulting religion, get it?) .
This is a film heaving with themes and ideas on live-in relationships, freedom of expression, couple goals in the same profession, moral policing and bowel movements.The problems that Deep and Zoya face(including their manager in shirt with sliced watermelon imprints who likes to take a dump at unearthly hours in strangers' bathrooms) will make you smile.Zoya's elitist mother played by Pooja Bedi likes painting nudes. She's welcome to do anything she wants as long as we don't have to watch her trying to entertain herself.We have problems in that area of our own to deal with.
Image source: IMDb