Ankahi Kahaniya's Directors Ashwiny Iyer Tiwari And Saket Chaudhary Talk About Their Favourite Film, Amitabh Bachchan's Abhimaan; Abhishek Chaubey Shares What Makes For A Perfect Love Story-EXCLUSIVE
In an exclusive conversation with SpotboyE, Ashwiny Iyer Tiwari, Abhishek Chaubey, and Saket Chaudhary shared what, according to them, makes for a perfect love story and also spoke about their upcoming anthology.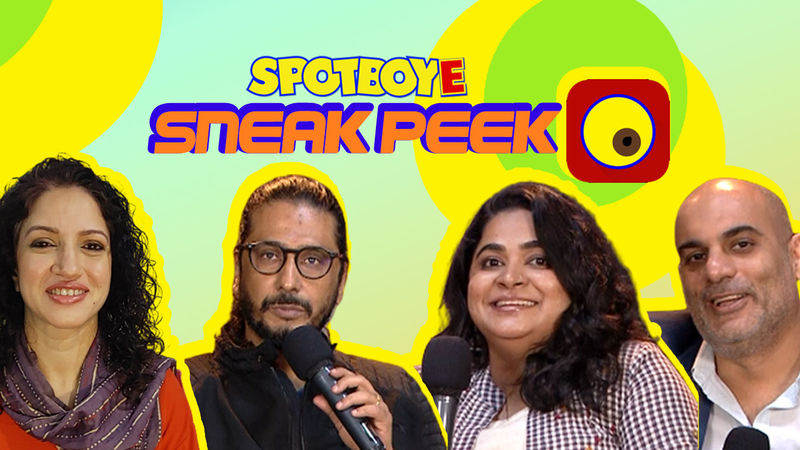 The trailer of Ankahi Kahaniya, a new Netflix anthology, was released a couple of days ago, and it received a great response from all quarters. The anthology of three narratives is centered on the three unconventional love stories that perfectly tell the tales of love, loss and longing in Mumbai. The three love stories are directed by Ashwiny Iyer Tiwari, Abhishek Chaubey, and Saket Chaudhary. In an exclusive conversation with SpotboyE, the three brilliant directors spilled the beans on their project, which comprises three love stories set in an urban space.
But what makes for a perfect love story? Is it only THE love? Ask the three directors, and their replies make you take pride in the kind of movies the Hindi film industry has, of late, been churning out.
"I think, for me, it's the intensity and the mood. Mood plays a very important role for me in any love story. There are various levels of intensity in love, and it depends on what kind of intensity you are literally going towards and that will define the mood and the music. Music also plays a very important role for me. Because according to the mood, you can take that song however you want to and when you hear it in isolation, depending on your mood, it will transport you to a different place," Ashwiny Iyer Tiwari, known for her films Nil Battey Sannata, Bareilly Ki Barfi and Panga, told SpotboyE in the exclusive chat.
Abhishek Chaubey agreed with Ashwiny, but added, "I think what's also important is what the conflict is going to be about. Otherwise, a boy meets a girl and they get settled is quite boring to watch."
"I think what does not get them together - or what prevents them from being together or what the circumstances are - is what makes the story interesting."
Saket Chaudhary, on his part, said, "I think the most interesting and the obvious thing in the love story is the circumstances under which a boy meets a girl or a boy meets a boy or a girl meets a girl. So, I think the scene that brings these two people together, for me, becomes the most interesting idea in a love story."
By that measure, the classic Abhimaan, starring Amitabh Bachchan and Jaya Bachchan, seemed to be a hot favourite among the trio. The movie, helmed by Hrishikesh Mukherjee, is still considered as one of the best works by Big B and Jaya Bachchan.
"I know it's not a quintessential love story but Abhimaan is a really beautiful love story with Mr Bachchan and Jaya ji. So, that's the one film I really like and the other is the English movie Notebook which I like watching all the time. There are so many love stories. I also love Lamhe. A lot of Bachchan sir movies I really like," Ashwiny said, when asked about her favourite love story.
Saket said, "Wong Kar-Wai's In The Mood For Love is one of my favourite movies. Also, Abhimaan is a lovely film; I keep watching it again and again. It was incredibly modern for the time it came out."
Abhishek's favourite love story is also a crime drama by Wong Kar-Wai - Chungking Express.
The three directors also spoke about their respective films in the anthology. Ashwiny Iyer Tiwari's short film is all set to blur "the lines between reality and fantasy". It stars Banerjee in the lead role. "A city like Mumbai can somewhat way you down with the business you consume, and the work takes over and then the loneliness definitely bites in. When you really want to speak to someone, there is no one to hear you out. And that's when this man, Abhishek Banerjee's character, starts talking to this mannequin who he thinks will understand his untold emotions," Ashwiny said about the movie.
Abhishek Chaubey's short film is set in the Mumbai of the 1980s, and explores young love in the world of single-screen theatres. The segment features Sairat star Rinku Rajguru and Delzad Hiwale.
Saket Chaudhary's short film features Kunaal Kapoor, Hussain, Nikhil Dwivedi and Palomi. He said, "The love story is about a man and a woman who discover that their spouses are having an affair with each other and how their lives get intertwined with each other. So, that is what this story is all about. And they don't have sympathy for each other; in fact, they blame one another."
Netflix will start streaming its latest anthology Ankahi Kahaniya starting September 17. Produced by Ronni Screwvala's RSVP Movies and directed by Ashwiny Iyer Tiwari, Abhishek Chaubey and Saket Chaudhary, the anthology stars Abhishek Banarjee, Zoya Hussain, Kunal Kapoor, Nikhil Dwivedi, Palomi, Rinku Rajguru and Delzad Hiwale.
WATCH THE INTERACTION HERE:

Image Source: Instagram/binge.holics, SpotboyE Team