Break Point: Mahesh Bhupathi Reveals His Many FIRSTS With Leander Paes, Also Spills The Beans On How This Project Fell Into Place
Break Point is a docu-drama that will take the viewers through the journey of Leander Paes and Mahesh Bhupathi partnership on the tennis court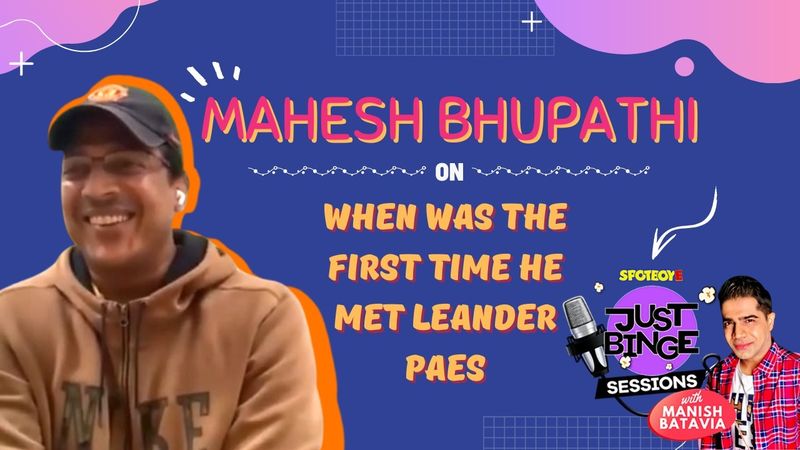 Our host Manish Batavia in the recent Just Binge Sessions got candid with Indian tennis stalwart Mahesh Bhupathi for his upcoming series, Break Point. The series is a docu-drama that will take the viewers through the journey of Leander Paes and Mahesh Bhupathi's sports career. The series will capture the journey of these sportsmen from the time they joined hands to heading their separate ways. In conversation with our host, Mahesh Bhupathi spilled a lot of deets about his many 'Firsts' with Leander Paes and more.
Mahesh Bhupathi who is a year younger than Leander Paes watched him play for the first time in Colombo. The former just watched the latter play for 2 weeks as Leander Paes was Indian Number 1 junior playing on the field. When quizzed about when was the first time, they broke the ice; Mahesh Bhupathi responded it was during the Wimbledon tournament. Recalling that time, Mahesh said that Leander also offered him to stay in his room, as he was 'homeless' and that's how their friendship started.
Two have had their differences, when Manish asked how Ashwiny Iyer Tiwari and Nitesh Tiwari got them together; he's what he had to say. He said, "Honestly, we have been approached over the last ten years for multiple times to do this story and I think we two never took it seriously. But when we.. when I heard rumours Nitesh sir and Ashwiny were looking to do it I immediately called Leander and said, 'these guys are some of biggest storytellers in our country we should listen to them and we did. We got a Zoom call, Nitesh and Ashwiny have an amazing love for tennis which people don't know about. And they immediately structured a story and made us feel comfortable and tell it independently from both our perspectives. So after a couple of Zoom calls it made it very clear we were keen to explore and then it moved quick."
Mahesh Bhupathi also recalled the tournament they lost, as their relationship had hit a purple patch. Back then both their coaches got them into a room and had advised them too.

When asked they would have won more matches if done certain things in a certain way? He replied, "Not really. It's an obvious answer if we would have played more, we would have won more that is the level of tennis we played. I think today if we train for three months we will still be competitive. But we still won a lot and that's what we are extremely proud of. What we have done was never been done before or after we retired. I think we will be extremely proud of."
He also revealed it was not the Tennis association or any sports associations that got them together. Mahesh Bhupathi shared approaching Leander Paes to play in various tournaments.
When asked if the audience will get a chance to watch these iconic players once teaming up for a tournament, he replied, "We should get invited first, I'm sure if Wimbledon invites us to the over 45, we will thrilled to play. I mean playing at Wimbledon is always special."
Break Point will premiere on Zee5 on October 1, 2021.
Image Source: Spotboye