City of Dreams, Rangbaaz, Criminal Justice And More; Web-Series Are A Must-Watch If You Haven't Already
The years 2020 and 2021 have been gamechanger for the OTT platforms. Content-rich web series hit the market and viewers were more than happy to sit back and enjoy as lockdown looked never-ending. If you have missed the most-talked-about series in the last 1 year then go ahead and read where you need catching up.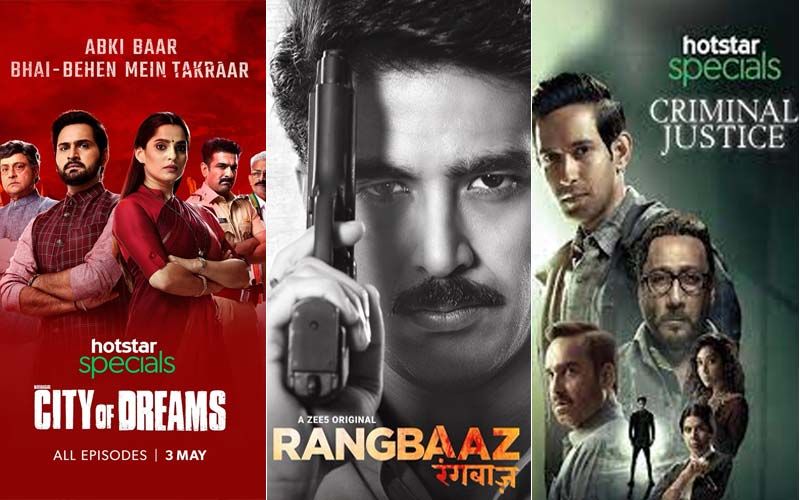 1. City Of Dreams (Disney-Hotstar): What starts off seeming to be a take-off on Mani Ratnam's most recent political drama "Chekka Chivantha Vaanam" turns into an engrossing crackling cat-and-mouse drama about a political empire in Maharashtra where siblings squabble for power after the patriarch (Atul Kulkarni) is gunned down. Straightaway, "City Of Dreams" encircles a cluster of power-hungry characters whose motives are never cogent, let alone comprehensible. There is always a sense of more going on here than meets the eye. Writers-directors Nagesh Kukunoor, Rohit C. Banawlikar peel off layers after layers of subterfuge to reveal a system of governance that thrives on corruption and deception. Deftly inter-woven, the plot moves in mysterious ways embracing characters who are at once cunning and naive. The aforementioned wounded politician's daughter Poornima (a very lovely and emotionally empowered Priya Bapat) fights it out with her out-of-control debauched brother Ashish (Siddharth Chandekar). The two actors play off against one another with controlled acerbity, bringing out Shakespearean levels of power-greed as the plot unfolds in a gripping game of one-upmanship. Priya Bapat is especially effective, negotiating the power spaces that her father has vacated with guarded velocity. In one sequence, Poornima Gaekwad accompanied by the family advisor (Jiten Pandya) meets a business benefactor friend of her father who informs her in very crude words, that he is ready to be ravaged in the missionary position but won't be sodomized. The characters shock themselves with their sudden swerve into sleaze, none more than Sandeep Kulkarni playing the political family's money launderer. Playing a placid family man with crippling financial liabilities (money launderer with no money: get the irony), he cultivates a secret life where he watches 'Sunny' (as in Leone) in "Badan Part 4" and befriends a mysterious seductress. Kulkarni brings out the frightening stillness that defines his character's existence. Not one to go down without a fight is Ajaz Khan's burnt-out encounter cop act. He is a once-powerful man now forced to look at his pathetic personal and professional life straight in the eye. The part is memorably written. And Ajaz Khan makes the best of it though he could have mumbled his lines more coherently. The problem with being Marlon Brando is we don't know what he is saying. The series has some striking threads of plotting, fluttering across the episodes with inviting assuredness. My favourite is the loan agent Gautam (wonderfully played by Vishwas Kini) and his unlikely telephonic friendship with the brutalized sex worker who calls herself Katrina (Amrita Bagchi). There is potential in this friendship for a full-fledged feature film."City Of Dreams" focuses not so much on the city of Mumbai as its ambitious power-hungry characters whose yearnings spill into a bloodbath. This is a well-written finely performed web series with significant recall value. The writing is bold and effective never afraid to call out its character's flaws, no matter how embarrassing. At one point when the two siblings squabble over their father's political throne, the brother tells his sister, "I am not willing to be Manmohan Singh to your Sonia Gandhi."Politics never seemed more interesting. And farcical.
2. Rangbaaz (Zee5): The crux of the newly-discovered creative freedom on the web format is how effectively that freedom is used. Rangbaaz the new web series about swaggering gangsterism in the badlands of Uttar Pradesh, scores pretty high in the sphere of restrained freedom. The abusive language quotient is kept at a surprisingly low level. To depict the lowlife a filmmaker needn't stoop low. And though the characters belong to the crass roots they don't pump up their aggression level with perverse dialogues. In one section of the judiciously crafted narration where frills and fireworks are never appended on for no reason, the protagonist Shiv Prakash Shukla (Saqib Saleem) is whisked off to Bangkok with a politician's goon. The interlude could have comfortably embraced sleaze. Instead, the narrative builds a credible camaraderie between the two men and a startling yet subtle game-plan for Shukla initiation into the world of crime. Tigmanshu Dhulia. puts in quite a credible performance as a cunning politician on the prowl looking for young vulnerable recruits to his dirty job. The engrossing series is carpeted with solid performances, none more so than Saqib Saleem who nails Shukla's journey from innocence to a gleeful almost sadistic pleasure in taking lives…Saqib maps the darkening personality with diligence that we never saw coming. This performance is an opportunity for a new awakening for the actor, and he nails it. While telling a story that never slackens in pace Rangbaaz also makes space to apprise us of the political scenario of the 1990s when job reservations created a prominent caste cleft in North India. Sturdily crafted and persuasively told Rangbaaz brings alive the nexus between politics and crime in the 1990s, a nexus that has only grown with time. I only wish the series didn't have to rely so heavily on the film songs of the era to recreate an authentic mood of the period. It's like putting too many signposts on the road to perdition.
3. Criminal Justice (Disney-Hotstar): Only 15 minutes into this crime drama, and I was hooked. This, despite having seen the BBC series of the same name and also the HBO film "The Night Of" in which Riz Ahmed played the cabbie who ends up in bed with a troubled female passenger and finds her dead next to him the next morning. The always-interesting Vikrant Massey slips into Riz Ahmed's role, played by Ben Whishaw in the original BBC series. All three are extraordinary in portraying the traumatized murder accused who is actually a victim. But Vikrant has an edge as far as projecting vulnerability is concerned. Right from the start when his interest in his hyper-strung passenger aggravates into passionate sex, to his arrest and his nightmarish experiences in jail (where he is nearly raped), Vikrant strips himself naked emotionally and physically, to play a man who never dreamt he would be in jail. The original idea is never thrust rudely into the 'desi' remake. Directors Tigmanshu Dhulia and Vishal Furia work their way organically through the crime drama, imbuing the inherent thrills of the plot with a sense of bridled curiosity. We already know the plot. But we want to see how the adaptation has moved away from the original BBC series and the HBO mini-series."Criminal Justice" never falls short of expectations. There is an admirable fluidity in the storytelling as we journey through hell with the protagonist Aditya. Having a bunch of the most accomplished actors available to mankind helps give the ten episodes an irresistible heft. While every actor is in sync with the dark, gripping mood of a crime that isn't as simple as it seems, no one gets it better than Pankaj Tripathi. Playing a sleazy low-down lawyer slumming it out at police stations pimping for desperate clients, Pankaj brings to his character a moral centre despite his seeming dissipation. It is an astounding performance filled with a sense of desperate anxiety and squalor."Criminal Justice" plays out the criminal investigation, courtroom intrigue and prison horror in bouts of brilliantly written scenes (by Shridhar Raghavan). The writing is in fact, far superior to that in the overrated "Sacred Games". What "Criminal Justice," tells us about the subverted judicial system is far more relevant than the 'thriller' intentions that play out on the surface of this edge-of-the-seat crime drama.
4. Your Honor (SonyLIV): Every time Jimmy Sheirgill and Mita Vashisht are on screen together, you want to see just where their conversation is going. The words they speak seductively encircle their cat-and-mouse game in this energetic engrossing and altogether gripping tale of empowerment privilege and their misuse. Set in the rugged unkempt heartland where the privileged can get away with murder, literally, and adapted from the Israeli mini- series Kvodo, Your Honor features the ever-dependable Sheirgill as Bishan Khosla, a High Court judge who just weeks before his promotion encounters an unexpected snag: his 18-year old son is involved in a hit-and-run which could finish off the Judge's career. The Judge takes the help of a Bihari friend to 'fix' the situation. But before we can say Bishan Accomplished, there is hell to pay. The story, though not novel or unique in its age-old conflict between duty and family, derives its renewed vigour from the principal performances, and from director E Niwas's propensity to use the unlimited digital space judiciously, slicing through the tension with cuts and leaps in the narrative that are unforgiving in their determination to hold our attention. It helps the narrative tremendously that the actors are seasoned troupers who know where to draw the line between thrill and shrill. The dramatic tension is seldom over-punctuated, and we are involved in the proceedings to the very end without the tale ever meandering too far from its principal plot. Jimmy Sheirgill, though a tad too young to play a 50-plus judge pulls off the dilemma of a helpless father with subtle shades of anguish and rage. He gets some splendid support from Vashisht of course, but also the neglected Varun Bandola who is reliably in character as Judge Bishan Khosla's friend and protégé Kashi who must now pay back favours in illegal ways. Sheirgill also shares an interesting love-hate relationship with his mother-in-law, played by Suhasini Mulay who is shown to be constantly smoking for no particular reason except to show her unconventional streak. But it's Vashisht's sly cop act that furnishes a vinegary flavour to her conversations with the Judge in the dock. Vashisht plays the cop as a mixture of attentive and disdainful. I just couldn't take my eyes off her stolen steely scornful glances at the guilty-as-sin Judge. Though I found some of the off-and-on Bihari accents a little distracting(and please there is more to Bihari hospitality than Litti and Chokha) on the whole this gripping story of a principled judge straying from the straight-and-narrow path zigzags its way expertly through the elaborate labyrinth in the original.Must watch.
5. Hasmukh (Netflix): It's like Lata Mangeshkar being hired to play a bad singer. It takes a very brilliant actor to play a bad actor. Vir Das, a first-rate stand-up comedian, plays an inept pathetically cheerless stand-up comedian in Hasmukh who needs a strong impetus to make him come alive on stage.No, a shot of that strong beverage won't do. Something far more potent…like murder perhaps? It is a tempting premise for a crime thriller. Something like Sonam Kapoor playing a couture queen who kills to kill it on the ramp. And Vir Das, who really should be seen more often, simply nails it. He is an innocent, virginal wannabe comic virtuoso bullied by his abusive uncle, and sexually molested by his aunt who gropes him while he makes the tea. Chai-ld abuse? The biggest bully of all is Manoj Pawa (in an obscenely ill-fitting wig) and he, unwittingly, becomes Hasmukh's first murder victim. Pawa becomes the ghost at Hasmukh's burlesque banquet. This is dark humour at its darkest. Hasmukh's wretched unhappiness is on the level of the Joker. He either kills in frustration or gets killed. As simple(?)as that! From this distracting takeoff point, Hasmukh builds into a savagely sinister crescendo of repression and comeuppance. I have to admit that the episodes got unwieldy as they progressed. The tv channel in search of TRPs steps in with all the subtlety of a sledgehammer negotiating ahead pinned to the wall. Vir Das's guileless giggle giver's persona begins to wear thin as he goes on a killing spree one episode at a time as if following a self-discipline routine. It doesn't get better just because his victims are all sleazeballs. What I found more convincing was Hasmukh's rivalry with the other stand-up comic KK (played by Suhail Nayyar). In a lengthy sequence towards the end of the plodding journey, KK drunkenly declares himself a loser. It's a well-performed monologue and one that makes us alert to the series' failings with the character's feelings. We never know why Hasmukh feels the way he does about his comedic abilities being tied to the crime. There is a romance towards the end with a foreigner, a love interest which is of interest to no one, not even Hasmukh himself. His failings as a human being are so broad, they leave no room in us for empathy. Still, Vir Das keeps us watching till the end. I wanted to feel for Hasmukh because he was played by an actor who understands failure and knows how to handle it better than Hasmukh. Accompanying Vir Das's Hasmukh on his killing spree is his friend and manager Jimmy, played by Ranvir Shorey who never fails to succeed no matter what the character. Das and Shorey play off each other in a balanced conflict that the plot on the whole lacks. The narrative wobbles. Das doesn't.
6. The Final Call (Zee5): Arjun Rampal has an inscrutable face. It is the face of a man who doesn't reveal much. In "The Final Call", he plays Karan Sachdeva, a pilot with many secrets all ruinous and devastating. As all of them come undone layer by layer in the cockpit of an airborne flight to Australia, we know the passengers on board are doomed. And yet, here lies the formula to a whacking screen saga. You know. Yet you hold your breath. The writing in this 4-part series is clearly of that calibre. We know. Yet we sit riveted. Right at the start, we meet an astrologer-scholar Krishnamurthy, played with wonderfully whittled wisdom by Neeraj Kabi who takes that ill-fated flight because his kundali says that's where his end is destined. Krishnamurthy's family rightly advises him to just stay away from the destined. But Krishnamurthy "how I love his transcendental wisdom" has other ideas. Kabi gives a fatalistic spin to the proceedings, wrapping his character's prophecies in a surge of immediacy. His interaction on board the doomed flight with a jaded tycoon (Javed Jaffrey, who plays it cool, as only he can) has us reading between the lines, looking for valuable clues to something beyond what is happening in the plot. The truth about The Final Call is that it does things that we normally don't see happening on the big screen. It opens up the characters' inner world to reveal the dark interiors. The view is frightening and funny, as only a story told in leisure can be. I came away deeply riveted by this impressive adaptation of Priya Kumar's bestseller I Will Go With You: The Flight Of Lifetime. The characters, whether it was the Australian girl rushing back home to surprise her cheating boyfriend, or her co-passenger in the next seat, a cocky 18-year old trying to hit on her. Everyone left a lingering impression. There are no cardboard characters onboard this flight. Rest assured. And don't forget to fasten your seatbelt. But my favourite in the series besides Arjun Rampal is Sakshi Tanwar playing a pregnant terror negotiator. There is a sequence where she leaves home for work promising her worried husband that she won't do anything dangerous, then returns in the evening fatigued while he watches her on television dealing with a dreaded terrorist in a hostage situation. Sakshi builds a case for women taking on patriarchal jobs and beating the hell out of the cynical competition. The plot is relentlessly robust unveiling unfurling thoughts and looping action faster than we can process their relevance. With performances that solidly anchor the action, the first four episodes have me waiting for the next season.



Image source: IMDb