Darlings TRAILER: This Netflix Series Looks Intriguing, Mischievous, Mysterious, Dangerous And All Things Good-WATCH!
Netflix brings us Darlings on August 5 and it looks smashingly wicked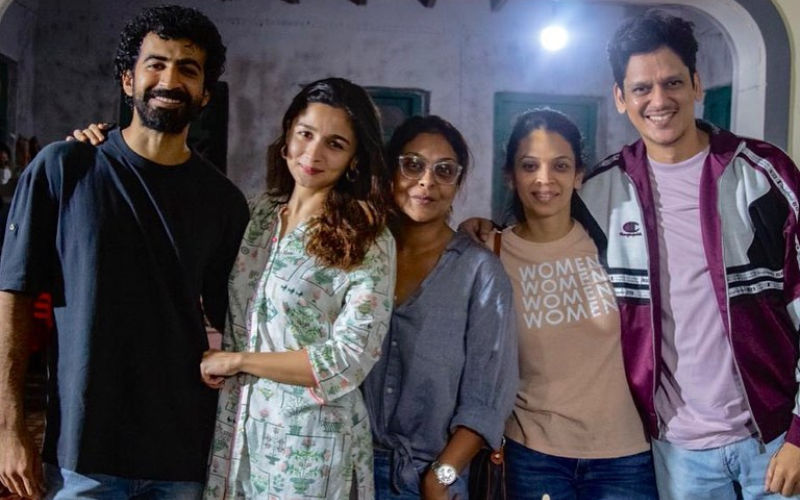 If looks could kill, the trailer of debutante Jasmeet K Reen's Darlings would be designated a homicidal teaser. It features two of the best female actors of Mumbai Shefali Shah and Alia Bhatt as a conniving mother and daughter pair. That for me is reason enough to wade through reams of monsoonal slush to see what these two explosive actresses are up to.

Fortunately, we don't have to go anywhere. Netflix brings us Darlings on August 5 and it's looking smashingly wicked.
What's it they call such killingly smiling sagas of conspiracy and deception? Ah, a black comedy! That, sadly, is a much-misused genre in Indian cinema. Darlings get it right. It is outrageously plotted and sexy in a cheesy kind of way. Shefali and Alia, looking thoroughly convincing as Ammi and Beti in their cheap makeup and ornate attire, saunter into a police station where they spin a fanciful yarn before the wonderful Vijay Maurya.
Maurya looks at the poker-faced mother and daughter and asks, 'Mere maathe pe kya likha hua hai?' which is a rhetorical way of asking, 'Do I look like an idiot to you?'
Alia and Shefali peer at the man's forehead hoping to get an answer.
This is a dark comedy bursting at the seams with saucy secrets. Besides Shefali and Alia who are very obviously wonderful to watch (and this is just the aftershock Alia needs after seismic Gangubai Kathiawadi), there are two very talented male actors sportingly playing men who get blissfully conned by the mother-daughter pair.
Rajesh Verma seems to be besotted by Alia. He follows her around in the trailer with the expression that I last saw on Cooper Raiff's face in Shithouse. The expression of goofy surrender means, you are doomed in love. The very watchable Malayalam actor Roshan Mathew, Anurag Kashyap's gift to Hindi cinema, has little to do in the trailer of Darlings. Never mind that. I am sure Roshan will find his métier by the time the film starts streaming.
The one thing that can be safely said about Darlings after watching the first trailer is, it is in safe hands. I have known about Jasmeet Reen from the time she was to direct the Sahir Ludhianvi biopic for Sanjay Leela Bhansali. Setting that project aside, Reen seems to have plunged head-first, into this solid women's pictures how brimming over with mystery mischief and other possibilities.
After the very disappointing Thar, Netflix finally seems to have got it right with Darlings.
Image Source: Instagram