Ex'Stream' Benefits, The Best OF The OTT: Sarpatta Parambarai, The City Of Dreams Season 2 And More
Here's introducing a new monthly column on the best of the month that was. So how did July fair in terms of its OTT content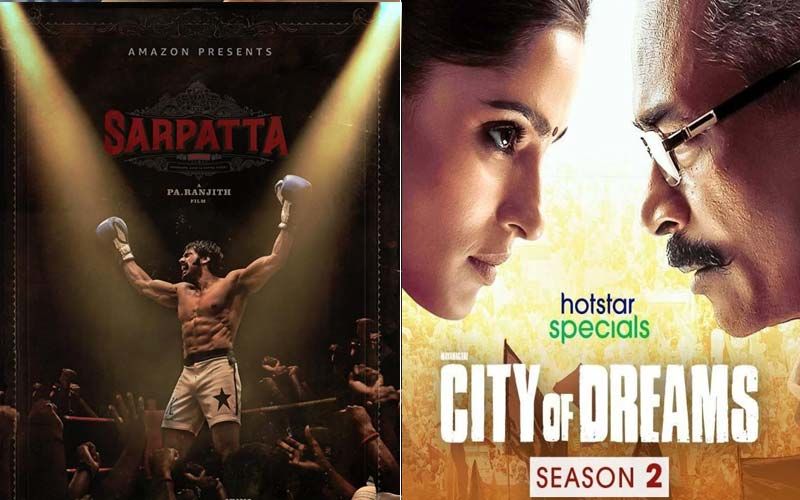 1. Sarpatta Parambarai(Amazon Prime): This lengthy lavish period film was decidedly the OTT event of the month of July.The story is set in North Chennai during the 1970s when a state of Emergency was declared across the country. Tamil Nadu stubbornly maintained its autonomy . The politics of the region serves as a solid backdrop for the clashes that happen in the boxing ring when all pretence of decency is abandoned as the fighters get down to basics, hurling verbal and physical blows in a show of crass sportsmanship that the film's mood captures and reifies brilliantly in its characters' restless energy,none more so than Kabilan. In the author-backed role of Kabilan, Arya is a revelation.I predict a National award for the actor.
2. The City Of Dreams Season2(Disney-Hotstar): City Of Dreams is about power, politics and personal losses,not strictly in that order. The series retains its compelling core even while introducing new interesting characters who grow as the yawning arc of Maharashtra's politics opens up to multiple interpretations. We all know who 'Saheb' Amey Rao Gaikwad(played by the brilliant Atul Kulkarni) is, right? The reference to the tiger in the bedroom that comes up towards the climax of the series is a dead giveaway. The series balances out the clichés of political corruption with refreshing bouts of characterization. Even the smallest of characters leave an impact. If absolute power corrupts absolutely, is this series about absolute power and corruption worth seeing? Oh, absolutely!
3. Grahan(SonyLIV): Quality conscious producer Ajay Rai(who has invested in many a significant cinematic project from the Marathi masterpiece Kill in 2014 to the most recent achievement Fire In The Mountains) opens up the wounds of the 1984 genocide, wounds that never healed, wrongs that were never righted.Directed by Ranjan Chandel, the 8 episodes have a certain consistent momentum in the storytelling, and though it moves through two time zones, actually three, the plot never becomes a jumble of unnerving frisky jumpcuts , as serials about multi -time passages tend to.The story is pronouncedly dramatic. And that's how it should be, considering the improbable brutality of what transpired on those 3 fateful nights when Sikhs were pulled out of their homes and burnt alive. Bokaro was one of the cities that was most harshly affected by the genocide. This is where Grahan is set. Shot on location, Kamaljeet Negi's cinematography captures that frozen-in-time quality of those small North Indian towns which have never grown up.
Image source: IMDb