From Sherni And Jagame Thandiram's Reviews To Akshay Kumar's Prithviraj Getting Into Trouble, Here's Everything That's Been Trending This Week On Social Media
This week has been quite exciting with some big Bollywood news. Here's a rundown of all the stories that made it to this week's trending list.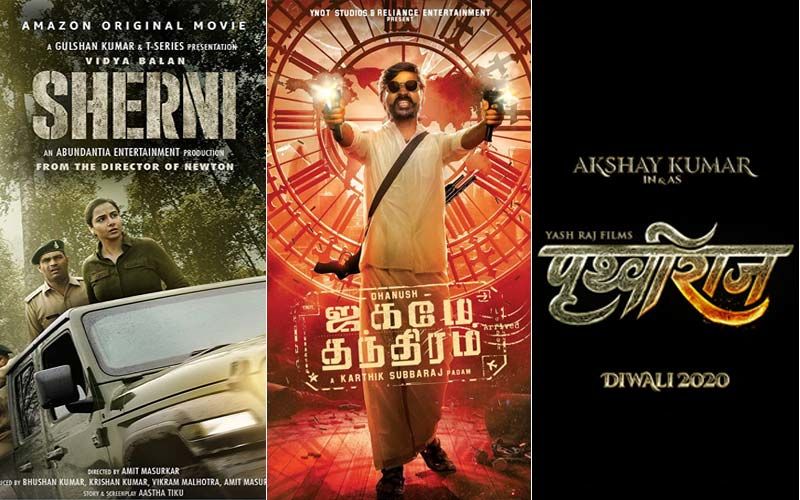 Let's take out some time to look back at the greatest entertainment industry newsmakers that have made it to the trending week. From Akshay Kumar to Dhanush, To Vidya Balan's Sherni review to Salman Khan here's everything that has been trending this week on social media.
Inside Edge creator, Karan Anshuman dismisses claims that season 3 may be cancelled:
The third season of Inside Edge was recently pushed back due to Amazon Prime India's dissatisfaction with the content created by the show's creators. They had apparently told the producers to reshoot or scrap the entire series. Karan Anshuman, the show's creator, and director has denounced the rumours as false and malicious.
22 years of Hum Dil De Chuke Sanam:
June 18th marked the 22nd anniversary of Sanjay Leela Bhansali's legendary love triangle. The film featured an excellent combination of romance, agony, suffering, closure, and companionship. And particularly the cast was fantastic! Salman Khan and Aishwarya Rai were a fantastic combination for the madly in love characters, and the plot only gets better when Ajay Devgn joins the cast.

The filmmaker had done an outstanding job with this flick. As the film's 22nd anniversary, everyone took a trip down memory lane.
Vidya Balan's Sherni:
Sherni, starring Vidya Balan, is now receiving a lot of praise and love from the audience. The feedback has been incredible. The film was lauded for its intriguing plot and Vidya's outstanding performance. Sherni is a must-see film that is both dramatic and intriguing. The film is currently available to watch on Amazon Prime Video.

Fans are all hearts for Dhanush's SWAG in Jagdambe Thandhiram:
Jagdambe Thandhiram is currently streaming on Netflix, and it is the first Tamil blockbuster film to do so. It will be available to Netflix's 204 million members in 190 countries at the same time, in 17 languages. And the fans are ecstatic. Suruli's swaggy style in the film is adored by Dhanush's followers. With his film, he has definitely won people's hearts.

Akshay Kumar's Prithviraj gets into trouble again:

Akshay Kumar starrer 'Prithviraj' received a lot of backlash from Karni Sena. Recently, there was a protest which took place in Chandigarh with a demand to change certain things about the film, they threatened the makers of the film if they don't agree to change all the issues they have with the film, they will suffer same as Padmavat and Jodha Akbar. They raised slogans and burned the banners of the film. The movie stars Akshay Kumar and Miss World Manushi Chillar in pivotal roles.
Salman Khan To Collaborate with Rajkumar Gupta
Salman Khan to play an Indian spy Ravindra Kaushik who was known for his name 'Black Tiger' in Rajkumar Gupta's upcoming film. It is said to be an action thriller based on a true incident from Indian history, and Salman will begin filming after completing his Sajid Nadiadwala commitment.
Although, no official announcement for the same has been made but this news has caught fire on the internet.
Akshay Kumar donates Sum of rupees 1 crore to build a school in J&K:
Akshay Kumar recently paid a visit to a rural area in Jammu and Kashmir, the actor took to his social media and shared some pictures. He captioned the pictures, "Spent a memorable day with the @bsf_india bravehearts guarding the borders today. Coming here is always a humbling experience… meeting the real heroes My heart is filled with nothing but respect." He didn't just paid a visit to BSF force there but also donated sum on rupees 1 crore to make a school in that community that will be named after his father, Hari OM.
KRK calls out Akshay Kumar for his comments on Pakistan and Toronto:
KRK, who has been in the news for his comments on Salman Khan, has now posted a video of Akshay Kumar in which he expresses his gratitude for his Pakistani fans and his love for Canada. "Pakistan me jo meri film hai, wo sabse jyada business karti hai. Jitna pyaar mujhe waha se mila hai, shayad hi (kahi aur se mila)", Akshay is seen saying in the video.
Another video reveals Akshay's statement on Toronto. Sharing this video, KRK wrote, "Toronto Main Rahne Wale Canadian Akki sir Ki Jai Ho!"
Have a look at KRR's post here:
RIP Milkha Singh:

Milkha Singh, India's most famous runner, died on Friday night after suffering from covid problems. His death has been mourned by the entire country. Prime Minister Narendra Modi, who took to Twitter to express his condolences over Singh's demise, described Milkha as a "colossal sportsperson who captured the nation's imagination". "In the passing away of Shri Milkha Singh Ji, we have lost a colossal sportsperson, who captured the nation's imagination and had a special place in the hearts of countless Indians. His inspiring personality endeared him to millions. Anguished by his passing away," he tweeted.
Image source: IMDb