Game Of Thrones Season 8: Here's Where We Left Jon Snow, Daenerys Targaryen, Arya Stark, Cersei Lannister And Tyrion Lannister In Season 7
The countdown is on and fans are just waiting for the first episode of Game Of Thrones, Season 8. But before that, let's revisit Season 7 and take a look at where we left the Lannisters, Starks and Targaryens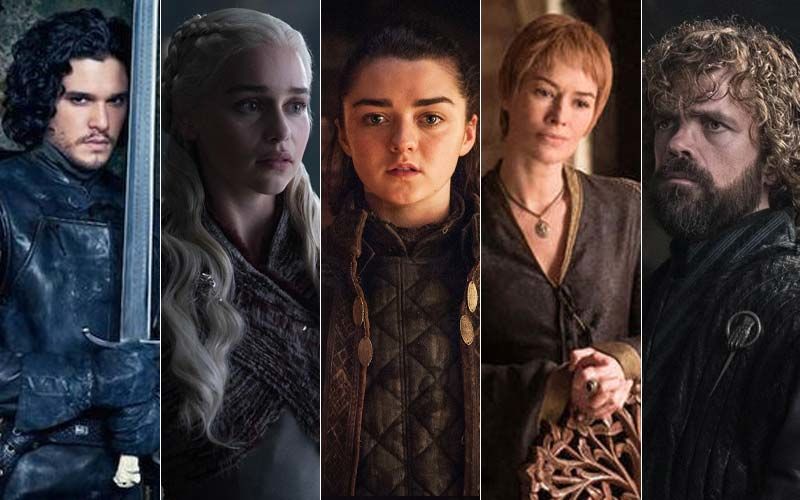 If you're an ardent follower of Game Of Thrones, then you can surely understand the adrenaline rush the fans are currently experiencing, with Season 8's first episode being just 3 days away. The series, which got the globe engaged and how in the last 7 seasons, is a maze of twists and turns. Season 7 ended on an extremely thrilling point, where we saw White Walkers attacking The Wall, and heading to the North.


But before Season 8 starts, here's a little refresher from Season 7, where we tell you what the most prominent characters (according to us as GOT makers specialise in making a dormant character, the most important one) were up to by the end of Season 7.
HOUSE OF LANNISTERS
Cersei Lannister:
This queen is in no mood to forgive. Cersei set out for revenge in Season 7 for the death of all her children- Joffrey, Myrcella and Tommen. By the end of the season, Cersei joined forces with Euron Greyjoy and hires the Golden Company to strengthen her force. Meanwhile, Jon Snow, Daenerys, Tyrion, and their legion warned Cersei that the White Walkers are coming and Cersei promised them that she would help defend the living, the brutal killer is plotting to let the Night King decimate the Targaryen and Stark forces — and then to take on what's left of either side. Cersei is also pregnant with Jaime's child, which gives her heir to the throne.
Tyrion Lannister:
After killing his father, Tyrion has been away from King's Landing and has been serving as an advisor to Daenerys Targaryen since Season 4- strategising to help the Mother of Dragons take the Iron Throne. However, by Season 7's end, their equation hits a rough patch as Daenerys doesn't agree to many of his decisions. Also, Season 7 ends with Daenerys and Jon Snow growing closer (not knowing that Snow is actually her nephew), leaving Tyrion in a tenuous position.
HOUSE OF STARKS
Jon Snow:
Series' most famous and loved character- Jon Snow was brought back from death Melisandre in season six and almost needed that dark magic again in season seven. Jon wanted to convince Cersei of the Night King's impending invasion and participated in a (very silly) plan to bring a wight back to King's Landing to show Cersei that the undead army is real. While on that expedition, he was overwhelmed and nearly killed — but then Mother Of Dragon Daenerys shows up and saves the day with her three dragons (though the Night King killed and zombified one of them). After all that trouble, Jon, Davos, and company finally showed Cersei, wight and Cersei said she would send Lannister forces north to assist. But then again, it's Cersei! If you know her from Season 1, you will not believe the lady! I mean, why would she care about people being killed?
Arya Stark:

The Girl without a face- Arya has returned to Winterfell after revenging her family's enemies. She reunites with her sister, Sansa, at the end of season seven and together they vanquish Littlefinger by charging him with treason, and then slashing his throat. Arya and Sansa are waiting for their brother, Jon to return to the North.
Daenerys Targaryen:

Mother of Dragons' strategic blunders, especially sending the Unsullied to Casterly Rock, leaving Highgarden unguarded, led to Cersei stealing Highgarden's riches and Jaime poisoning Olenna, as a result all of Daenerys's powerful allies were captured. These failures made Daenerys question her adviser Tyrion's supposed strategic savvy, in addition to pissing her off. Meanwhile, she's fallen for Jon Snow, the King in the North. While heading to North to save it from White Walkers, the nephew-aunt duo finally consummates their relationship- Weirdest part of Season 7 finale!

Image Source:Instagram/gameofthrones,daily express,wikipedia,refinery29