Gurgaon, Choked And Bamfaad Are Three Compelling Stories On OTT That You Cannot Miss
Gurgaon, Choked And Bamfaad are three compelling stories that need your immediate attention if you haven't already watched them already.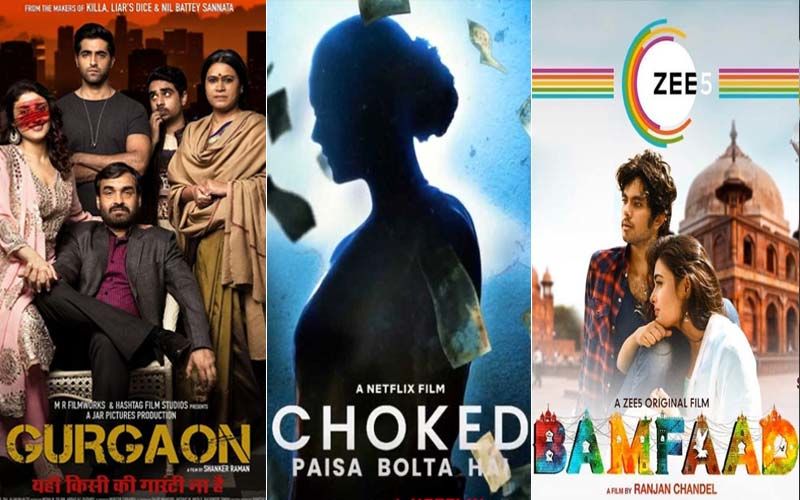 Gurgaon (Disney-Hotstar): The gleaming glittering surfaces of Gurgaon which stands between the violent hinterland of Haryana and the Capital politics of Delhi, renders itself with ironic radiance to the themes of entrepreneurial greed and violence in cinema. Atul Sabharwal's Aurangzeb was an underrated attempt at understanding the strife that controls the monstrous affluence of the constantly evolving region. Director Shankar Raman's Gurgaon gets it right immediately and ineradicably. This is a blood-soaked land of opportunity and opportunism. There is a sense of immediacy and doom in the storytelling which coil themselves around the viewer from the first frame in such a persuasive manner that we are sucked into the tale although some of what happens here are done more for effect than out of an inner conviction. But the absence of credibility never comes in the way of the storytelling that achieves an unconditional littoral of pounding impact even when we see the bullet coming. Gurgaon reaches into the darkest interiors of its character's yearnings and is not afraid to come up with unsavoury home truths. Pankaj Tripathy, playing a Brando-esque business tycoon whose legitimate professional activities barely conceals his inner world of simmering murkiness, sets the pace for other actors to follow.
Tripathy who has so far played only economically challenged desperados with a touch of humour and irony plunges into his first truly dark role (from the Dhoti to the Dressing Gown, so to speak) with a vengeful intensity bringing to the patriarch's part Hamletian ambition guilt and destruction that never overwhelm the narrative. Tripathy's Kehri Singh is a study in unscrupulous self-advancement. He doesn't hesitate to brutally kill his brother. But is a doting fussing father to his foreign-returned daughter Preet(played with relative effeteness by Ragini Khanna). But it's Akshay Oberoi playing the outcast son who steals the thunder lighting and what-not. It's a big-bang performance, implosive and bursting at the seams with unspoken bitterness. Oberoi plays the truant son(a cliché in the crime genre) with much empathy and little compassion. In one sequence we see him brutally violate a prostitute in a bathtub. We know what levels of violence Nikki is capable of. Nikki doesn't disappoint. While Tripathy and Oberoi tower above the rest of the cast in the skyscraping crime drama, there is no dearth of engrossing performances throughout the simmering stunning span of the tense storytelling. In fact, one of this remarkably tactile thriller's USPs is its progressive tumble of interesting characters. About 35-40 minutes into the film we meet a young mild-mannered South Indian rock musician Anand Murthy(Srinivas Sunderrajan).
We don't know at that point in time how intimately Anand will get connected to the awful crimes that mankind often commits against his own blood. A little later we meet a small-time hired killer Jonty(played with brilliant brio by Yogi Singha). Jonty joins the jamboree of violence like a stranger thumbing a ride to Hell. Midway in the heaving overtures to create an organic heft in the narrative, a close relative of the family Bhupi(played with grit and rigour by Aamir Bashir) shows up in what is known among commercial filmmakers as 'interval-point dhamaka.'Do your business and come back quickly. Where do these desperate specimens of crime-committing renegades come from? Gurgaon trails the bloodied path with diligent persuasiveness. It doesn't flinch from uncomfortable family secrets. And when these secrets tumble out in an unstoppered flow, the narrative sighs in deep languor while the characters make a mess that they can never hope to clean up. Till the very end of this violent saga of internecine devastation, we are given clues and glimpses into minds and hearts that are governed by greed and felled by opportunism. The editing(Shan Mohamed) gives the narrative the appearance of a wound-up clenched crisis. The cinematographer Vivek Shah captures the city of ambition, greed and destruction with a flamboyance that secretes a deep hurt and wound. These are characters born to doom. God bless them.
Choked (Netflix): Anurag Kashyap's latest homage to the spirit of quirkiness where the characters are for once, not killing each other. This is Kashyap's first film where no one dies a brutal death with their head smashed by a hammer or blown away by a gunshot. Thank Kashyap, the God of Gore, for small mercies. Everyone lives in Choked, even when demonetization nearly kills them all. The people who inhabit Kashyap's universe this time are way too gentle by his standards. The most violent occurrence is a scuffle between two friends over a game of carrom. Is the Wasseypur sharpshooter softening as he grows older? There is distinctive tenderness in tone especially when it comes to portraying the low middle-class couple Sarita and Sushant. She is the earning member. He is the househusband who is workless and therefore worthless. "Tumhare paas time hi time hai," this is among the many spiteful digs Sarita makes at Sushant. But he is no a drunken wife-beater. In fact, his protective love comes across most effectively in actor Roshan Matthew's performance. Matthews is very very involved in finding a way out of his character's aimlessness.
Saiyami Kher is the film's hero. She is transformed in body language speech and appearance as an overworked underpaid bank accountant who one night wakes up to find wads of bank currency bubbling out of her clogged(Ummm…choked) kitchen sink. This Guy Ritchie-Rich intervention could have been savagely funny were it not so sad. Saiyami projects working-class greed with conviction. The very gifted Amruta Subhash is also excellent as Saiyami's neighbour. As we meet these working-class characters, wedding preparations are going on in Amruta Subhash's home. And the lady is trying to curb the growing hysteria that comes bubbling out when Modiji announces the demonetization. How will she now make all the wedding payments? Will the tent-wala accept the crash in place of the cash? There is a quirkily cute scene where we meet the bride-to-be just once. The scene written with rare care and casual fastidiousness (by Nihit Bhave ) takes a sly dig at the side-effects of over-indulgence in social media. Post-demonetization the narrative loses steam and becomes one mishmash of hurling episodes. As the economy slumps, so do the narrative, leaving us finally with a film that is better than most of what Kashyap has done in his career, but still not good enough to be called a breakthrough study of post-demonetization India when suddenly the 1000 rupee note fell apart. Choked stays afloat. whenever it seems to sink into the sink water the actors pull it out. They seem far more protective of the film's destiny than it deserves.
Bamfaad (Zee5): This is a gripping if somewhat familiar mofussil love story about an Allahabad boy who falls for a girl who happens to be the local don's keep. Boy and Girl make a run to the nearest safe town. Obviously, Sairat has been streaming in Allahabad. The comfort of the familiar is not what makes Bamfaad watchable. It is that recycled yet raw energy of the smalltown passion-play that gives this feral romance a cutting edge. When we first meet the young hero Nasir(debutant Aditya Rawal) he is an aimless and brawl-friendly lout, a problem child for his worried parents who, for a change, are no walkover. In fact, Nasir's dad (played with marvellous restrain by Vijay Kumar) is a powerful town-member so that when Nasir flips for the don's girl, the tussle that ensues is not one between the have and the have-not. Nor do we get into a Hindi-Muslim tangle here, though a creepy cop, after a sequence where the fugitive lovers are humiliated in a hotel room a la that brilliant Haryanvi film G Kutta Se, does mention 'Love Jihad' There is a more delicately drawn power-play at work in this drama than we generally see in films about star-crossed lovers. This is a story that wants to be told. And it gives its truckload of characters ample breathing space to grow into a substantial drama. I wish director Ranjan Chandel had avoided the songs which don't only break the metre of the sanguinary tale but also remind us that at the end of the day a film is a film…
The two youngsters do well for themselves. It won't be right to declare the lanky Aditya Rawal a chip of the old (Paresh Rawal) block yet. But he conveys a certain sincerity in his anguish and anguish in his moments of sincerity. Shalini Pandey who got slapped around by Vijay Deverakonda in Arjun Reddy gets roughed up by Vijay Verma who makes the criminal's character just sympathetic enough to not wish him a horrible death. The best performances in this stealthy saga of love and betrayal come from Verma and Jatin Sarin, the latter as a chameleon-like fencesitter who changes sides according to convenience. There are lots of small-town clichés floating around here. Lots of bare feet facing the camera, uncouth types spitting, etc. And yet for a film that seeks inspiration from Sairat and Arjun Reddy, Bamfaad has some surprises in store including an unforeseen ending and a subplot about a lovestruck local Majnu who misreads the writing on the wall. Literally.With calamitous results.



Image source: IMDb