International Women's Day 2020: Richa Chadha, Radhika Apte, Rachel Brosnahan; Ladies Who Rule The Web
With International Women's Day around the corner, it is time to celebrate the girl power that rules the OTT platforms. Many stars from Bollywood and Hollywood have ventured into the digital world.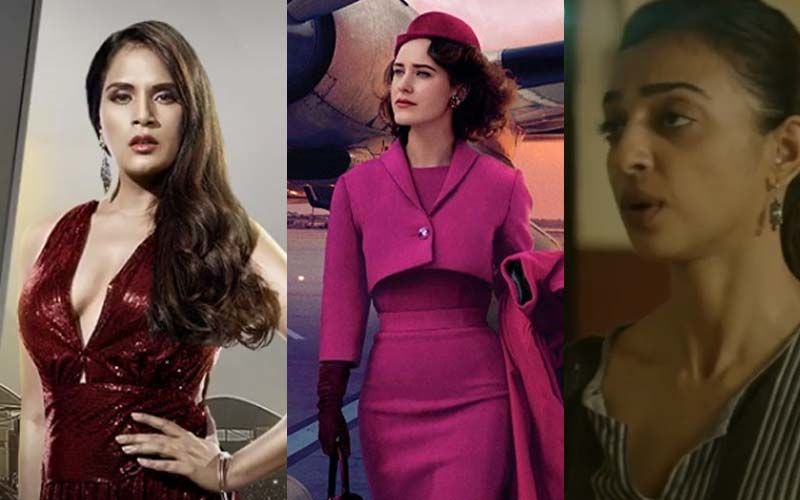 The digital platform has opened a new arena for all the entertainment seekers. OTT platforms have come as a boon for all who want to access entertainment at their own time. Not just for entertainment seekers, the web has opened gates for all those who want to showcase their talent in the entertainment industry. For females, this new flurry has come as a ray of hope, with many actresses getting their due to showcase their talent. Plus, we have got many characters that hail women empowerment.
Through Richa Chaddha, Radhika Apte to Hollywood's Rachel Brosnahan, we have got many such women characters through web series that are hard to forget. On International Women's day, let's celebrate the women power of the web. These characters and actors have indeed brought about a change in the way women empowerment is perceived. Take a look.
Shobita Dhulipala in Made In Heaven
Tara Khanna played by Shobita in Made In Heaven is a girl from a middle-class family trying to fit into the uber-wealthy lifestyle post matrimony. Classicism, hypocrisies, power struggle and more, Tara deals with all with poise. However, it is her dedication to her work and to achieve her dreams is worth endearing.
Radhika Apte in Sacred Games
Radhika Apte who has become synonymous with the word web played the role of a RAW agent in critically acclaimed Netflix's Sacred Games. She essays the role of Anjali Mathur who has been assigned desk work, however, her passion craves to go field. She has the urge to prove herself and that's how she goes chasing after the leads.
Rachel Brosnahan in The Marvelous Mrs Maisel
Midge Maisel played by Rachel Brosnahan in The Marvelous Mrs Maisel is a perfect motivation to all the women who think they are talented yet lack the courage to go out and perform. Midge's character is that of a housewife who goes on to release that she can make people laugh and goes on to make a career in stand-up comedy.
Richa Chadha in Inside Edge
Richa Chadha stepped into the shoes of Zarina Mallik for Inside Edge and received applause for her sensational performance. Zarin is a co-owner of Mumbai Mavericks cricket team and is hungry for power, and money. But she is the one with morals.
Shweta Tripathi in Mirzapur
She is passionate, she is lovable, she is fierce - Shweta Tripathi as Golu in Mirzapur is one of the finest women characters we have seen to date. On top of everything, she is progressive in an environment where every move has to be calculated. She has guts, we must say.
Image Source: Instagram/insideedgeamazon/sacredgames_tv/maiseltv