Kappela And Axone: Two Netflix Gems You Might Have Missed
Here's looking at two Netflix gems you might have missed - Kappela and Axone.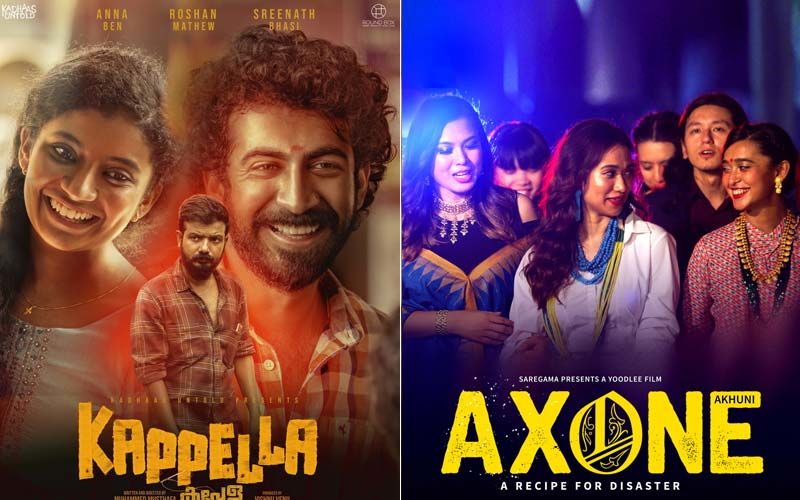 KAPPELA: Forget Bollywood, all the excitement this year seems to be happening in Malayalam cinema. After the outstanding Moothon here comes another whammy from the land of gorgeous greenery. Sure enough. Kappela captures the Kerala countryside with a caressing glance that we get only in their homespun films. The film is set in rural Kerala, though luckily there are no coconut trees and football players.
This nutty anti-romcom takes us on an unexpected rollercoaster ride… Rather, a bumpy bus ride where the film's achingly young inexperienced rustic heroine Jessy (Anna Ben) almost loses everything, only to have her soul redeemed just in time.
This is a kickass morality tale. I am afraid to give away the plot. Suffice it to say that for all my movie-viewing experience, I could have never guessed what the writer-director Musthafa (believe it or not, this is the actor-turned-director's directorial debut) was leading into. Nope, I never saw the twist coming. Life's like that (I can bet it will be lapped up for a Bollywood remake in no time at all.) The film's first- half is a dainty phone-romance between Jessy and Vishnu (Roshan Matthew) a kindly helpful affable autorickshaw driver whom Jessy dials by mistake. Therein begins their sweet romance, filled with silly riddles and frilly giggles.
Mid-way through the film, Jessy decides to sneak away from her parental gaze to meet the unseen love of her life.The bus journey will change her life.
Suddenly, the serene storytelling swerves into an unexpected U–turn. For about 20 minutes of the second-half when the film's loutish shamelessly parasitical hero Roy (Sreenath Bhasi) is introduced, I thought I was watching another film altogether. But then the director, fully conscious of where he is going and with a grip on the moral graph of the three main protagonists' destiny, manoeuvres the story through the stormy incidents with expertise.
There is not one idle moment in Kappela. The director's eye for detail is one of the film's many virtues. In one sequence, when Jessy gets into the window seat of a bus in the pouring rain I actually saw raindrops on her seat. The pace is always in a race, never lacking in grace.
By the time the film screeches to a halt three lives are changed irreversibly. And we breathe a sigh of relief. All is well in the world, at least this time. But for all the Jessys of the world who venture out to explore the mystery of love, here is a warning. Never love a stranger.
There is a beautiful tender moment at the end when Jessy, her bare feet buried in the watery sand, stares into the sea that she's seen for the first time. As she gazes into the unfathomable unknown we get a full measure of what life means. You never know what it has in store.
AXONE: It may seem like that right now. But racial discrimination is not peculiar to America. In India many communities and cultures have suffered generations of prejudice and violent attacks. It's a sign of the times that a film on the hardships faced by North Eastern students in Delhi has come for cinematic scrutiny in a film that combines culinary distinctiveness with cultural immersion in a cinematic language that's interestingly hybridised. Not everything fits. There are portions when the writer-director seems to put too much on his plate.
But the pungent North-eastern pork dish named axone serves well as a metaphor for culturally distinctive people who fail to create a sense of belonging when away from home and insist on creating their own cultural island in the metropolitan bustle.Admirably, director Nicholas Kharkongor takes no sides. If his northeastern characters are victims of an ethnic subversion, they are also responsible for their plight .
Sayani Gupta, a fine actress when given some meat in her part, sinks her teeth into the pork dish with a deep understanding of the dynamics that drive migrants into an abyss. Gupta plays a Nepali and hence a bit of an outsider even in her North-Eastern circle of friends. But from outside she's one of 'them' facing rude comments like, 'All of you look the same.'
The director's strong views on segregation come through in some well-written scenes of street violence. Chanbi (Lin Laishram,beautifully sullen) is slapped by a Delhi lout for protesting against his eve teasing. Later, when the perpetrator's father intervenes to discipline his son, Chanbi remarks sarcastically, "Aap hi se sikha hoga."
Most uncalled-for and symptomatic of the constant victim syndrome that people from outside the mainstream suffer from. In the beginning, there is poor Bendang (LANUAKUM AO) trying to learn a Hindi song (Uthe sab ke kadam from the film Baaton Baaton Mein). Symbolically, he masters the words and the tune at the end. But not before he insults a helpful over-friendly Delhi boy Shiv (Roshan Joshi) who's seen trying to help the northeasterners all through the narrative only to be rewarded with smirks and rolling of the eyes.
Prudently, the narration suggests that perhaps a part of the problem being faced by minority communities is their own persecution complex. Perhaps, if marginalised people stop licking their wounds all the time they can inculcate a sense of belonging in the mainstream of society.
The film has some lovely contemplative moments and the culture-specific cast captures the spirit of the script. While the marginalised characters bustle their way through a series of misadventures, the director pulls back, letting the characters breathe. A luxury they can rarely afford in real life. Axone is a film that must be seen by every one who has suffered discrimination or abuse. It may not have achieved the heights of self expression that it seems to have set for itself. But it's a brave admirable attempt.
Image source: IMDb