Lalbazaar: Ajay Devgn Boasts About The Bravery Of Cops As He Presents The New Crime Drama - WATCH HERE
As Lalbazaar hits the OTT platform, Ajay Devgn talks about his upcoming web show. The first rushes of cop drama will leave you hooked.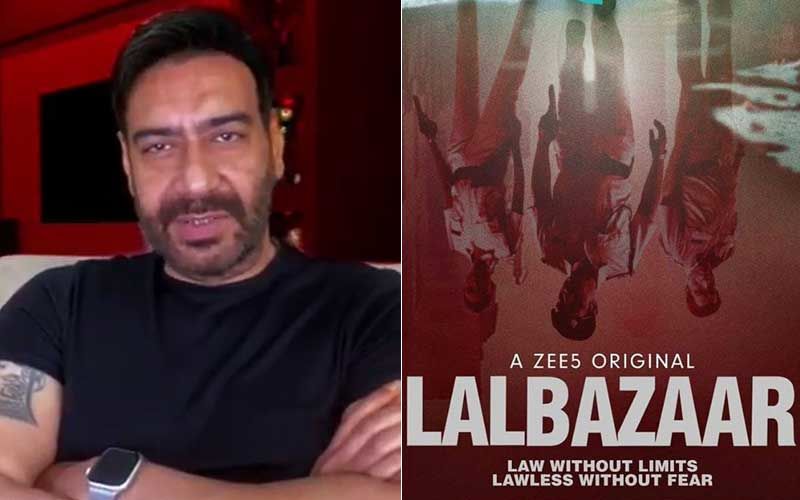 Ajay Devgn is super excited for his new police thriller Lalbazaar, a series showcasing the policemen of Kolkata vigorously fighting against a criminal. After introducing the web show, actor dropped the trailer on his social media account, a couple of days back. For everyone's surprise, the Singham actor has lent his voice for the trailer. The trailer of Lalbazaar looks fierce and interesting. And we must say, fans are now making the most of their quarantine time as the show is streaming now on ZEE 5.
Recently, Shivaay actor took to his Insta account to inform his fans that his new drama series Lalbazaar is now streaming on Zee 5. Ajay backed this video with a caption, "Aaj Se Dekhiye #Lalbazaar un janbaaz Police officers ki kahani jo karengey jurm ka khaatma!Sirf Zee5 par." The theme of the show revolves around Kolkata police dealing with a case in a red light area. The series stars veteran actor Sabyasachi Mukherjee, Kaushik Sen, and Sauraseni Maitra in lead roles.
Earlier, Ajay took to his IG account and gave a glimpse of the show by sharing the teaser of Lalbazaar. He captioned the video, "Bekhauf aur belagaam mujrim, Aur #Lalbazaar police, jo in mujrimon ko ghutno pe laayegi, #TillTheEndOfCrime".
Ajay Devgn has also shared his view on playing the character of a cop once again. He told the Tribune, "I have always enjoyed playing characters where good triumphs evil. It is not easy to emulate the lives of our brave police force and I consider myself lucky to have had the opportunity of playing roles in the uniform. Especially during the lockdown, the sheer hard work and perseverance that the police force is putting in is highly commendable and they have my utmost respect. While the web series talks about crimes committed and being solved, it also focuses on the human side of the lives of the police squad and allows audiences to get a glimpse into the lives of those who protect them 24/7."
(ALSO READ: BOYCOTT BHUJ ON OTT: Ajay Devgn's Fans Demand Big Screen Release Of His Film; 'Mass Star Ki Entry Mass Parde Pe Honi Chahie')
Images Source: instagram.com/ajaydevgn