Manoj Bajpai On His Triumphant Performance in Netflix's Ray: I Don't Take Anything For Granted And Try To Evolve All The Time
Manoj Bajpai speaks to Subhash K Jha about about the accolades he has been receiving for his portrayal of a ghazal singer in Netflix's Ray anthology. Read more.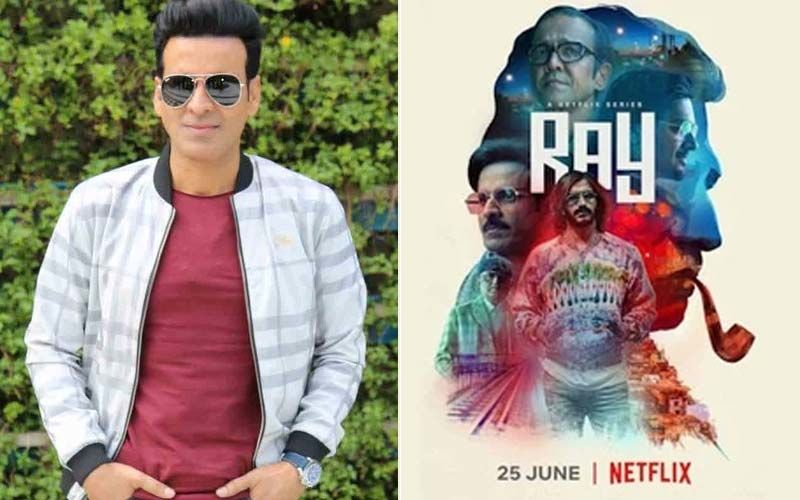 Actor Manoj Bajpayee's recently released Netflix series Ray has been receiving critical acclaim. Ray is an anthology series inspired by the works of filmmaker-author Satyajit Ray. The series tells four stories -- Hungama Hai Kyon Barpa, Forget Me Not, Bahrupiya and Spotlight. Bajpai appears in Hungama Hai Kyon Barpa -- in the character of Musafir Ali. This story also features Gajraj Rao in a pivotal role.
Manoj Bajpai spoke to Subhash K Jha about the acclaim and accolades he has been receiving for his portrayal of a ghazal singer, who is on a journey to seek his lost fame.
Excerpts from the interview:
Q: We had scarcely stopped raving over your performance in The Family Man when you delivered another knockout performance in Hungama Hai Kyon Barpa. How do you do it?
A: (Laughs) How do I do it? I just prepare in collaboration with my director and try to stay true to his vision. And I don't take anything for granted and trying to evolve all the time. All the craft that I learnt over the years in theatre and cinema, from other actors and reading…it all comes handy when I am preparing for arole
Q: How did you perceive your character Musafir Ali?
A: It was all there in the script. All I had to do was read the script as many times as possible. The director Abhishek Choubey is very mild mannered. But he knows exactly what he wants. He made me and Gajaraj Rao rehearse rigorously. We kept on exploring different facts of my character as someone drunk on his success. Then he meets a character who throws him off completely.
Q: Did you enjoy lip-syncing Ghulam Ali's Ghazals?
A: Oh, absolutely. But I wanted to project the songs not as Manoj Bajpai but my character Musafir Ali. The way he plays the harmonium and connects with the live audience …. and the way he moves his lips… All that was worked out in advance. There was a gentleman who came on the sets to show me how to play the harmonium. So yeah,a lot of effort has gone into that one-hour film. We normally don't see the same effort going into Hindi films.
Q: The Ray anthology has been largely panned, except for your story. How careful were you in preserving the essence and spirit of Satyajit Ray?
A: Keeping the spirit of Mr Ray intact was the writer and director's job .They've done it beautifully. What I liked about Abhishek Choubey is that he's so innovative. His imaginative power is superlative. Who else would have thought of adapting Mr Ray's milieu into this world of magic realism? There is an element of theatre also in the presentation. Abhishek's experience in theatre came in very handy.
Q: Did you incorporate that element of theatricality in your performance?
Q: I also tried to bring in an element of theatricality in my performance. Musafir Ali is acting for the camera. But I made sure this theatricality didn't jar. When we were rehearsing and performing in front of the camera, we made sure the mood that we had decided on(theatrical yet cinematic) was on display. I am a great fan of Abhihek Choubey. His imaginative power is something else.
Q: You were reunited with your Sonechiraiya director. What was it like working with Abhishek Choubey again?
A: Working with Abhishek Choubey was a dream. Sonechiraiya is an all-time classic,and one of my best performances. Who could think he could make my cameo role so memorable?I hope to work with him as much as possible. I am very greedy when it comes to working with a director like Abhishek. When he casts other actors in my place I feel very possessive about him. I vibe really well with him.
Q: What was it like working with Gajaraj Rao?
A: Gajraj and I go back a long long way.We worked together in the same theatre group when we started. We've experienced life very closely together. We know each other's strengths and weaknesses as actors. He is one of my closest friends. It's just that we never worked together before Hungama Hai Kyon Barpa in cinema.
Q: Was the experience what you thought it would be?
A: We were excited to work together.I've seen his work in theatre. He is brilliant as a performer. We had a gala time both on camera and spending time off camera. He is such a great guy. I love him. And he has such a beautiful family. I feel he's going to make a wonderful director some day soon.
Q: How did you two approach the bonding between the wrestler and the ghazal singer?
The two characters are completely different. We stayed true to each other's character. We didn't pry into each other's performances. But we gave suggestions to one another whenever we thought we should.
Q: What is your next release?
It's a film called Dial 100 produced by Sony Pictures. It will be coming on Zee5, I think . It is a story about one night,It's directed by Renzil D'Silva. My co-stars are Neena Gupta and Sakshi Tanwar. It is an emotional thriller and has shaped up very well. I am very proud of this film as well.
Image source: instagram/bajpayee.manoj/youtube/NetflixIndia/SpoptboyE/wikipedia