Maqbool And Joji: Two Adaptations Of Shakespeare's Macbeth You Can't Afford To Miss
Here's looking at two adaptations of Shakespeare's Macbeth you cannot afford to miss - Maqbool and Joji.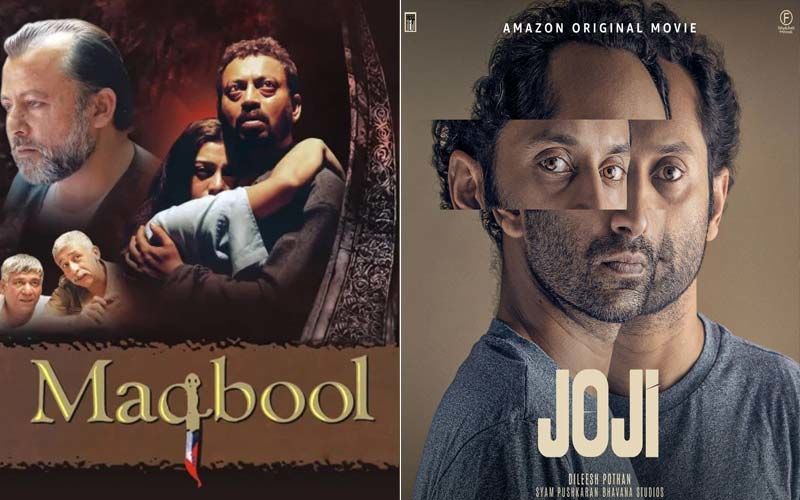 MAQBOOL (Disney-Hotstar): Tortured lives, anguished faces, brooding crime and reverberating punishment... Welcome to the underworld according to music composer turned director Vishal Bhardwaj. From Francis Coppola's Godfather trilogy to Ram Gopal Varma's Satya and Company... you've probably seen scores of great and not-so-great films on the wages of gangsterism. Maqbool transports us to a threshold of pain and redemption hitherto unknown to Hindi cinema. Because this is Shakespeare's Macbeth trans-located to Mumbai's underworld, and because Bharadwaj has selected a dream cast to portray his nightmarish world of crime and retribution, Maqbool takes its emotional content beyond any other film from the genre.
The writing on the 'wail' is so clear, coherent and redemptive, even Shakespeare would smile indulgently at the artistic liberties Bharadwaj has taken with the original text. Maqbool opens a whole new universe of passion- play, unexplored in the original text. Bharadwaj reveals the politics of lust and passion with a sure handedness seldom witnessed in Hindi cinema.
Hence the King from Shakespeare becomes a doddering paunchy underworld kingpin Abbaji (Pankaj Kapur) whose ethereal Lady Macbeth is Nimmi (Tabu) whose passion for Abbaji's most trusted lieutenant Maqbool (Irrfan Khan) rips her life womb and conscience apart. Bharadwaj Tabu's Nimmi in some twisted way, reminded me of a long-forgotten film, B.R. Ishaara's Log Kya Kahenge, that her aunt Shabana Azmi had done many years ago. I haven't forgotten the demoniacal look on Shabana's face as she instigated her lover to murder her stepson. That stricken look returns in the fabulous form of Tabu as she provokes Irfan to get rid of her spouse who sprinkles sterility into her life and womb. Even in her most horrific moment of self seeking Tabu preserves the poetry of violence in her performance.
Every actor builds a poetic life for his character and then plunges his own personality in the lucid lyrical angst of lives on the edge.The characters don't spend ghalati time scampering through crowded narrow gullies with ghodas (guns) in their hands. Most often, they are confined to meticulously created locations where they don't appear to have been airdropped just minutes before the camera rolled.
Hemant Chaturvedi's cinematography particularly in the scenes capturing the dark guilt and inescapable atonement of the murderous lovers, is beyond anything imaginable in terms of cinematic expressiveness. Comparing Maqbool to Company is akin to comparing the voices of Lata Mangeshkar and Asha Bhosle. Each has its own raison d'etre and rhythm. Though Irrfan's character's reverent regard for his mentor reminds us of Al Pacino with Marlon Brando in The Godfather, Bharadwaj's take on the tormented destiny of the underworld is uniquely autonomous. The director packs in an astonishing density and some tongue-in-cheek barbs at Bollywood's notorious links with the underworld. This film requires and commands very close viewing. There are invisible driving forces guiding the character's to their final nemesis.
The screenplay constructs a pyramid of pain with a cyclic inevitability. We know these outlaws are doomed. But their journey to their imminent ruination still sucks us in. The structuring whereby two sets of love stories between Nimmi and Maqbool and Abbaji's innocent daughter Sameera (Masumi Makhija) and Guddu (Ajay Gehi) is an ingenious method of projecting the two aspects of love, the murky and the unviolated. When in the stunning finale the dying Nimmi asks Maqbool, "Was our love pure?" we're looking at the underbelly of passion through an epic topshot lens where crime is simultaneously subjective and objective
The performances do the rest. Irrfan Khan again dons the tormented conscience-stricken protagonist's mantle. Irrfan's Maqbool goes from stern self denial to tortured crime and retribution. It's probably one of the best parts written in Hindi cinema for a leading man. Irrfan clutches at his character's throat and makes it articulate even its most inaudible emotions.
Pankaj Kapur is a revelation. His expressions of steely revenge melt into displays of utter compassion for his enchanting wife. Kapur corroborates Bollywood's myopic disregard for its truly outstanding performers. Maqbool takes frightful risks with narrative devices and audiences' tastes and comes out in triumphant colours of dark despair. The spirit of joylessness is celebrated in a language that's poetic and pristine, hence, ironically, seemingly inapplicable to such soiled lives.
JOJI (Amazon Prime): Joji main aaye, woh karo! In film after film, Fahadh Faasil proves himself a fearless peerless seamless actor who merges into his characters like water in a stream. And better still, flows down that stream where the human condition merges with the very bedrock of existence. And look at where Fahadh has arrived in Joji! Shakespeare's Macbeth gets the treatment which I am sure would make Shakespeare himself envious. Joji is a dark brooding translocation of the Shakspearean tragedy with unexpected bursts of warmth and humour which Shakespeare could have never imagined.
Magically, the characters in Syam Pushkaran's screenplay are relocated from their Shakespearean bleakness to a Malayali verdancy. The overpowering greenery of rural Kerala has always served as a compelling counterpoint to the dramatic tensions so organically generated in Malayalam films. The tension has never been more palpable as it is in Joji. You can cut it with a knife and all you will see are bloodless wounds in the family of Kuttappan P K Panachel (Sunny PN), a tyrannical patriarch who runs the family business with a tight fist and an immovable grip over his three sons. While one of them, a drunken divorced bully named Jomon (Baburaj) loves his mean-spirited father unconditionally, the quieter Jaison (played brilliantly by Joji Mundakayam) has Daddy issues that he has long suppressed within himself.
It is the youngest son, a wastrel named Joji who is the focus of the radiantly inky plot. Joji is of course played by the great Fahadh Faasil who brings to the character a kind of patriarchal bitterness that manifests itself in not-expected burst of devastating violence. This is director Dileesh Pothan third directorial with Fahadh (after Maheshinte Prathikaaram and Thondimuthalum Driksakshiyum) and by far the most reflective, moody, sinister , subtle and sublime.
Though Macbeth is an inherently violent tale of patricide and Oedipal guilt, Pothan's film does away with the vileness of the protagonist's deeds by introducing a kind of dithering juvenilia into Jijo's character. His chosen weapon of violence is an airgun and his selected hideaway is a half-dug well. Fahadh's Jijo is an unlikely villain and hence all the more devastating. He is also an unlikely Shakespearean hero who has in all probability never heard of Shakespeare.
Joji is a remarkably artless tragedy filled with a looming respect for the spaces that divide individuals within the same family. Cinematographer Shyju Khalid creates a sense of distance and isolation by capturing characters who often sit physically distanced from one another in the family mansion. In one striking shot we see Joji and his Bhabhi in two different adjacent rooms in the same frame. Clearly the frames are designed for the big screen. But what to do? If wishes were horses, Joji would be riding them, not selling them without his father's knowledge.
The relationship between Joji and his sister-in-law (Unnimaya Prasad) seems so ambiguous precisely because it doesn't try to be complicated. Familial complications, says Dileesh Pothan are alibis we generate to justify and rationalise our greed and covetousness. Replete with wondrous images of everyday poetry (see Joji examining his father's medical pills of different colours), Joji is a film that we all will go back to in the coming years wondering, How did we miss this and that?! For now, don't miss this great film with one of India's greatest actors giving one of his greatest performances in a film that doesn't aspire to greatness. It just gets there without straining to do so.
Image Sources: Youtube/AmazonPrimeVideoIndia/Nilayverma, Hotstar, IMDb