Masaan, Vicky Donor, Newton And More Content Driven Movies One Can Just Binge On Netflix And Amazon Prime Video
Here's presenting to you 5 movies made in Bollywood which were content driven and critically acclaimed for their plot. List includes Masaan, Vicky Donor, Newton, Lipstick Under My Burkha and Mard Ko Dard Nahi Hota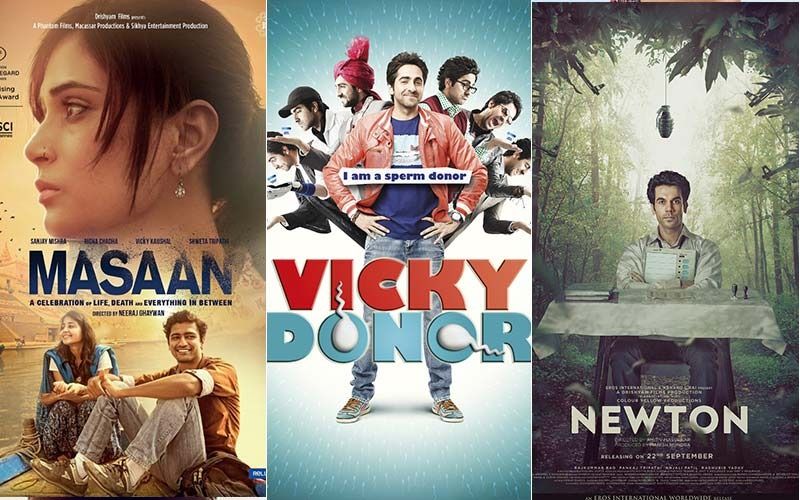 Hello peeps we are back with another set of movies which you can watch during this lockdown. But wait a minute, these movies though will entertain you taking away the boredom from your life, it will leave you with several questions about human race and it's functioning in the world. Some will strike your emotional chords, some will leave you thinking if there is only right and wrong or grey area too plays an important role in our decisions.
On that note let's begin with discussing some of the content driven films which are a must watch. Masaan helmed by Neeraj Ghaywan is a tale set in current day Varanasi, starring Richa Chadha, Vicky Kaushal, Shweta Tripathi in pivotal roles; two different stories ultimately converge towards the end. Next is Lipstick Under My Burkha which according to us explained what about women of different ages seek in their life. While on lighter note one can watch Mard Ko Dard Nahin Hota and Vicky Donor highly abiding on infotainment factor. And lastly Newton starring Rajkummar Rao where the actor continued to narrate the untold stories of India.
Masaan: (Netflix) (imdb: 8.1, age: A)
The movie talks about two different stories, one the story of a teacher who indulges in sex with a student and is caught, second the story is about a young couple who love each other but are from different cast. Due to different circumstances both lose each other's partners and also become victims of the society.
Lipstick Under My Burkha: (Amazon Prime Video)(imdb: 6.8, age: A)
Mard Ko Dard Nahi Hota: (Netflix)(imdb: 7.4, age: UA)
Vicky Donor: (Voot)(imdb: 7.8, age: U/A)
Newton: ( Amazon Prime Video)(imdb: 7.7, age: 13+ )
The movie portrays the fear of a government employee who has to hold a fair voting in a very politically sensitive area. A constant fear looms over him and has to be very tactful in dealing with the people there.
Image Source: dvdplanetstore.pk/images-na.ssl-images/mir-s3-cdn-cf.behance.net