Maska And Guilty: Two Netflix Gems You Might Have Missed
Here's looking at two Netflix gems you might have missed - Maska and Guilty.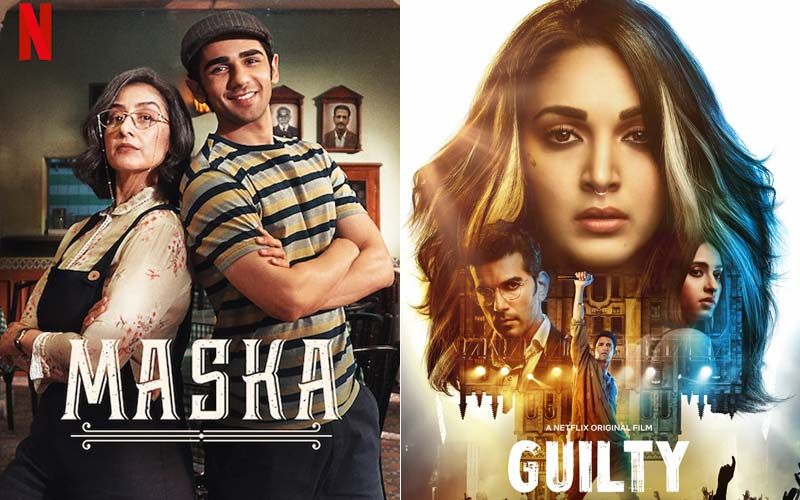 Maska: If we disregard Manisha Koirala's overdone Parsi accent and the rather embarrassing plunge into excessive maudlinism in the second-half, Maska is quite the chirpy, bright, sunshiny mood-elevator that we need during these hard times.
This is not the first film to take us into the world of quaint and cute Parsi eccentricities, and I hope it's not the last. Given its reliance on stereotypical community quirks, Maska does well for itself. The film is propped up with some intelligent writing and rock-solid performances specially by newcomer Prit Kamani who is quite a find.Manisha Koirala gets everything except the accent right. While Javed Jaffrey as her dead husband is a complete natural, accent and all.
Kamani plays Rumi, heir to a crumbling Irani café whose mother Diana will only allow him to sell the expensive property "over my dead body." Rumi can't wait that long. He has dreams of becoming a Bollywood star and he wants to self-fund a film where he would be cast as a leading man.
One can see Rumi is not the brightest of candidates for on-screen hero-giri. He allows himself to be bullied by his overbearing mother (Manisha Koirala) and a super-ambitious girlfriend (Nikita Dutta) who thinks it is okay to sell your heritage for your dreams even if it makes you unhappy. Because according to her, happiness will follow later. High hopes, indeed.
Kamani plays Rumi with a sense of melancholic innocence. He is ambitious but not quite clued-in enough to support his ambitions. In one hilarious sequence, he walks into a film audition stark naked because it's the role of a man caught with his pant's down. This chap is way too earnest and roast-worthy. But Rumi is kind, generous and compassionate. Kamani is able to convey all of this. It's quite a debut performance.
Armed with a gallery of quirky (Parsi) characters, director Neeraj Udhwani does well for himself. The film is suffused with the scent of sunshine. The positivity of mood makes us overlook many of the film's glaring transgressions, like the melodrama of a dying man feeding bread maska to his beloved wife, and a manufactured climax which does nothing to reiterate the overall sense of joie de vivre that the film projects.
GUILTY: Thirty-one years ago in Jonathan Kaplan's The Accused, Jodie Foster played a girl who is gang-raped in abar because, well, she asked for it. In Guilty, it's debutante Akansha Ranjan, impressively in-character, playing a campus libertine from Jharkhand who comes on too strongly with our rape-accused hero the popular Vijay Pratap Singh (Gurfateh Singh Pirzada) during a rock concert that rocks the gender boat violently. Did the aggressively in-your-face Tanu "ask for it"?
Director Ruchi Narain, returning to feature –film direction after 2005's interesting but fractured Kal, Yesterday & Tomorrow, offers no easy solutions, as there are none. That a rape has indeed been committed is unclear until the devastating finale where, during a love concert, we finally get to know the truth because, well, there was an eyewitness. Luckily, it was male. Because, as Kiara Advani's traumatized character Nanki points out, if a woman said she saw a woman being sexually violated, no one would believe her.
There are times in this gripping gritty whodunnit (or rather, anyone dunnit?) when Narain's grip over the reality of a vast assortment of characters groping in the dark, seems to loosen. Perhaps the screenplay which Narain co-wrote with Atika Chouhan and Kania Dhillon, needed to focus more on the central conflict rather than allow so many extraneous perceptions to seep into a septic situation.
I also felt the quest to simulate suspense is slightly self-conscious. Did he do it? Is she lying? The viewers are seduced into an investigative drama with Taher Shabbir as the accused defence lawyer Dalip Tahil's assistant, playing almost the traditional detective's role.For a film that shows such a high level of commitment to a cause, the cinematic embellishments ought to have been minimised.
Some from the torrent of characters, like the rape-accused's 'privileged, empowered' parents, appear to be stereotypical characters. Ruchi Narain largely avoids predictable options and doesn't shy away from the uglier aspects of the situation. Interestingly, the protagonist is neither the rape victim nor the alleged rapist but his girlfriend who, by dint of being a woman and close to the perpetrator, open up an entire vista of discussions in the plot.
Kiara Advani is just about successful in shouldering the responsibility. But the role needed an actor of Shabana Azmi's stature. Twenty years ago, Shabana would have ripped the screen apart with her interpretation of Nanki's brutally imbalanced childhood and life. But then 20 years ago there would have been no Nanki, no film like Guilty. At least something worthwhile has emerged from the MeToo movement. Otherwise, as the director points at the end, the accused have gone back to their work. It's business as usual for women.
Image source: IMDb