Mumbai Diaries 26/11 Director Nikkhil Advani: 'I Didn't Start Off Wanting To Tell The Story Of 26/11; I've Always Wanted To Tell The Story Of A Hospital'-EXCLUSIVE
Nikkhil Advani, director of the medical drama Mumbai Diaries 26/11, talks about choosing to tell the story of 26/11 terror attacks from the medical community's perspective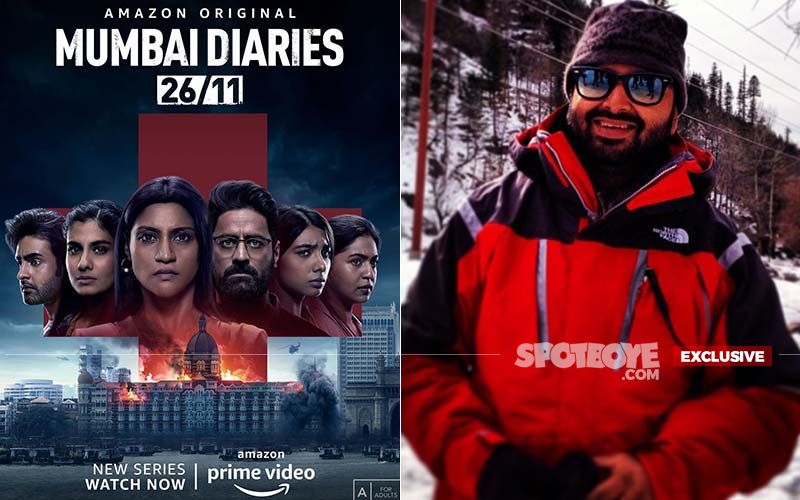 Filmmaker Nikkhil Advani returned to the director's chair for the Amazon Prime Video's medical drama, Mumbai Diaries 26/11, that released today. The series featuring Konkona Sen Sharma, Mohit Raina, Tina Desai, Shreya Dhanwanthary, Satyajeet Dubey, Natasha Bhardwaj and Mrunmayee Deshpande, tells the story of a government hospital during the 26/11 Mumbai terror attacks at the Taj hotel.
The tragedy of 26/11 has been depicted on screen multiple times through films and shows, and a few more are about to come as well. Ask Nikkhil why he chose to bring forward this different point of view of the medical community from that day and he says, "I started off wanting to just make a medical drama."
He goes on to say, "I wanted to tell the stories of doctors, nurses, ward boys and the staff of government hospitals. When I went to a government hospital for my research, I found out that we have one of the largest government hospitals in the world with 1200 beds, 300 admissions a day that treat people with no money, who are from slums, prostitutes and drug addicts. They deal with cases of domestic violence, murders and accidents. I felt that these doctors are working with a lack of infrastructure and facilities, and all they have is the dedication and passion to make sure that their patient is able to survive."
And their passion motivated Nikkhil to tell their stories. "So, I started wanting to make a medical drama and then I felt that what if we make it a little more dramatic by not showing it on a normal day but a day when the city almost came to a standstill. I didn't start off wanting to tell the story of 26/11, I've always wanted to tell the story of a hospital. But while writing the show, it became bigger and bigger. The logline of the show is that those who are meant to heal, are the most broken themselves. We forget what the doctors, nurses, firemen or a policeman and their family are going through. While they are battling to keep the city safe, they are also trying to sort out their own lives, and that's the message of the show," he shares.
Indian media hasn't made many medical shows like the west, that has so many long running medical shows on screen. And tackling that was a huge challenge for Nikkhil. "I didn't want people to turn around and say that the procedure looks fake or the actors feel like actors and not doctors. So, all the actors had to go through a medical workshop with Dr. Sheikh. They had to know how to do a suture and people like Mohit, Konkona and Satyajeet and all nurses had to learn how to stitch people's arms and treat open wounds. They had to understand the ABCD of medicine. They had to understand how to revive someone and how a spinal surgery was done. When they speak terms, it shouldn't sound like a dialogue and I hope when people see it, they will see the hard work that has gone into the prep," he hopes.
Speaking about his cast, Nikkhil is over the moon with his choice of actors. "Amazon's perspective was to just cast people who are right for the role, irrespective of the budget and scale. Whether it's Mohit or Konkona, or the interns, I had a clear idea of what I wanted. For the three interns, I wanted to cast people who the audience hasn't seen too much. Satyajeet is a tremendous actor but he hasn't got his due ever. I keep telling him to just wait for September 9."
The filmmaker goes on to rave about his three interns in the show. "Satyajeet is such a good actor and so tremendous in the show, His character suffers from imposter syndrome that creates a lack of confidence. He is shown as a very troubled person, who also stammers and he has brought that out beautifully. I hadn't worked with Natasha before but she is so fantastic. For the casting of Mrunmayee, I have to give the credit to Nikhil Gonsalves. He had seen her work in some Marathi films and he said that we have to work with her," he reveals.
Nikkhil is all praise for his other leading actors as well. "When we cast Shreya, she was not Sucheta Dalal as Scam 1992 hadn't been released yet. We had shot our show even before Covid. Koko (Konkona) is someone I always wanted to work with but never had anything challenging enough to take to her. I am someone who wants people to say yes to me immediately. So, rather than take a chance I decided to wait to take an offer to her that she couldn't turn down. I had seen Tina's work in Marigold with Dev Patel and the credit for casting Mohit goes fully to Aparna Purohit. We went out for coffee and she told me to stop looking for anyone else and just cast Mohit," he concludes.
Image Sources: Instagram/nikkhiladvani, Youtube/AmazonPrimeVideoIndia