MY BREAKOUT ROLE: Shefali Shah Recalls Her Whole Journey From Scratch To End As DCP Vartika Chaturvedi On Delhi Crime- EXCLUSIVE VIDEO
In this new segment, actress Shefali Shah talks about her breakout role in Delhi Crime, from how she got the show, to her prep, experience on the set and the after effects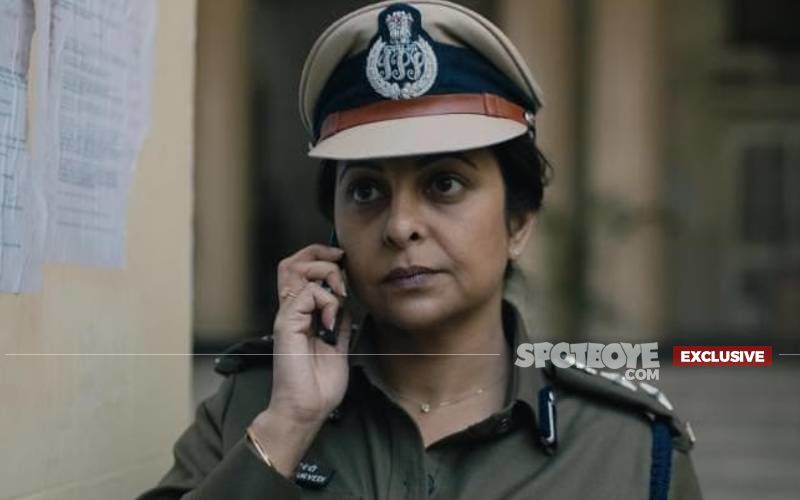 Every actor who comes into Bollywood with a dream to make it big in the industry waits to get that one breakout role that changes their lives forever. And in this segment, we speak to some of our leading stars about their breakout roles and the whole journey from scratch to the end in it. This week, we speak to Shefali Shah, who talks about her journey on the International Emmy-winning Netflix show, Delhi Crime.
Breakout Role: DCP Vartika Chaturvedi in Delhi Crime
How it happened…
As what Richie (Mehta, creator) had told me, when he and Mukesh (Chhabra, casting director) sat together for the casting, they listed the 10 primary characters. And as soon as they mentioned Vartika, both of them said Shefali Shah. Richie met me, and the first thing he said was that he doesn't want an actor but a collaborator. He wanted me to come on board to create it with my own voice, even though he had written it.
It wasn't even a narration but just a discussion on what he had worked on in the last four years. Within the first five minutes, I said yes, and I hadn't even read the script. I was crying and mopping my face throughout as he was telling me the story. Then we had a couple of scene runs since the producers were international and they didn't know who I was. So, that's how it happened and Delhi Crime was a story that no one could have said no to.
Preparation…
Delhi Crime is my learning curve. I changed the way I worked because of it as I learnt so much during the whole process. It was a story of continuous five days, so every time I went on set, I had to know how many hours she had been up for, when was the last coffee she had which would have given her an adrenaline rush. When and where she lost a clue, that would have given her a dip or got one clue, that would have given her another high. What was the last conversation I had with anyone and even if we don't see it on screen for the next five scenes, I needed to know where she had left that conversation. It was a constant monitoring of minute to minute.
Say, if I was shooting for episode 5, scene 30 one day, I would go back and re-read the script the previous day to know what all had happened before it. So, that was the kind of work that went into it. I was obsessed with Vartika and Delhi Crime. I never wanted to get out of that space. I would go to work, come back, shower, work on the script, get up and go to work again. And meanwhile, discuss and discuss some more with Richie and make a copious amount of notes.
Experience and memories…
Everything and every part from DC is etched in my mind for eternity. Whenever I used to get a call sheet for the next day, we would have something like 18-20 scenes and that would send me into a spin on how we would accomplish that, but we did it. A lot of our shots were one shot and we used to have long takes. I remember we had one scene that was 12 pages long. But everyone was so in sync on set as we were madly in love with that project. The passion was so much that we had nothing else on our mind.
Johan (Heurlin Aidt), our DOP, is a magician. In the whole series, we had just one shot on a tripod, rest all were with a hand-held camera. We'd choreograph the scenes first with Richie and then with Johan according to how he wanted to do it. We all used to move along with him. It was like a ballet and it couldn't have happened if everyone wasn't so much in sync.
Bhupinder and Vartika have become one of the most admired relationships on screen. And I had never met Rajesh before the show, but on the first day itself, we just clicked. We became those people and I had the pleasure to meet Chhaya ma'am.
It's a very human story and what people go through. When we were shooting at the police station and used to talk to cops, they would tell us that they sort of live there and don't go home much as they are on duty almost the whole time. They used to go home once a week most of the time. And there were times when I used to enter the station wearing the uniform, and they would salute to me, thinking that I was a cop myself. The experience of what the uniform brings to you is just something different, I walked taller and suddenly had a taller spine.
The whole experience was also like a catharsis and payback. When the real incident happened, we all sat back questioning why nobody was doing anything about it. And when I read this, I got to know that someone was doing something, and it was a woman. So, it was a payback by a woman for the injustice done to another woman.
Effect of the success of Delhi Crime…
It changed everything completely. Delhi Crime has been my turning point professionally. Suddenly people realise that I can be a central character and can carry something on my shoulders. It has to do not just with the way I performed it, but more so because the show had so much credibility. And I have to thank Richie and Mukesh for trusting me with this. And that really changed it around with me. I have always been lucky and received a lot of love and admiration but it never translated into work, but after DC, it did. Now, I am getting to play parallel leads, central characters and not just one supporting person somewhere and this is what I have been wanting to do for the longest time.
Image source: Instagram/shefalishahofficial