One Mic Stand: Sapan Verma, Ashish Shakya, Angad Singh Ranyal On Bhuvan Bam, Shashi Tharoor And Others' Attempt At Comedy
Our latest Just Binge session saw the most entertaining stand-up comedians Sapan Verma, Ashish Shakya and Angad Singh Ranyal in conversation with the anchor Manish Batavia. They talked about how they convinced Bhuvan Bam, Shashi Tharoor, Taapsee Pannu and others to attempt comedy for One Mic Stand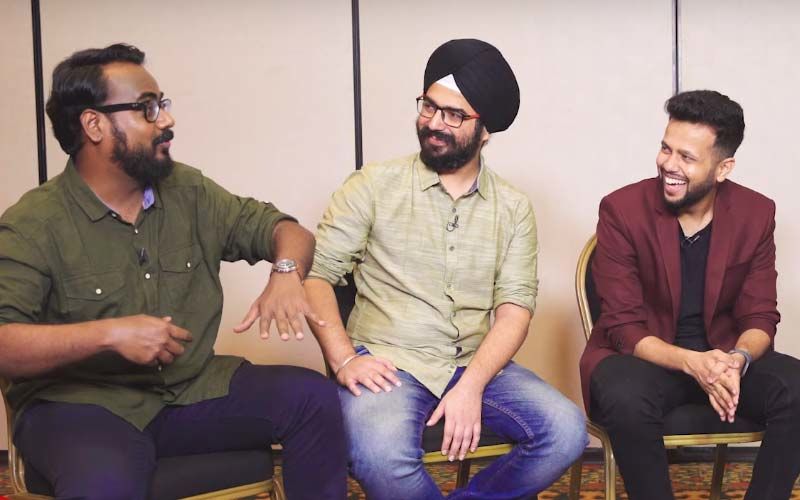 The show One Mic Stand has created a lot of buzz online, given its interesting concept of celebrities and famous personalities performing stand-up comedy. The five episodes of One Mic Stand feature five celebs along with a stand-up comedian. The list included Bhuvan Bam with Zakir Khan, Taapsee Pannu with Angad Singh Ranyal, Richa Chadha with Ashish Shakya, Vishal Dadlani with Rohan Joshi and Shashi Tharoor with Kunal Kamra. Now, our latest Just Binge session saw Sapan Verma, Ashish Shakya and Angad Singh Ranyal in conversation with the anchor Manish Batavia, and in this fun session they talked about their experience and how they convinced the celebs to attempt comedy.
In the Just Binge session, Sapan, Ashish, and Angad talk about what it was like working with each one of them. Sapan revealed that it was a one-take affair, and that there were absolutely no retakes. In fact, he also hadn't revealed to the live audience about the celebrity guests and who they were going to be. They mentioned that while Richa Chadha worked with them for over a week, they got the least time with Shashi Tharoor, having met him just one day before his stand-up performance. For more interesting and fun facts, check out the Just Binge session here:
Also, do not miss out the most entertaining part where Manish Batavia asks Sapan Verma, Ashish Shakya, Angad Singh Ranyal about their wishlist for One Mic Stand season 2!
Image Source: Instagram/sapanv