Petta And Raabta - Two Underrated Feature Films On OTT
Two hidden gems on OTT that shouldn't be missed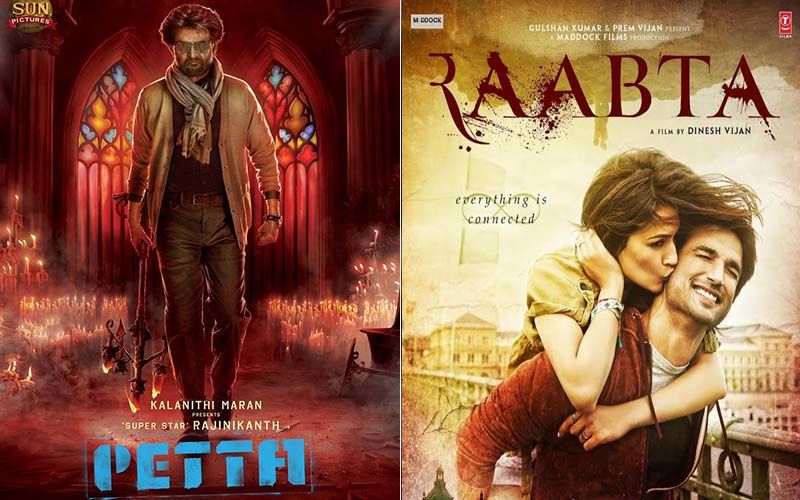 Petta (Netflix, Tamil): In what seems like an unwanted political intrusion in an out-and-out formalistic entertainer, Vijay Sethupathi—who has a pivotal role to play in propelling the plot forward—is attacked in a cowshed by goons who accuse him of being a beef carrier. Well, to be honest, Sethupathi does have quite a beefy role. In fact, it's the most powerfully written secondary part I've seen in any recent Rajinikanth-starrer. Seethupathi plays Jeetu, a sleazy hitman in Uttar Pradesh who ends up being horribly confused about his parentage. In fact, the script turns his parentage into a bit of a savage joke.
But director Karthik Subbaraj knows when to pull back the punches. He lets the 3-hour marathon masala fare roll on like a steamroller that knows exactly how to run its course without plundering any of the tropes in a Rajinikanth-starrer. Petta is a film that satiates both the Rajini devotees and the non-devotees. While it harks back to his most famous screen avatars it gives a fresh fecund flavourful twist to every manoeuvre that brings the plot closer to its nemesis.
To begin with, Rajini is a boisterous hostel warden who plays Uncle Cupid to a young couple. While aiding the courtship Rajini falls in love with a spiritual hero (Simran, looking lovely). This part of the film is light to the touch, frothy and tantalizing in a cute kind of way.
In the second half, the plot simply takes off, creating a badland of bloodshed and retribution where bullets and bombs pelt down in a devastating tale of caste and communal wars. The clannish violence is cannily constructed to highlight Rajinikanth's stage-capturing image. He has never looked so young in the past decade. He performs the action sequences and the dances with a disarming relish and his character doesn't shy away from killing the enemies.
It all adds up to a visually rich drama replete with twists and turns that are not only unforeseen but also deftly written to accentuate Rajinikanth's image. And yes, Nawazuddin Siddiqui makes a formidable adversary. The confrontations between the two leading to a bloodied finale leaves no room for the audience to exhale.
When was the last time I had so much fun watching a Rajinikanth film? The last few years topped by the appalling 2:0 last month have been pretty abysmal. Perhaps the Thalaiva, as he's called by his devotees, had begun to take himself too seriously in his recent films.
In Petta, Rajini doesn't allow his swagger to be weighed down by responsibilities. A genuine sense of fun runs through the taut plot. Except for a few stretches where the director seems to lose grip (for instance the early scenes in the hostel are way too flighty) this tale of a father-figure fighting to save a young boy (Sananth Sethi) from murderous enemies is just what the Raj
Raabta (Amazon Prime): There is something about Sushant Singh Rajput and Kriti Sanon, something sexy without really getting into the bed or talking dirty the way Ranveer Singh and Vaani Kapoor did in the wretched Befikre, which for all practical purposes, has a sexual pun tucked away in 'fikre'.
Sex is of course important in Raabta. Why should it not? Two young people Shiv and Saira meet flirt and do whatever else follows. This is Budapest captured in all its gorgeous glory by Czech cinematographer Martin Preiss who can't decide what he loves more, the lovers or the landscape. So the camera decides to celebrate the lovers love and the landscape all in one swirling breathless scoop of sleaziness sexiness.
Sushant always plays his characters as eager-to-please, an early Shah Rukh Khan without a crafty charm that allows the cunning skill of being charming to show on screen without the fear of being called a show-off. Who but Sushant among the current lot of 20-going-on-30 male stars can get away with the chocolaty cheesiness of a line like 'Some parts of me are chocolaty.'
Ok, then.
Sushant's co-star Kriti Sanon is remarkably free of inhibition. She exudes a morning-fresh dewiness even in the sweatiest of situations. And it can't get any sweatier than this: Sushant's best friend Varun Sharma (the new Shakti Kapor in town) hooks up with a plump and parodic soothsayer who looks at Ms Sanon and grunts, 'You don't get much sleep. You are haunted by nightmares'… Sanon looks right back. If she can stare down Sushant's mock-leeriness, what is a funny-looking card reader?
Raabta is fun to watch in the first half when Sushant and Sanon do a Befikre. It's when they take on the janam-janam ka saath Madhumati/Milan/Mehbooba theme that the clouds gather. And the problem is Jim Sarbh. Cast in the key role of the arrogant lover who stalks Sanon from one life into another, Sarbh who was so brilliant and menacing as the terrorist in Neerja delivers a whimper of performance. Playing a liquor baron he is like a mug of beer without the foam. Off-key, he speaks his lines of intense passion to Sanon as though he was reading the newspaper headlines.
If only the third angle of the purportedly tempestuous triangle had got it right! Nonetheless, the post-midpoint time-regression into the past has both Sushant and Kriti undergoing a seductive makeover. Sushant even changes his voice to woo Kriti in a previous life. Their intense conflicts in the past located in an indeterminate tribal territory, convey a primaeval immediacy.
The plot allows room for humour even in the most strenuous of circumstances, and that's this winsome rom-com's USP. For example, while Kriti's Saira agonizes over her past life with Sushant, he remains blissfully oblivious of their past connections, preferring recreation to reincarnation, choosing flirtation over mediation, Ummm over Om. The fun element never forsakes the film even when the three main characters are locked in an intense afterlife discourse. Sadly there are only three characters in the film worth talking about. Not to mention Rajkummar Rao who appears unrecognizable as an old man who resembles Vijay Raaz.
That's ok. Mistaken identity is part of the mischievous game-plan debutant director Dinesh Vijan devises to keep the theme of reincarnation from getting grim. Raabta is fun most of the way. If only Jim had loosened up and had as much as Sushant and Sanon.
Maybe in another life?