Ram Prasad Ki Tehrvi To Pagglait; 5 BEST Feature Films Of The First Half Of 2021
From Pagglait to Ram Prasad Ki Tehrvi, many interesting films released on OTT platforms this year. As we speak of that, here are 5 best films that impressed us the most in the first half of 2021.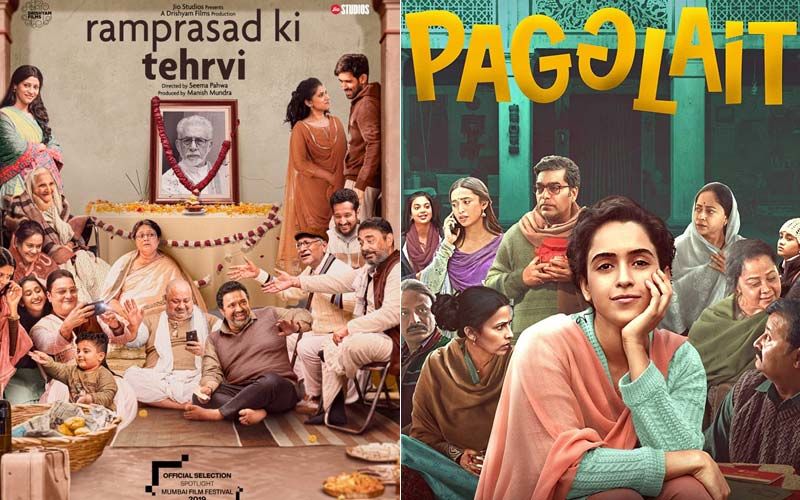 There's no denying that in the first half of 2021, many interesting feature films were released on the OTT platforms. While some managed to move us, some failed to impress. Speaking of that, here are 5 best feature films according to us that you should watch if you haven't seen them yet.
1. Ram Prasad Ki Tehrvi(Netflix): What a wonderful way for Indian cinema to begin the year! Let me say straightaway that Ramprasad Ki Tehrvi is a very fine film, and a spectacular start not just to this year, but also to veteran actress Seema Pahwa's career as a director. Her understanding of the basically selfish selfserving nature of humankind is so deep, and so bang-on that five minutes into the film I felt I was sitting awkwardly as part of Ramprasad's grieving family, their sickening squabbles over tea and bathroom time, and later on, their bickering over their father's property, all so lived-in so real it is hurtful even while it is amusing to the extreme. Some critics commented on the large number of characters , and how difficult it is to figure out who's who. Nonsense! We are for too long inured in spoonfeeding tactics. It is our duty and obligation to give a film our complete attention when it deserves it, to surrender to the cast of characters unquestioningly. Seema Pahwa's writing is razor-sharp and crystal-clear. Even the smallest of characters have a life of their own.The domestic politics is never over-punctuated. It emerges from the deep creases and crevices of bereavement like pebbles from the bottom of a tranquil stream.
2. Tribhanga(Netflix): Tribhanga is a fiercely original film, though cinephiles would like to see distinct shades of Ingmar Bergman's imperishable classic Autumn Sonata in Renuka Shahane's striking debut film. But that, like much in life, is only an illusion. The most admirable part of Tribhanga is that the women are no saints or victims. They are flawed and therefore fabulous. At least two of them Tanve Azmi and Kajol are. The third Mithila Palkar as Kajol's daughter hardly has breathing space in the plot with two older women shouting down all other voices. But Mithila too manages to leave a strong impact.Walking that lonely path of going against conventions, the women in Tribhanga are no cardboard feminists. These are people who are real with real problems, not afraid to bare their soul when the director calls 'action'.Renuka Shahne gets more than she had bargained for.
3. Madam Chief Minister(Netflix): Subhash Kapoor's thinly veiled bio-pic on Mayawati Devi was bravely released in movie theatres. The death-defying action goes well with the young sprightly politician, the Mayawati doppelganger Tara Roop Rani who rises to become a feisty Dalit lader with more balls than her entire cabinet. Richa Chadha takes the character forward with considerable confidence. Her dialogues with her mentor Suarabh Shukla(brilliant as ever) convey a ring of credibility. The film is well paced and fairly watchable, if not a great political statement. I love the sequence where Tara enters a temple challenging the priests to stop her if they can.
4. Pagglait(Netflix): It's not easy to laugh in the face of death. But what to do when the newly-widowed Sandhya(Sanya Malhotra, in a career-changing performance) asks for an aerated drink when she should be grieving copiously and ostentatiously? Sandhya knows the 'mourning' shows the day. Sandhya has a problem. And a very disturbing one at that. She doesn't feel a thing for her dead husband. Instead of grieving over his loss, as the teeming household of parents, uncles, aunties, cousins, nephew and nieces seem to be doing, Sandhya sneaks out of the house with her best friend Nazia(Shruti Sharma) pretending she needs a doctor , to have gol gappas. Pagglait is a striking provocative often poignant and amusing meditation about what is expected from the bereaved and what the bereaved actually feel. We had a very likeable film on this theme Ram Prasad Ki Tehrvi a few months ago. Pagglait may outwardly look similar(after all, mourners cannot be any different in two different households,or can they?) But the core of the films,its heart and its spirit are fiercely individualistic.This is a film on its trip, wilful and wonderful and teeming with characters made memorable by some of our best actors.
5. Shaadisthan(Disney-Hotstar): Sanjay Sharma loves his wife , the repressed nameless(till the endtitles)Rekha and wants the best for his 17-going-on-18-in –hours daughter Arshi(Medha Shankar). But he doesn't allow them to breathe the free air outside the domain of his home rules.Enter the rule-breakers and potential balls-breakers, a fusion music band with a rebellious lead singer Sasha(Kirti Kulhari) screaming her fuck-societal-rules protest at every given pretext.Sasha and her band members, played with delightful naturalness by Apurva Dogra(Freddie), Jigme(Shenpenn Khymsar) and Imad(Ajay Jayanthi), all real-life musicians, each one a revelation in his own right, have a task on hand. They must take Mr & Mrs Sharma and their silently simmering daughter with them on their van from Mumbai to Ajmer at a family wedding where Sasha and her friends are to perform.It is a giveaway set-up. You know, the cultural clash between the liberated youngsters and fuddy-duddy repressed parental generation who THINK they know everything. But guess what! They are hopelessly out of step with reality. This could have been a typical cultural-clash film with predictable conflicts and fireworks.Director Raj Singh Chaudhary converts the clash between patriarchy and non-conformism into something beyond the expected, something special. Thanks to the performances which are so clued-in they make the obvious plot holes(for example, the patriarch's sudden enlightenment at the end) not just bearable but in some strange way, beautiful.