Ramsingh Charlie And Gullak Season 2: Two OTT Gems On SonyLIV You May Have Missed
Here's looking at two OTT gems on SonyLIV you may have missed - Ramsingh Charlie and Gullak Season 2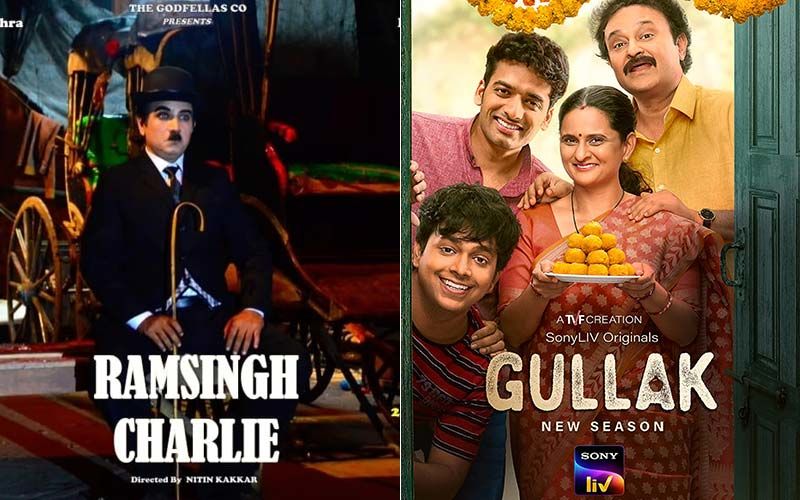 RAMSINGH CHARLIE: Just the sheer joy of watching two of Indian cinema's most underrated, underused actors playing the lead is reason enough to embrace this heartwarming film about a circus performer who specializes in doing Chaplin impersonations, suddenly out of work.
The theme of art as supposed to a regular steady income runs across the 90-minute film with a surefooted anxiety. A sense of poverty panic guides the plot and yet Kumud Mishra in his career-defining roles, doesn't allow the film to plunge into any kind of mawkishness, or melodrama. Mishra is the kind of rare actor who can lift even the most mundane scene and transform it into something special.
He creates a character who wants to fly but instead finds himself playing the rickshaw in the bustling streets of Mumbai (first Adil Hussain in Pareeksha, now Kumud, Kolkata never had it so much talent on the road before) fettered to workdays worries, a wife (the hugely supportive Divya Dutta) a teenage son and another little one on the way.
Chaplin can go fly a kite!
Mishra's lengthy one-man Chaplin act in a moment of desperate self-assertion where he slowly smears on a paint mask on his deeply saddened face and then smiles the wistful smile I've seen since City Lights, is a masterclass in acting. Divya Dutta, though restricted by space, is brilliant in her own right, creating moments with her co-star that define their deep empathy as a couple struggling to make ends meet.
The other remarkable performance comes from theatre actor Farrukh Seyer as Ramsingh's friend in need. As the friend who funds the hero's needs and eventually pulls the rug from under the dreamer's feet, Seyer lives every moment of his character's shifty morality.
The cast is uniformly brilliant. The problem that creeps up on this affectionate homage to life at the fringes, is the circus portions. Though they are done affectionately they lack freshness and vibrancy. The situations and characters - dedicated circus owner, her avaricious son, circus performers reduced to ridicule and manual jobs - seem to be designed to serve the bleeding-heart conscience-keeper's club.
GULLAK SEASON 2: Thank God for the Indian middle class and its jugaadu optimism. There isn't a problem that can't be "managed" with some amount of resourcefulness and a great deal of resilience. Normally web shows about low-income families in small North Indian towns are about glumness, grime or crime or all three. This one is upbeat and filled with sunshine, and the optimism is not imposed on the plot. It is an old battle filled with a new whine.
To anyone who lives in North India the Mishra parivar is eminently relatable. They are talkative and annoying but also likeable for their lack of affectations. They are at once Every-family and yet unique in their quirks and conflicts. Episode 2 of Season 2 is my favourite. This is where papa and his two sons take over the kitchen for Mummy's kitty party. The gentle digs at gender stereotypes accompanied by the guffaws of the ladies who can't help being tickled by watching the Mishra men sweat it out at the gas stove - "Mishraji what is this combination of dahi vada and tea?" - is evidence of the sharp-witted writing that has gone into the series.
The monstrously talented Gitanjali Kulkarni and Jameel Khan are perfectly cast in roles that require them to be convincing as individuals, a married couple and a collective team representing every wage-earning North Indian middle class family. On all the three levels, the two actors are admirably in-charge. From the rest of the cast, only Sunita Rajwar as an aunt provides a thoroughly entertaining caricature of the talkative meddlesome busybody. By the way, why is the younger son played as some kind of a mentally challenged overgrown kid? Was this subconsciously done? Or did it just happen? Also the drama of what Tolstoy once described as the "unhappy family" is missing. The Mishras may be unhappy about not being able to afford an LD television. But they aren't sulking about it.
Image source: IMDb, Youtube/SonyLIV, The Viral Fever