Rangbaaz Phirse And Kaafir: Two OTT Hard Hitters On Zee5 You May Have Missed
Here's looking at two OTT hard hitters on Zee5 you may have missed.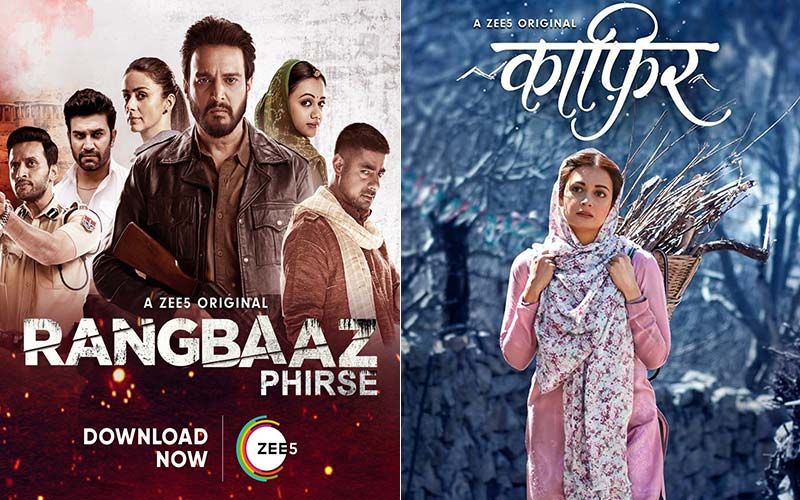 RANGBAAZ PHIRSE: Bullet-ridden biographic sketches of hardcore criminals in North Indian exploring the genesis of their outlawry that seems to be the brief for the Rangbaaz series which is now on to Season 2. Bring on the bullets and bloodshed. Much of it may seem like a repeat of Season 1. Promising academically inclined youngsters from the cow belt turns to a life of crime supported by local politicians. In Rangbaaz, the well-played role of the outlawed Shiv Prakash Shukla (Saqib Salim) was sturdily supported by two powerful politician-criminals played by Tigmanshu Dhulia and Ravi Kissan.
In Rangbaaz Phirse, we get Jimmy Sheirgil as the protagonist whose dreams of becoming a civil servant are smothered by an uncivil life of criminality. Sheirgil is an actor who can breathe life into the 'deadest' of roles. Writer Siddharth Mishra provides plenty of raw meat for Jimmy to chew on. He gets to play the entire spectrum from ruthless (with his adversaries) to tender (with his wife and daughter). Jimmy's stolen moments with his screen wife (Spruha Joshi, quite understated mollifying) are special. They also have the unfortunate side effect of over-humanising the criminal-hero, showing him to be a routine family man forced into a life of crime by corrupt politicians and a system of governance that favours the rich and powerful. So basically all that killing and looting is our fault.
As a morally conflicted cop, Mohammad Zeeshan Ayyub has a more complex part to play. The uncomfortable truth about 'encounter' killings and how senior cops are bullied by politicians into subverting the law, are also brought up in the series. But nothing overly probing. We can say that the investigation of the politician-cop-criminal nexus in the series is as skin deep as the investigations that happen every time there is an alleged encounter killing in a godforsaken part of our beloved country.
And yet for all its sins of skimpiness, Rangbaaz Phirse keeps the interest-level alive even as most of the cast drops dead. While Sheirgil confers a kind of distant tragic dignity to his outcast's role, the supporting cast especially Mohammad Zeeshan, Sushant Singh and Sharad Kelkar provide solid support with their habitual propensity to go beyond the written word.
Zeeshan's cop character provides an alternative voiceover to Jimmy's anti-hero's commentary. Dare we suggest that this merger of voices from both sides of the law is meant to show how closely crime and the law are connected in our country? Clearly the script favours shortcuts, The Jat versus Rajput caste politics in Rajasthan is played out at a low ebb. The crux of the sprawling saga is to create a splashy gangster drama. And that is not such a bad thing.
KAAFIR: Kashmir and its blood-soaked political history renders itself well to cinematic treatment. It is to the credit of the makers of this series that not a moment of the eight episodes feels exploitative or artificial. There is a free flow to the narrative and the main characters are written into the plot organically. Both Mohit Raina and Dia Mirza do well in their respective roles of the Kashmir-based lawyer-journalist searching for truth that may destroy his life, and the mysterious woman from Pakistan who has drifted into India and has been languishing in prison for years with no hope of being released.That's where the lawyer's dormant skills kicks in.
Kaafir is a series with plenty of heart. Writer Bhavani Iyer has researched her subject of Kashmiri militancy. The series never lets the weight of its political theme sit heavily on the narration. If anything, the series is guilty of swimming too lightly on the surface, making the protagonist Kainaat's predicament seem far less grim than it actually is.
Though she is shown to go through her share of hardships, the trajectory of terror and redemption is cleaned out, sanitised and rendered palatable. And that's not such a bad thing. Unless you are seeking to see a raw hard-hitting depiction of the subversion of the legal justice system, as shown in the Oprah Winfrey-backed crime drama "When They See Us".
The world of Kaafir is violent but far more manageable and fictionalised than one would expect in a series with no censor breathing down its neck. It also seems to backtrack from its purpose of exposing the authoritarian abuse of militancy as a means to oppress people who protest too much.
Kaafir has an easy even-tempered feel to it. The relationship that grows between the incarcerated Pakistani woman and her troubled guilt-stricken lawyer has no new insights to offer into the world of militancy. Or, for that matter, the world of love which we are told, heals. That apart, it's easy to invest some hours in Kainaat's story. Kaafir doesn't let us forget that.
Image source: IMDb, Youtube/ZEE5