Serious Men And Beyond The Clouds: Two Seriously Laudable OTT Films
Here are two OTT gems that you might have missed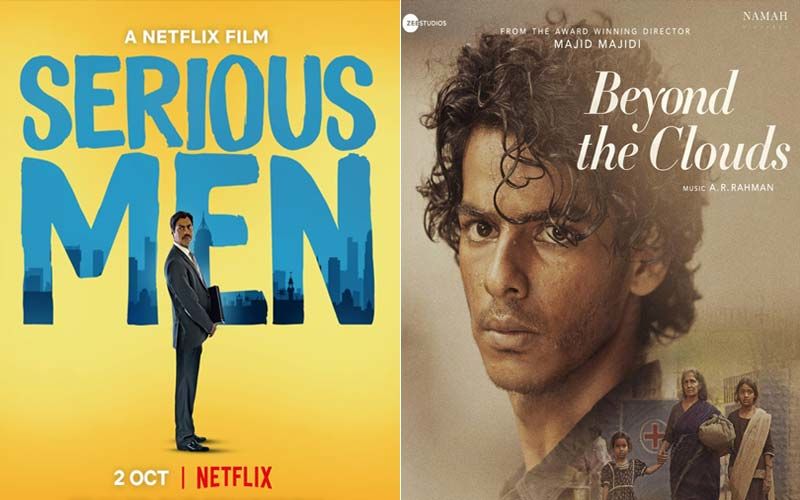 Serious Men (Netflix): It's about memory retention, ratta maar ke. The boy-genius played with astonishing wisdom by Akshath Das, is really not a prodigy his father is determined to prove him to be. It's a lethal mind-game that eventually leads to monstrous tragedy, and only the father and son are supposed to know about it. Nawazuddin Siddiqui over-ambitious patriarch's act will move, stir and terrify you. In what is arguably his finest performance to date, he is chillingly real in his parental paranoia, killingly clued-in as the TamilianDalit Ayyan Mani, a lowly assistant at a science institute researching on alien microbes which don't exist. Never did. Just like his young son Adi's prodigious mind.
An invention of the modern age wherein a non-existence idea acquires authenticity by sheer repetition. So repeat after me, director Sudhir Mishra is cinema's equivalent to the space scientist who doesn't believe alien microbes exist. But hell, that won't stop him from looking. The way Ayyan Mani de-intellectualizes the pursuit of intellectual release, both at his workplace with his boss (Nasser, as usual brilliant) and at home with his 10-year-old son is somehow paralleled in Mani's devious mind. In order to get anywhere in life, one needs to climb out of that cubbyhole karma has created for each one of us. Right from the beginning of this scathing take on the cost that the caste factors extract from those who try to fight it (we needn't go too far off to find out, just try Hathras), Nawazuddin's Ayyan is a Dalit man who won't take the exploitation and the humiliation lying down.
Manu Joseph's novel is not an easy work to adapt to screen. There is so much to be read between the lines. Sudhir Mishra's admirable screen adaptation gives voice to unspoken rebukes and taunts of the underprivileged community whose dreams are crushed under the wheel of the Great Indian Arrogance. As an over-reacher Nawazuddin is in top form, filled with an implosive rage that builds up to a devastating climax. In a sequence like the one where he threatens his son's best friend into silence, shot on a roof terrace with pigeons and angst for company, Nawaz is a bundle of nerves ready to explode.
Where the film errs is in not giving a more definitive shape to the incidental characters such as the wheeler-dealer politician's daughter Anuja (Shweta Basu Prasad) who walks around in her high heels with a limp gifted to her by her husband. Like her limp, she doesn't really fit in. This is a father-son conundrum that Nawaz and his little co-star own like their home. Even Indira Tiwari as Nawaz's film is peripheral to the plot. But she makes up for it with a bludgeoning outburst at the end that leaves Nawaz as crushed as the audience. Serious Men will leave you seriously wounded for a while at last as you think about how parents thrust their dreams on their children with devastating consequences. This is Sudhir Mishra's best work in years.
There came a time in this cyclonic tale of squalor, despair and redemption where I thought I'd simply be blown away by the shrillness of the drama. Majid Majidi pulls out all stops to show us the underbelly of Mumbai, warts moles and all.
Beyond The Clouds (Zee5): The camera pans the suffocating crowds with easy grace, embracing the bizarre bazaar of racketeering and low-living with a kind of sighing interjection that is the opposite of hopelessness. Admittedly cinematographer Anil Mehta does for Majid Majidi's Mumbai what Subrata Mitra did to Satyajit Ray's Pather Panchali. Without romanticizing the despair he shoots the frames with a beam of optimism. And Dhobi Ghat never looked more intriguing. There is a key scene of sexual violence silhouetted against the flapping white bedsheets spread out for drying. This would have looked laughably put on were it not for the director's propensity to cut to the chase while chasing the drama of despair.
Silhouettes play an important part in bringing alive the dark mysterious tragedy of Mumbai's underbelly. At one point Aamir brings home the womenfolk of the man who has ruined his sister's life and watches them bond through a bedsheet put up as a temporary partition. In the shadows we see three feminine figures dancing laughing bonding.
All these metaphors suggesting love lyricism and empathy on the midst of crime and deception could have given the film an aura of heavy-handedness. Majidi Majidi uses the shrillest notes of storytelling to suggest the bathos of life and the sheer absurdity of seeking and miraculously finding compassion in a world denuded of simple kindness. The message of hope and humanism shines like a beacon of light in the charged electric screenplay written by Mehran Kashani where the drama of the damned is not an affectation but a way of life. Right away from the very first shot showing a run-down hoarding for a cellphone company, Mumbai's heartbeat throbs life and breath into every moment that Majid Majidi's narrative exhales over frames that seem to embrace life in all its inglorious colours.
In the very first sequence, we see our hero hopping off a car in a distance across the road. Aamir is not up to any good, he never will be. Or so we think. The quality of life bequeathed to Aamir and his elder sister Tara (Malavika Mohanan) is such that beauty, harmony, compassion and other luxuries of a desirable existence are hard to obtain. And yet , this is where the humanism of Majid Majidi's cinema comes into voluptuous play. In spite of the abject seemingly irredeemable darkness, there is that spark of light igniting the soul.
The film moves through two different narrative zones after the protagonist, siblings, are separated by a crime. Aamir finds himself looking after and caring for the family of the very man (Gautam Ghose) who brought on a disaster in his life. In prison, Aamir's sister Tara learns a lesson on two in humanism through her unexpected bonding with a little boy. I wish Malavika Mohanan playing the pivotal role of Tara had held back a bit. She tends to let go of her emotional mojo in almost every sequence, making her character seem more hysterical than it should be.
Gautam Ghose as the man who brings disaster on the protagonists brings to his complex dark role some shades of unexpected empathy. But let's not beat around the bush. It is debutante Ishaan Khatter who stands tall in a film where life dwarfs even the bravest. Ishaan's Aamir is impetuous volatile and self-destructive. The character's redemptive journey is undertaken by the debutant actor with honesty and vigour that are unmatched by anything we've seen in a maiden performance.
Yes, a star is born. Ishan Khattar is undeniably the hope of tomorrow…or is it today? Director Majid Majidi places a hefty level of faith in Ishaan's raw uncorrupted personality to bring out the ugliness of Mumbai's underbelly.