Swara Bhasker's Web Show Rasbhari Condemned By CBFC Chief Prasoon Joshi For Allegedly Objectifying A Small Girl; Lady Justifies
CFBC Chairperson Prasoon Joshi accuses Swara Bhasker's web show Rasbhari of portraying a small girl as an object in front of men; here's how the actress reacted to it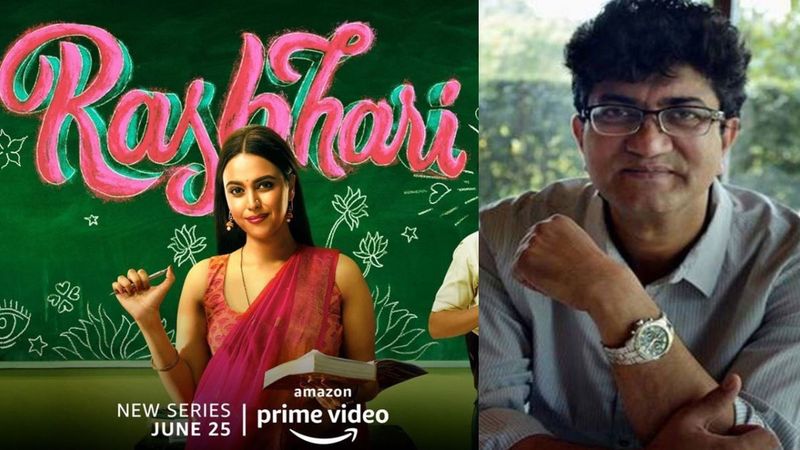 Bollywood actor Swara Bhasker is sort of controversy's favourite child on social media. She is known for unabashedly speaking her heart and mind out, while also giving it back to those who flood her with hatred and trolling. This time, however, the actor is in the news for her recently-released Amazon Prime web series titled Rasbhari. The show was launched yesterday and while a lot of people are lauding Swara's performance, there is also a section of people, including Bollywood lyricist and Chairperson of the Central Board of Film Certification Prasoon Joshi, who have criticised it.
Taking to his Twitter, Prasoon condemned web show Rasbhari by accusing its makers of portraying a minor girl as a mere object in front of men. He wrote, "दुःख हुआ।वेब सिरीज़ #rasbhari में असंवेदनशीलता से एक छोटी बच्ची को पुरुषों के सामने उत्तेजक नाच करते हुए एक वस्तु की तरह दिखाना निंदनीय है।आज रचनाकारों और दर्शक सोचें बात मनोरंजन की नहीं,यहाँ बच्चियों प्रति दृष्टिकोण का प्रश्न है,यह अभिव्यक्ति की स्वतंत्रता है या शोषण की मनमानी। (Sadly, in the web series #rasbhari, it's insensitive to see a little girl act like an object while dancing provocatively in front of men. Today's creators and viewers think it's not about entertainment, it's a question of attitude towards girls, it's expression Freedom or arbitrary exploitation)," read his tweet.
Swara was quick to take notice and justify her show. She replied by writing that he has, maybe, misunderstood the scene as the girl dances on her own will, further explaining why it's not supposed to be sexualised.
Check out the tweets:
आदर सहित सर, शायद आप scene ग़लत समझ रहे हैं। सीन जो वर्णन किया है उसके ठीक उल्टा है। बच्ची अपने मर्ज़ी से नाच रही है- पिता देख कर झेंप जाता है & शर्मिंदा होता है।नाच उत्तेजक नहीं है, बच्ची बस नाच रही है, वो नहीं जानती समाज उसे भी sexualise करेगा- scene यही दिखाता है। #Rashbhari https://t.co/xUAmRBHHjJ

— Swara Bhasker (@ReallySwara) June 26, 2020
Swara's reponse read, "आदर सहित सर, शायद आप scene ग़लत समझ रहे हैं। सीन जो वर्णन किया है उसके ठीक उल्टा है। बच्ची अपने मर्ज़ी से नाच रही है- पिता देख कर झेंप जाता है & शर्मिंदा होता है।नाच उत्तेजक नहीं है, बच्ची बस नाच रही है, वो नहीं जानती समाज उसे भी sexualise करेगा- scene यही दिखाता है। #Rashbhari (Sir with respect, maybe you misunderstood the scene. The scene is exactly the opposite of what he described. The girl is dancing at her own will - the father is blushed & ashamed. Dancing is not provocative, the child is just dancing, she does not know the society will sexualize her too- this is what the scene shows. #Rashbhari)."
Rasbhari chronicles the lives of a teacher and her student, who falls in love with her.
image source: instagram/reallyswara;bloncampus.thehindubusinessline.com