Sweet Bean And Marriage Story – Two Masterpieces On The OTT Platform
Here are two OTT masterpiece that should be on your binge watch list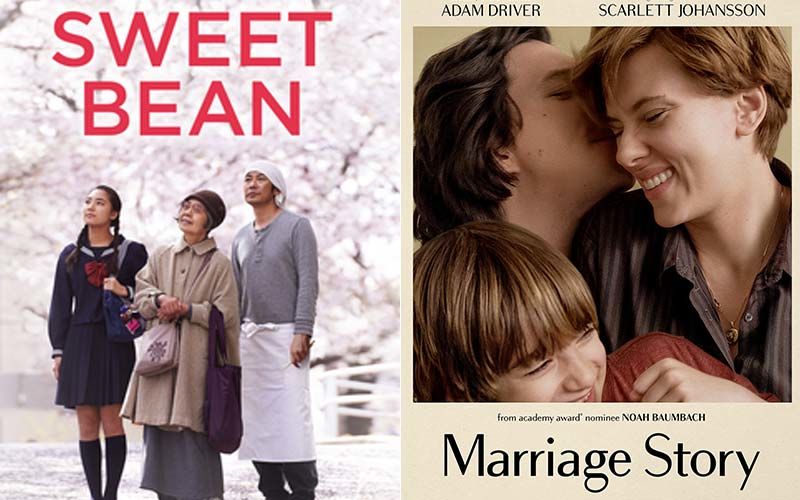 Sweet Bean (Japanese, Amazon Prime Video): From the land of Akira Kurosawa comes this delectable moving and sweet story of a bond that grows between a streetside café owner and a lonely elderly lady who strolls in one day to ask for a job. Kirin Kiki as Tokue doesn't act. He would never win awards in India. The veteran Masatoshi Nagase reminded me of our own Durga Khote. Both the actresses radiate a natural goodness.
Little does Tokue know that his life will never be the same again, as this unassuming, all-heart-no-malice woman takes over the destiny of his shop. As delicate as the delicacy named dorayaki that Tokue serves, Sweet Bean is a film about the details that go into the making of the delicacy. These become a metaphor for those spontaneous moments and gestures of kindness that make life worth living.
There are only three principal characters in this Japanese gem, the third being a bereft teen aged schoolgirl Wakana who walks into the tiny café to savour its specialty. The use of that cramped space to depict the growing intimacy among the three very different cross-generation souls has to be seen to be appreciated.
Sweet Bean's gentle storytelling says so much about the people who have created this miniature masterpiece. Only the kindest heart can engender such tender art.The film moves at its own pace, inviting us to partake in a story of kindness and empathy that has no boundaries.
I watched the film with English subtitles. But I am sure there would have been no problem of communication without explanation. The language of the heart has no words. In the greatest cinema the spoken is the least important component of communication and the background score is the prop for the poor communicator. Sweet Bean proves it. I was not familiar with the films of director Naomi Kawase. Now I intend to seek out each one of her films and savour them like chunks of dorayaki.


Marriage Story (Netflix): Nothing in a marriage is more awful than its death. Watching two attractive fairly young people tear apart and tear each other apart is not a pleasant sight. Somehow, by some miracle of cinematic magic, writer –director Noah Baumbach makes the ugly aftermath of a broken marriage look infinitely tragic and uncorrupted. This remarkable film remains purehearted even as the couple gets down to being really lowdown and dirty to each other.
It is as though Bamumach dives into the deepest recesses of the couple's mutual hurt and emerges with truths that are like paintings on a bare newly-painted wall staring at us, each with a story of its own. Not unlike the paintings of his 8-year old son that Charlie (Adam Driver, exceptional) puts up on the walls of his new apartment in Los Angles where he must seek a second home away from New York in order to be near his son after his wife moves to LA.
Bewildered by the swerve that his life and marriage have taken Charlie blindly follows his lawyer's instruction, only to discover that his wife Nicole's lawyer (Laura Dern) is far smarter.
As Charlie stares at the impending and frightening prospect of being taken to the laundry by his wife and her clever lawyer, Adam surrenders to his fate as much as he can. Then when his patience runs out he cries, weeps, sobs.
I have seldom seen an actor on screen break down with such heartbreaking honesty. When Adam Driver weeps, it becomes a manifestation of more than immediate grief. This man is hurt and wounded beyond the ugly words that he throws at his wife in the starkest most brutal marital fight I've seen since Richard Burton -Elizabeth Taylor and Rajesh Khanna-Sharmila Tagore spewed venomous post-marital vows at each other in Who's Afraid Of Virginia Woolf and Aavishkar. The intensity of their shared tensions explode on the screen with a noiseless grief-stricken thud. Baumbach spares us the background music for most of the film, as vignettes from a disintegrating marriage play out in front of our misted eyes without adornment. I would like to see one Hindi film that goes easy on the violins and percussions and shows enough confidence in the actors to let them express the full impact of their characters' emotions.
We don't have the guts to let the silences speak out the truth of the moment in our cinema. Or maybe we just don't have actors of the calibre of Adam Driver and Scarlett Johansson who are so so sooooo into their characters that we see only Charlie and Nicole on screen, split into two halves trying to hold on to the dying vestiges of their stone cold marriage.
Then we their son (Azhy Robertson) trying to figure out with his 8-year-old's mind what his parents are going through. And then we see the lawyers, played by some of America's finest actors Laura Dern, Alan Alda and Ray Liotta pitching the couple into a murky courtroom battle where not just dirty but even clean laundry is washed in full public view.
All these are great actors (though I wish Ms Dern wouldn't 'act' all the time). They contribute tremendously into creating a marital drama that every couple out there would identify with me. Not that there are no funny moments in the storytelling. There is a particularly hilarious sequence where Nicole's mother (Julie Hagerty) and sister (Merritt Wever) must officially serve the divorce notice to Nicole's husband whom they adore, and there is an outstanding sequence where the marriage evaluator (Martha Kelley) visits Charlie and his son. I didn't know whether to laugh or cry at what happened during that weird visit.
But I do know Marriage Story is the saddest most heartbreaking film of the year. It is also a warning. Divorce is demeaning and ugly. To be avoided as much as possible. Embrace the film.