Taj Mahal 1989 And Ghost Stories: Two Unusual Netflix Films That Are Worth Revisiting
Here's looking at two unusual Netlflix films that are worth revisiting - Taj Mahal 1989 and Ghost Stories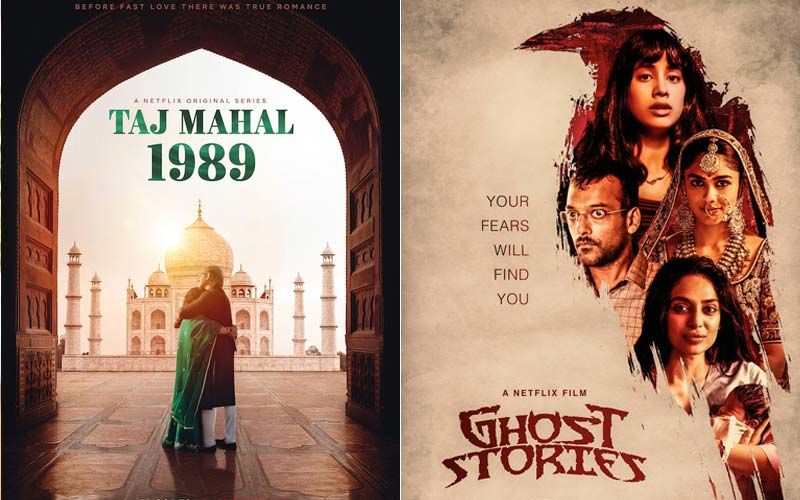 TAJ MAHAL 1989: As a 40-plus couple trapped in a stagnant marriage, the redoubtable Geetanjali Kulkarni and Neeraj Kabi are effective performers. Characters routinely turn to the camera to talk to us, thereby creating an annoying distraction, something like Brecht meets Balajee. The amalgamation of nostalgia and socio-political relevance is self conscious. Till the end when the intellectual poseur Akhtar Baig (Neeraj Kabi) takes his disgruntled wife Sarita (Geetanjali Kulkrani) on a much-delayed honeymoon to Agra, I was trying to decode the significance of the series, beyond attempts to recreate Lucknow in 1989 with nothing more than the most basic tools of periodicity.
We also meet another couple, Sudhakar (Danish Hussain) and Mumtaz (Sheeba Chadha) both played by very fine actors saddled with dialogues that could be whatsapp forwards shared between two mddleaged movie buffs who have watched V Shantaram's Pinjra too many times, if only the digital era existed back then.
The series also cuts intermittently to campus politics in Lucknow where Angad and his roommate Dharam (Paras Priyadarshan) lock horns on ideological grounds.Dharam gets a gun and loses his girl. A rich Sardar jee student pretends to be a Communist to impress the girl Mamata he loves. Mamata has the hots for Angad who draws, 'Aap mere saath flirt kar rahin hain?' All the students behave like junior artistes from Mani Ratnam's Yuva, uncertain of their roles.
There are plenty of raunchy courtships thrown in to show us how "cool" the Lucknow students were even before the cool school was invented. Sex, ahem, is discussed over chai and cutlets in the canteen and Shakespeare is mauled in stage rehearsals where an anglicized bloke is mercilessly satirized because. Well, speaking English in just not cool in the simmering but bland cauldron of sex, politics, friendship marriage and compatibility that writer-director Pushpendra Nath Misra has slapped together with the self confidence of a conjuring artiste who knows the rabbit won't desert the hat.
GHOST STORIES: No moments of epiphany this time, like the one when Kiara Advani shuddered, and not because the ground shook, in Lust Stories. The closest this anthology of spooked sensations comes to a scene of revelation is when Mrunal Kulkarni (looking impressively sensual in the Karan Johar segment) acts out a near-orgasm while her husband does the needful.
The moment is interrupted by the husband's dead granny making an unwanted appearance. Johar's story has a sense of humour, quite unlike the other three grim sullen long-faced stories where the cheerless characters shot in dingy interiors, are drawn into a dungeon of darkness and despair, only to be pulled out of the horror chamber by some inept writing.
Clearly, these directors are not at home with horror. Sadly we are. And not quite as immersed in the home-viewing exercise as Netflix would like us to be. Not like we were in Lust Stories. Oh well, every experience can't be The Irishman.
The four directors of Ghost Stories want to shock us with images and visuals which would be deemed taboo in cinema. But Sobhita (doing a Radhika Apte in the Anurag Kashyap story) chewing on raw fowl meat looking like she has just been rejected the next Kashyap feature, and the characters of Dibakar Banerjee's dystopian holocaustic drama eating human flesh (chewing an obviously fake human hand is more humour than horror) are not the evening of chill spill that we expected.
The first story directed by Zoya Akhtar, has the lovely Janhvi Kapoor struggling with the role of a young desperate caregiver to a senile bedridden woman (Surekha Sikri). In between Sameera's bouts of cleaning potty and su-su (her description), her boyfriend drops in for a bit of bang-bang.
I really want to know why Janhvi is cast in this story. She is clearly not comfortable . And really, the gifted Vijay Varma in a walk-on part. Gratitude to Zoya for Gully Boy?
Anurag Kashyap's pretentious black-and-white story has a smartly wise performance by a child actor (Zachary Braz) who reminded me of Haley Joel Osment in The Sixth Sense. As the possessive insecure boy makes some eerie moves to get rid of his aunt's unborn child, the story keeps shifting its perceptions until we are left with no coherent plot, only a string of images providing shock therapy to an audience too bored to protest.
Dibakar Banerjee's zombie story is unnecessarily gruesome and ruinously self important. Dibakar wants to combine horror with politics when in fact in present day they are the one and the same.The bleak barren inertia of a town taken over by creepy cannibals could have shown the uneasy relationship between the have-nots and the power brokers. Instead, it's just a zombie movie masquerading as a political statement.
Finally the ghost-friendly Karan Johar segment where Atul Tiwary is seen playing peek-a-boo with his grandma when he is not going down on his new wife. Strangely,the couple, probably not clued into porn jargon, calls it a 'blow job'. Maybe they meant the job that this ostensibly ominous omnibus blows up in our face. One of the biggest offences committed here is the wastage of talent. Heeba Shah, Pavail Gulati, Vijay Varma, Kitu Gidwani and many other accomplished actors struggle to be noticed in walk-on parts.
Finally the veteran octogenarian, Jyoti Subhash shows up as a ghost using the 'F' word. For me that was moment of epiphany in Ghost Stories, not on a par with Kiara Advani's erotic eruption in Lust Stories. But anyway.


Image Source: imdb, youtube/netflixindia